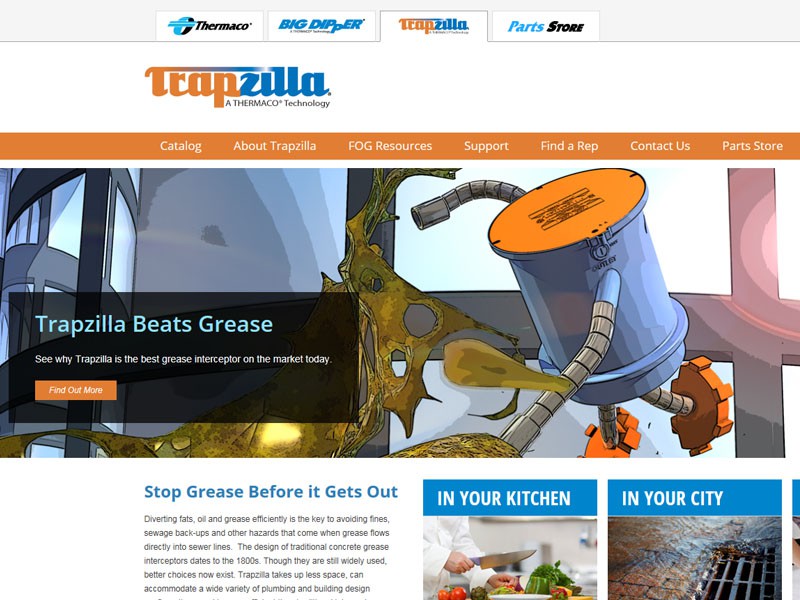 Thermaco, Inc.® is regarded as the leading separation technology company in the highly specialized field of oil and grease extraction from wastewater. Their reputation for developing quality removal systems was established when the first line of Big Dipper products became recognized for their exceptional reliability and effectiveness under a variety of applications.
Thermaco products are designed to help commercial kitchens stay in compliance with local water and sewer rules that prohibit fats, oils, grease, and other kitchen waste from being flushed into the wastewater system. From their innovative Big Dipper grease removal device to the high capacity Trapzilla grease interceptor, Thermaco works to help foodservice establishments safely and efficiently meet the regulations, so staff and managers can focus on delighting customers.
The updated Thermaco site combines an all-new responsive design with a Magento eCommerce integration to educate customers, present brand awareness and sell products directly through the website.
Some of the Thermaco website features include; Magento eCommerce, Full Content Management System, Product Lines, Sub Brand Sites, Video Demonstrations, Case Studies, Support Area, Data Sheets, Catalogs, Parts Store and more.
Project components include:

Site Architecture
Responsive Design
Content Management System
Magento eCommerce
Hosting
Visit the site - www.thermaco.com