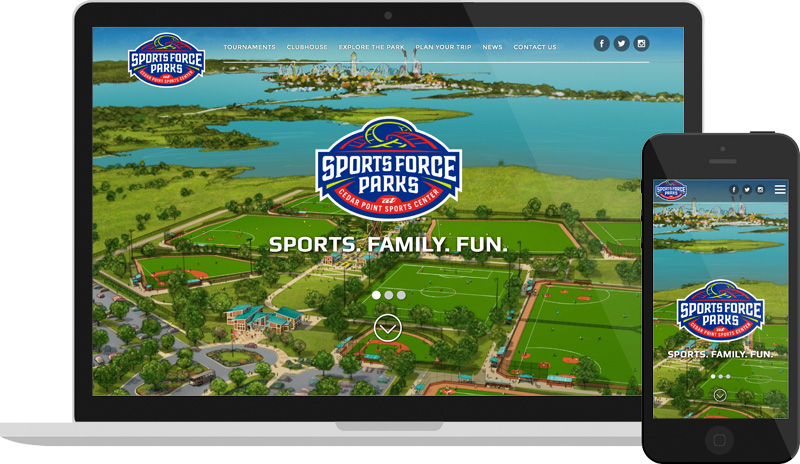 CHALLENGE
Sports Force Parks is committed to building sports parks of distinction across the country. They provide professional-level sports surfaces and a world-class tournament experience; giving players the opportunity to learn and grow through teamwork, competition, and healthy activity. They offer abundant on-site leisure, recreation and entertainment amenities for each and every member of the family. Sport Force Parks is built upon three core principles: SPORTS. FAMILY. FUN.

Sports Force Parks came to E-dreamz with the goal of creating a new corporate website for their design & management company in addition to the desire for a web platform that can support current and future individual sports park website implementations.

SOLUTION
E-dreamz architected, designed and developed a single-platform solution for Sport Force Parks. The corporate entity implementation can found at www.sportsforceparks.com. This website was created to promote the park concept, provide information about the business and help cultivate new partners or investment opportunities. The first park website created under the new Sports Force Park's umbrella is for the Cedar Point Sports Center located in Sandusky, OH; sportsforceparkssandusky.com. The website features information on upcoming Soccer, Baseball, Softball & Lacrosse tournaments, allows players and parents to explore the park amenities and additionally provides information to coaches and tournament organizers about how to get and access the park's assets. E-dreamz implemented a robust and scalable content management system that allows the Sports Force Parks to manage content for both websites but was also developed with future expansion in mind knowing that Sports Force Parks has plans to develop and add additional park locations throughout the United States. E-dreamz implemented Sports Force Parks' selected 3rd party sports organization and tournament management service, leagueapps.com directly into the website allowing both teams and players to register to events and Sports Force Parks to better facilitate and manage the tournament experience and logistics.

RESULT
Sports Force Parks now has a website and marketing platform in place to support future growth and expansion of its park network. A centralized content management system, common display templates and component-based coding framework can allow the organization to add park locations at a later date with minimal investment. Although the websites appear standalone, they share a common database and management system that allows for easier maintenance and promotes the ability to roll-out new and additional features with less time and development effort. Sports Force Parks has been provided a great online marketing and branding tool for both the corporation and its sport park locations.