I admit, I was a KISS fan way back in the late 70s. Yes, I said the late 70s. Now as a fan, at that time, it didn't mean I actually owned or had any KISS music. KISS to me, when I was 6 or so, were 4 comic book characters that were on cards and posters at the store and local fair. I'm not even sure I even heard a KISS song until about 1978 or so. One of my earliest memories was going to my neighbor's house, who had HBO (they must have been rich), and watching KISS live in concert. I then convinced my mom to buy me a "45" vinyl single for 'I was Made for Lovin' You' which had 'Hard Times' on the B-side.
Fast forward a few years to when I really became a member of the KISS Army...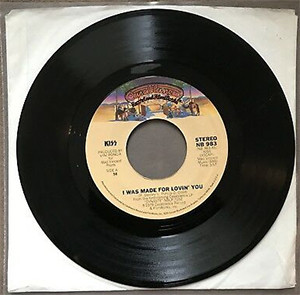 I had an older friend named Layton. He was the kid who had everything. All the music, freestyle bike, cool house, a water bed, and had the 'it' factor every kid wanted at the time. Our parents were friends, so we used to hang out a lot on weekends listening to our parents jam Bob Seger all night long. However, I remember very distinctly the one time we were jamming to music in his room and he pulled out KISS ALIVE II. He put it on and showed me the vinyl sleeve. I was literally blown away in total amazement both visually and musically. I was already a slight fan but had never seen or heard Alive II. The intro announcing the hottest band in the world stuck to me like nothing ever in my life up to the time. Layton knew and saw in me how excited I was so he gave me the album to keep from that day on. I guess at the time he kind of knew KISS wasn't that cool anymore for him. But for me, I was just beginning my 40-year journey into the world of KISS.
Alive II marked the beginning of not only becoming a die-hard KISS fan but a Hard Rock/Metal fan for the rest of my life. It made me really believe Ace Frehley was from outer space and Gene Simmons was really a demon monster from the unknown.
From the opening of 'Detroit Rock City' to new recordings like 'All American Man' & 'Rocket Ride' to the sound of the crowd, this collection rocked. The sleeve artwork with the band coming out of the stage with fire, smoke, lions, lights, and guitars was a visual that was permanently imprinted in my mind. I was hooked for life. And being that 'art' kid, KISS was actually the perfect band from a creative standpoint.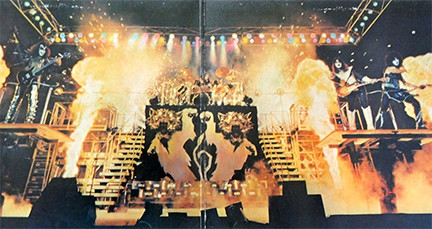 Alive II was a double album. Album 1 included the electric intro song 'Detroit Rock City' which made me want to become a rock star. Paul Stanley (The Star Child) showed why he was and is one of the best front-men in rock history. Throughout the entire 2 record set The Star Child shows how to be the lead man in an over the top rock band. On 'Shock Me', Ace Frehley proved to me he was the best guitar player to ever walk the earth or space for that matter. 'Calling Dr. Love' injected pure rock n' roll pneumonia inside me. 'Love Gun' had a drum sound I never heard before which made me believe Peter Criss, The Cat Man, was the best skin man on the planet. And who would have known that these 4 guys in make-up could write and sing a song like 'Hard Luck Woman'. A song to this day that even Garth Brooks says is one of his favorites.

Album 2 features the scary and darker side of KISS with 'God of Thunder'. This was the song that really made me fear Gene Simmons a bit. I really thought at the time he may be a real demon (even though I really didn't know what a demon was). 'I Stole You Love' to this day is one of my favorite gems. And on this live version, it just breaks out as a great rocker! Of course, there is also the slow ballad 'Beth' which at the time was a top 10 hit for KISS. Never was a fan then and still not to this day of 'Beth'. I thought it was the only weak area and song on the 2 recordset. Also, on the second album were 4 new songs and one cover of a Beatles song. 'Rocket Ride' cemented Ace Frehley as the hidden gem of the group. That doesn't take away how much I loved 'All American Man' and 'Larger Than Life'. All great in their own way. I even began to write songs myself at the time because of Alive II. Most were about my dog….. let's just say I stuck with art.
The late 70s and early 80s were a long time ago. Something though still feels fresh and new to me every time I put in Alive II. It marked a beginning in my life of a dedication to a band and movement that I protect and stand for to this day. It marked every Saturday morning for years putting on a record and just running around playing air guitar and thinking I am the Star Child. Heck, I went full make-up and outfit to the KISS show in August of 2019. And I will admit I am 46 years old. KISS always made me feel Alive, creative and opened the door to a genre of music that I can't get enough of to this day. Sure AC/DC, Metallica, and Iron Maiden are far more musically superior than KISS, but they never will be as fun and they don't have a member from space playing guitar. Forever a member of the KISS Army!