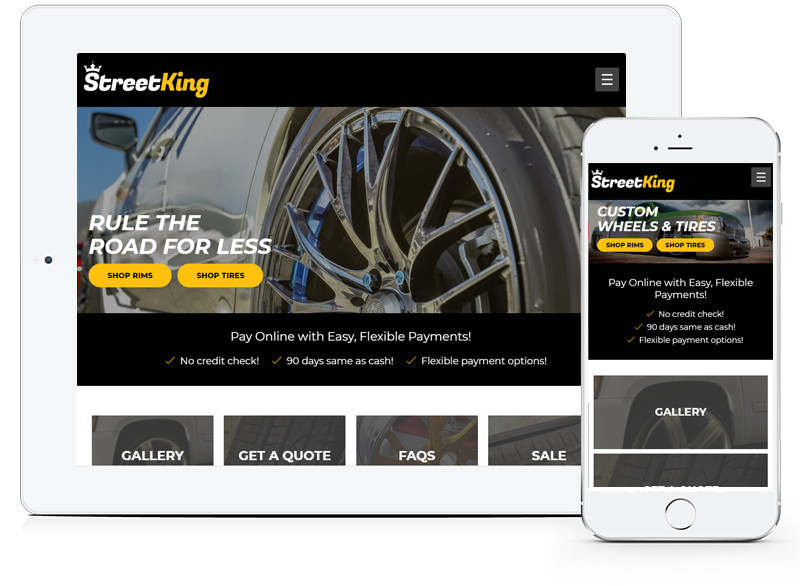 THE WEBSITE
https://gostreetking.com/

At E-dreamz, we're always excited to work with new partners in the automotive industry. Being headquartered in the heart of NASCAR country here in Charlotte, NC, we've enjoyed the opportunity to build high-performing automotive websites for many local and regional aftermarket auto parts companies over the years. Our latest site launch is for StreetKing, a full-service provider of custom wheel and tire packages with multiple retail locations throughout the southern US.

FEATURES & FUNCTIONS
The StreetKing website is ultimately an interactive gallery of the company's products and services. The goal was to create a slick, dynamic, fast-loading website that captures the feel of StreeKing's products and services and enhances the customer's wheel and tire browsing experience. The site includes a robust image gallery, individual location pages for retail stores, an integrated third party wheel visualizer, and easy-to-follow informational pages for details on the process and payment options.

CHALLENGES & SOLUTIONS

Image-Heavy Design
When designing a website that sells parts to the aftermarket automotive community, the website design and UX have to be top-notch. With wheels, in particular, showcasing great, high-end photography is critical to capturing a potential customer's attention. The StreetKing website is filled with compelling imagery, animation, micro-interactions, and dynamic calls-to-action that create and sustain a sense of action and motion throughout the entire browsing experience. And to ensure the site loads lightning-fast, we employed heavy optimizations and caching to keep every page load as light as possible.

Wheel Visualizer
One of the key features of the StreetKing website is the third party Wheel Visualizer tool. This integrated component allows customers to select their own personal vehicle and apply a visualization of StreetKing's available wheels and tires to preview how each wheel and tire package will look on their own year, make and model.

Multi-Location Management
As a business that promotes itself both online and through its retail stores, StreetKing required a website that appropriately conveys the high level messaging and then guides users to find the nearest physical location. We created a dedicated locations manager that gives each retail store its own microsite within the overall StreetKing.com website to showcase local specials, products, customer's photos, and deals and services. The supported content management system makes it easy for the StreetKing administrators to manage content throughout each location section as well as the overall website.

If you're a business in the automotive industry and have a great aftermarket product or service to sell and are looking for a digital partner who understands the unique needs of top quality websites in the auto parts space, please contact us today to discuss what E-dreamz can do for you.