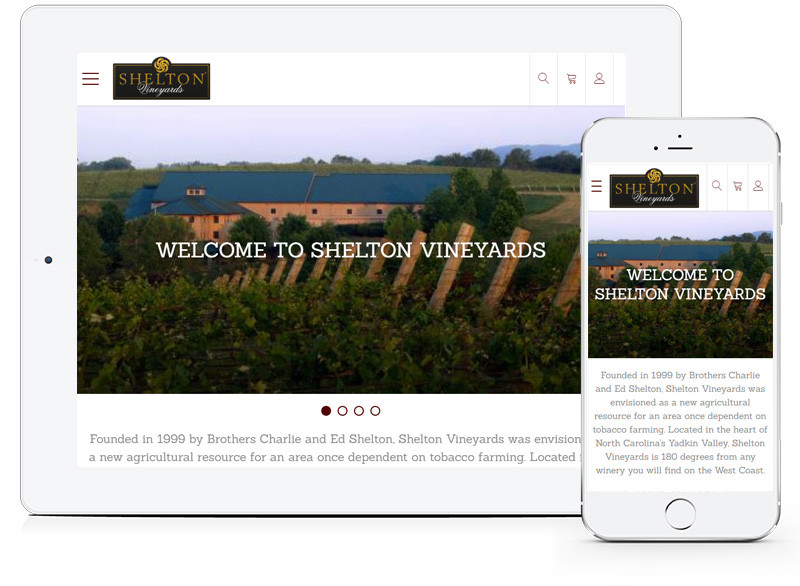 THE WEBSITE
https://sheltonvineyards.com/

Our most recent eCommerce launch delivers a full redesign of SheltonVineyards.com, the web home of one of the East Coast's largest vineyards. Shelton offers all of their wines for purchase online through the website, or you can visit their beautiful estate in the Yadkin Valley of North Carolina to tour the winery, dine at their on-site restaurant, stroll along walking trails through the vineyard, or enjoy a tasting. The vineyard is also a premier destination spot for weddings, private or group tours, and corporate events. As a long-time partner of ours, we are proud to enhance Shelton's web presence with a fresh new look built on our Echo platform.

FEATURES & FUNCTIONS
The Shelton Vineyards website is a fully-featured eCommerce website, membership club, and event scheduler.

Shelton Vineyards stretches across a picturesque landscape near the foothills of the blue ridge mountains. Their web design needed to match the same sense of beauty and grandeur that their on-site visitors experience when they visit the estate. Our designers created a sleek, elegant custom website design that leverages Shelton's photography and highlights their products, events and services. Because of the unique nature of selling bottles and cases of wine online, the eCommerce framework had to be substantially customized to provide a simple and effective user experience for placing orders.

CHALLENGES & SOLUTIONS

Magento Conversion
The driving force behind Shelton's website redesign was a need to transition away from the Magento platform. Shelton's previous website was built on Magento 1.X, and due to struggles with performance, security patches, and plugin compatibility, it was time to move the site forward into our Echo by E-dreamz platform to provide a faster, easier and more effective web solution for Shelton's online needs. E-dreamz assisted Shelton with pulling all product data, images and other content from their Magento site to ease the burden of transitioning to a new platform. We specialize in converting Magento-based websites to our Echo platform.

Build-a-Case
Shelton offers variable product types for their wines. Customers can buy single bottles or build custom cases by choosing from a variety of wines in various quantities. E-dreamz built a fully custom case-building tool as a product type template to both facilitate ease of purchase for customers and ease of set-up for Shelton administrators in the content management system. The end result is a clean and simple product listing that subtly incorporates sophisticated programming logic to manage subproduct SKUs, inventory, volume pricing discounts, and other considerations when building bundled case items.

Unique Promotions & Discounts
Shelton offers several complex price discounts for volume orders along with custom shipping rules and free shipping options for orders that meet certain requirements. We had to amend and in some cases overhaul our discounts and promotions engine to custom-program the necessary flexibility and support for Shelton to be able to sell their products online in the way they needed. As an enterprise-level custom web developer, E-dreamz enjoys the challenge to building new web tools to support the particular needs of businesses like Shelton Vineyards.

If you're an enterprise-level B2B or B2C eCommerce business in need of a more capable, customized website solution, please contact us to learn more about what E-dreamz can offer as your digital partner.