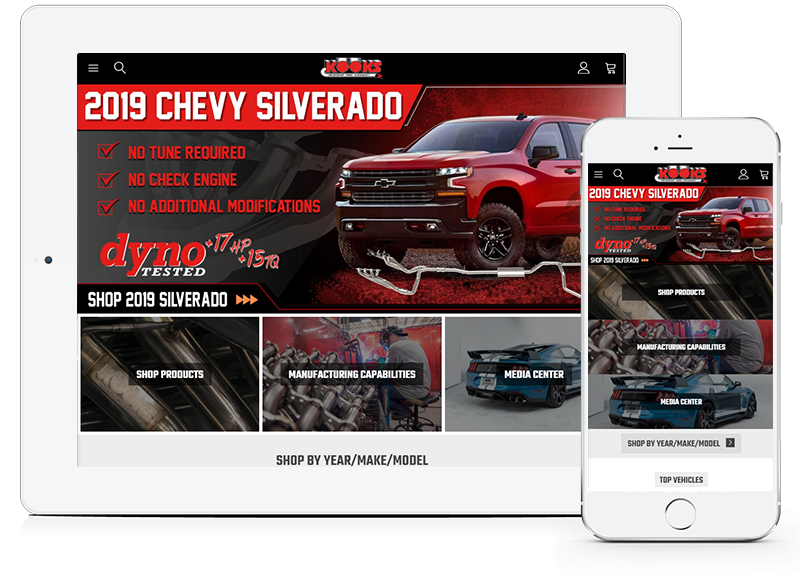 THE WEBSITE
https://kooksheaders.com/

Our latest launch is an automotive eCommerce web design application for Kooks Headers. We always enjoy the opportunity to build new sites in the aftermarket automotive space. Kooks is a bit unique in that they had previously worked with E-dreamz in the past, decided to try out Shopify, were unsuccessful in creating a Shopify solution that could meet their business needs, and ultimately came back to us for a brand new, fully-custom Echo-based website. We were happy to re-engage with the Kooks team and help them create a custom web development experience that elevates their online retail business to the heights they needed.

FEATURES & FUNCTIONS
The Kooks website is a heavily customized traditional B2C eCommerce experience. The UX is focused on presenting aftermarket automotive parts to online customers in the most immediate and effective ways - this involves various groupings of parts by vehicle make and year range, a specific year-make-model-option-engine direct parts-match tool, and standard search and browse by category views. Additionally, the site incorporates a dealer look-up to help customers find local suppliers and installers, as well as a fully-featured media center complete with photo and video galleries of Kooks products in action.

CHALLENGES & SOLUTIONS

PDM Integration
Kooks utilizes the Paramount Data Management software to maintain and format their entire parts catalog. PDM offers the advantage of allowing automotive parts manufacturers and dealers to organize and store their parts data in a system that can then be exported out in other industry-designated formats for the purpose of feeding their parts catalogs to other online retailers. E-dreamz custom-programmed a parts connector between the Echo website and PDM's API that automatically syncs any new product additions or changes made by the Kooks team in PDM to the website database. This allows Kooks to manage all of their parts data, inventory, pricing, images, and details in once place.

Regional Product Exclusions
One of the challenges with selling certain aftermarket auto parts is dealing with local and state-level laws that restrict or prohibit the sale of particular types of vehicle modifications. Through Kooks PDM data management, multiple custom flags were assigned to each item to denote which products required exclusions and restrictions. E-dreamz then custom-programmed logic into the website shopping cart and checkout to display all relevant/required notices, warnings and disclaimers for those items - and to block or prevent shipping of certain items to states that don't allow the sale of those types of products.
Dealer Network
As a seller of full exhaust systems, headers, and other major aftermarket component systems, it was important that Kooks customers also be able to easily find local installers to help them modify and tune their project vehicles. E-dreamz built a custom Dealer Locator tool that maps dealers in the US and Canada to show the nearest locations to the customer's searched zip code as well as a listing of international dealers for customers who need services outside of North America. Each dealer is categorized by the types of services they are able to provide, and the customer's mapped results can be filtered by those service types to narrow the options down to exactly the type of installation or tuning help they're looking for. The local installer look-up completes the overall shopping experience for Kooks customers.
If you're an Automotive eCommerce business with a parts catalog that warrants a custom-tailored website experience, contact us today to get started.