April 14, 2014
When to Email Your Customers
When to Email Your Customers With the launch of the new EmailzDirect.com I figure I might as well keep our email blog trend going. You can tell how huge email is becoming just based on the volume of our upgrades and eblasts. Oh yea, and we just reduced the pricing for every customer! March broke another internal record for us - 2,000,000 emails sent in just one month. A quick chart to re-cap and forecast the growth of our email marketing -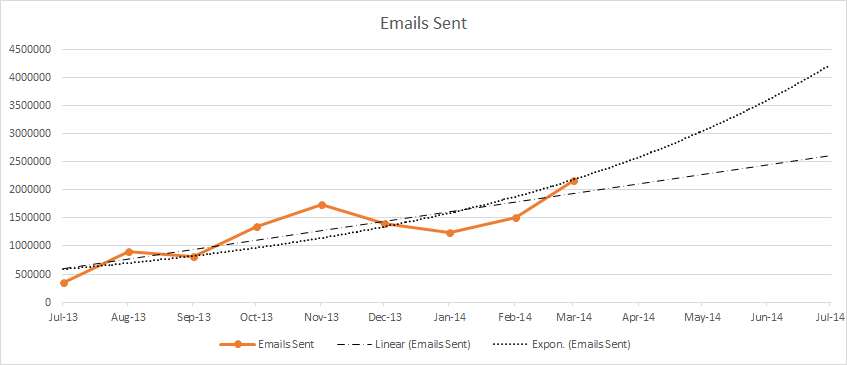 Now on to the good stuff: When To Email Your Customers. This is a question that often comes up in sales meetings and even after we start email campaigns. To start off I'd like to point out that there is no right answer. This is not a one size fits all tactic and will be different for every company or industry. Here is my perspective from someone who sits behind the scenes and works with 30+ companies emailing monthly.
Most small to medium businesses I encounter often say they send a newsletter once a month. Once a month makes you a needle in a haystack when it comes to email. Our inboxes are barraged every single hour with lots of messages from companies, friends, co-workers, social networks, online banking alerts, and so on. Just step back for a second and think about the emails you received in the last hour. With these type of monthly newsletters they are often titled "Company Newsletter - March 2014" and have broad messages with multiple calls to action. I'd compare this to throwing a lure with no bait into the ocean for one minute hoping to catch that big fish.
At minimum you need to start sending four or more emails a month. This will drastically increase your visibility and chances of someone reading your email. It will also keep you top of mind to capture that customer when they are ready to become a lead or make a purchase. Think of this as "lead nurturing" and display advertising.
So you are saying in your head: "I don't have anything to talk about and people will be bothered by our emails." I don't believe that one bit - you just have to start looking around at the obvious. Every single week there is something that happens in your company that you can email about. The low hanging fruit is cutting up that newsletter into chunks and writing specific emails. Stay tuned for a future blog post on how we and you can generate content.
E-Commerce store or retailer with products? Take the idea of four and double,maybe even triple it. We pushed limits with some of our top clients to sending 3-4 emails a week. Did users complain and jump ship with the unsubscribe button? Not even close! The only result of our increased email volume? Revenue and orders. Do unsubscribes happen? Of course, but it never scaled with the increased volume of email. It is likely that those customers weren't going to return or did not plan on making a purchase anyways. Content should naturally come easier as you likely have a flow of new products, customer reviews, new brands, season changes, and so on. Like I mentioned before, stay tuned for future write ups on content generation.
So what are you waiting for? Start generating ideas and let us send emails for you. I hope to see someone on my team making at least one for you next week.