Automotive eCommerce website design or websites for car parts can be really complicated at times with the number of brands, car part types, and products. A few simple tips, like organizing your products correctly, can help relieve the stress of the user shopping online and make your eCommerce site intuitive. Check out a list of tips we've come up with and contact us today if you have any questions or an interest in growing your automotive website today.

Automotive parts website product & category organization
A user should not have a difficult time figuring where they need to go when coming to your automotive website to find what they are looking to purchase. One way to ensure they are able to easily navigate your website is to make sure your navigation and product categories are organized well. Be sure to start with the creation of a basic sitemap of how users will navigate your website so you can see the structure without the design elements or other header elements getting in the way. Another type of more detailed sitemaps are what we call wireframes. Wireframes are similar to a blueprint in architecture where no design elements are in place but just the bare bones of what will be on the website from links, special elements, and basic functionality. Planning ahead with wireframing and basic sitemaps is especially important to do when creating an automotive website or specialty parts website since there are many categories that overlap and several avenues to find products or content.
Holiday & post-launch specials for car parts websites
When you first launch your website and during special holidays or events, it is a good idea to promote some specials on your website. Go ahead and plan in advance what these specials and promotions will be so that you can be sure to have the inventory stocked and assets created to advertise for these specials. Some common specials that we usually plan for are post-launch specials, Black Friday deals, Christmas BOGO, New Year and New Year's Eve savings, and more.
Social push is key for automotive websites
Be sure all of your social avenues are set-up to showcase your website and brand to the best of your capability. A good version of your logo, photography of your products and company and crucial content explaining your business are a good place to start. Also be sure to include a link to your website, address and contact information on your social media pages since some users may use this format as another way to find out more information on your company or contact you. Having this crucial information also makes you appear more legitimate and trustworthy online. Lastly, go ahead and start planning out a social media strategy for the next few weeks and months to ensure you are posting regularly to keep engaging with your followers on social media.
High-quality vehicle & car parts imagery
If you want your car parts website to appear professional and polished, it is key to have good quality images. Specifically for automotive websites, you want to have high-quality images of cars and car accessories to advertise and showcase what you are selling. Obviously, if someone is coming to an automotive website they are interested in cars so having pictures of the types of vehicles you are selling products for will only spark their interest more and possibly intrigue them into clicking on other sections of the websites. For example, when advertising for Camaro parts it is much more interesting to a potential automotive client to have pictures of Camaros instead of just the logo or car parts alone which can appear the same from brand to brand. Bottom line⁠—make sure your photographs of car parts and vehicles are top-notch to come across as a top-notch automotive website.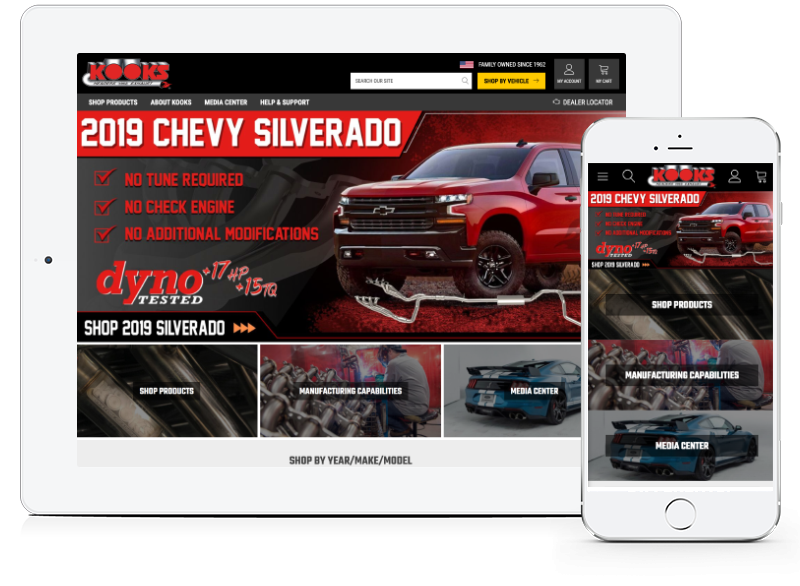 Shop by year/make/model or vehicle selection component
One sophisticated option to include on an automotive website is a tool to select the vehicle's year, make and model to search by. This will allow a user to search for parts based on exactly what model they are looking for on your website whether it is new car parts or old school car parts. Here at E-dreamz, we have a custom vehicle selection tool that we have used on many of our automotive websites. Check out our recent site launch for Kooks Headers & Exhaust which shows an example of this in the header area (Shop By Vehicle button) and in other crucial parts of the website such as the Product Listing pages.
Prominent search bars are key for automotive sites
Having a prominent search bar is crucial for clients looking to purchase car parts online that do not want to use a vehicle selection component or are not sure what exactly they are looking for. It may be easier for them to just type in "Mazda Miata" and see what populates from there rather than searching by car part, year or make/model. This is especially true if they own more than one Mazda Miata or are a car parts dealer and are interested in several products or car models. If they are a user who is not sure what they are looking for and are just browsing, having a prominent search bar in your header will allow them to browse your website with no restrictions.
Media center with rich vehicle-related content
A media center is a nice component to include in any website but especially one that relies heavily on photography and content like an automotive website. If you are selling car parts you'll want to include rich content, videos and news updates regarding your website and products to promote what you are selling, specials, sales and to help with search engine optimization (SEO).
Clean user-interface design
If you take ten minutes or less to search and comb through the most popular automotive website designs out there, you'll find that most of them abide by a less is more rule when it comes to design, graphics, and the overall aesthetic of the website itself. This means fewer flashy graphics and a clean and sophisticated user interface displaying a polished and professional feel. This approach really has no drawbacks for the automotive industry since most users shopping for car parts are going to be potentially spending a good amount of money and so they want to be able to trust your business and feel that they are making a safe purchase online. Having a cleaner user interface will make your automotive website seem more trustworthy and professional which are two qualities you should strive to have on any eCommerce website. Ford does a great job keeping their website organized and easy-to-follow on their robust vehicle parts website. Check it out here.
Free shipping is key for any eCommerce website
At a minimum, you'll want to provide your customers with free shipping in the lower 48 states to compete with other automotive websites and larger eCommerce websites like Amazon. Free shipping is starting to become expected on the internet for eCommerce sites everywhere and more than likely the user can find somewhere else to buy their product that provides free shipping. So, all in all, it is a good idea to provide free shipping to stay afloat with the other brands out there already doing so.
E-dreamz is a web design agency that specializes in custom web development, eCommerce web design, and automotive websites. For more info on eCommerce Marketing Strategies that drive conversions and online business growth, contact our multi-award winning eCommerce web design agency to get started today.