Longer Scrolling Sites
Years ago in the web design world, the common belief was that each site needed to be "above the fold." Back in the day, this meant not much scrolling (if any at all). With the invention of responsive design and therefore web designer's now having to accommodate for smartphones and tablets, some say this "above the fold" rule has pretty much gone out the window completely. Designers are now accommodating for more vertical layouts which allow for an efficient composition for each device. Check out KS Audio Video & Falfurrias Capital Partners for examples of long-scrolling sites and see how they can both be visually pleasing as well as great for responsive design.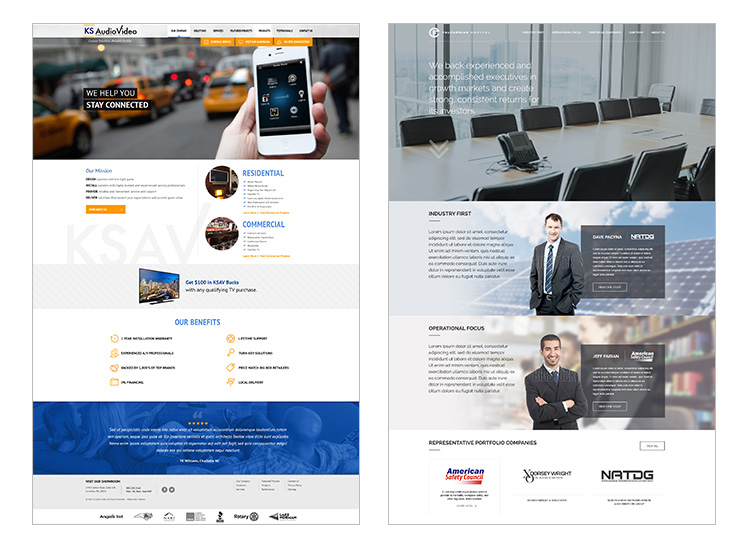 Card Style Interfaces

Card style interfaces, also known as modular design (think Pinterest), are not necessarily new in web design but have started to become increasingly more popular with the invention of responsive design. This type of interface allows for different "cards" or information to flow and adapt to any screen size or device a user might be viewing a website on. This results in a clean and consistent solution for websites that have a lot of information to be organized. In the below examples, we used this style of layout for the dynamic social section on OrthoCarolina & for the blog layout on Essex Parts.



Beautiful Typography

While beautiful, clean typography has always been a key design element in traditional print design, it has just recently hit it's "peak" in web design. With the emergence of responsive design & Google Fonts, it's much easier for designers and developers to create a website based around visual design elements which often includes typography. To me as a designer, there is not too much nicer than a website with clean fonts which helps a site be both visually pleasing and easy-to-read. Check out our sites Swiss Diamond & Edreamz to see some nice web typography.





Bold Color choices

It's no secret that the influence of color affects the mood of a web design element, or any design element, for that matter. Bold colors especially can communicate certain positive energy through being straight-forward and fun. We've been seeing an increase in bold colors and basic color theory applied in web design. Check out of two of our recent site launches, Hood Theological Seminary & Fielding Homes, which utilize bold colors balanced with white space to emit a positive energy.





Material Design

Material design is simply a design language that Google came up with that combines classic design principles (think color theory, nice typography, minimalism, light shadows) with innovation & responsive design. Sites like Gmail, Youtube and several design agencies are using this design language to create sites that are both eye-catching and user-friendly. Check out our recent launch of the new Edreamz.com for a great example of a material design-inspired website.


Hamburger Menu

All starting with the smartphone, the hamburger menu (or sandwich) icon arose out of the need to save screen real estate. The hamburger button traditionally opens up a flyout-style menu with all of the main navigation links available inside the menu. You've probably seen it on your smartphone or tablet but it's becoming increasingly popular on desktop sites that have deep navigation structures or websites wanting to focus on a clean, minimal look. Check out our recent site launch, Metrolina Association for the Blind to see a beautiful example of the hamburger menu paired with a clean, modern flyout-style menu and website.



Video Integration

Why stop with just plain content and flat images when you can have a video (or multiple videos) on your website? Higher speed internet connections have allowed video integration to become more mainstream in 2016. Below are two examples of modern websites, created by E-dreamz, that integrate videos within their homepages. Fielding Homes uses an introductory video for their main marketing panel and Kooks Headers and Exhaust have integrated videos from their YouTube channel into the bottom social section of their website.