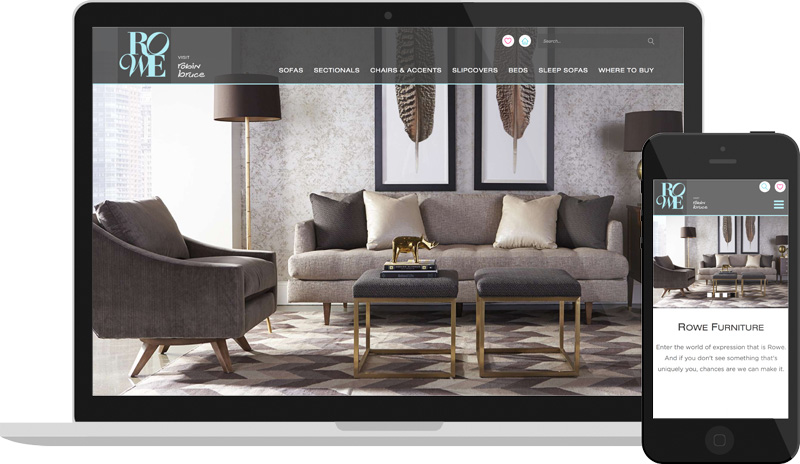 Challenge
Rowe Furniture in its 70-plus year history has developed into one of the world's most respected domestic custom upholstery furniture manufacturers. Rowe Furniture's collections are available at major home furnishings retailers and better independent retailers across the United States and around the world. The Rowe portfolio of brands includes Rowe, Clayton Marcus & Robin Bruce.

Rowe Furniture came to E-dreamz with three dated websites than were not mobile-optimized, a difficult to use content management system and overall; an online platform that was not designed well to showcase their beautiful products and take advantage of digital marketing opportunities.
Solution
E-dreamz architected, designed and developed a single-platform solution that educates consumers about two Furniture brands, (www.rowefurniture.com, & www.robinbruce.com), drives consumer traffic to their network of dealers via a store locator and also helps support their dealers through the incorporation of a new password-protected dealer extranet application. The new mobile-friendly websites include contemporary design elements such as parallax scrolling, large format imagery and are consistent and up-to-date with Rowe Furniture's brand standards and catalogs. An updated navigation schema allows customers to shop by style, collection or product type, providing additional opportunity to discover and explore Rowe Furniture's products. Other features include Inspiration galleries that showcase products uniquely within room settings, tools to allow users to design or apply fabric options and finishes to furniture pieces and social integration functions that allow for easy sharing of products to increase the brands' reach on social platforms.
Result
Rowe Furniture now has two new websites that really capture the nature of the brands through unique design and custom display attributes. A new content management system supports both brand websites and also the dealer extranet creating time and cost efficiencies for Rowe Furniture's content managers. The websites are also now a great designation to drive consumer traffic via E-dreamz's digital marketing efforts and online brand awareness campaigns, capture information on customers and ultimately creating pull-through product demand with the consumer audience through their dealer network.