It's safe to say that the way consumers find businesses today is drastically different than what it was 5 years ago, let alone 15-20 years ago. It's hard to remember the days of browsing through your local phone book, newspaper, or magazine to find a local business, product, or service in your area. It's possible that some people reading this never had the pleasure of shopping in such an archaic way.
Using a search engine on a desktop computer was the first major portal into the digital world for most of us with access to billions of websites and online stores - but things change exponentially in the technology world. The emergence of smartphones and other mobile devices not just changed the way we connect with others, but also how we shop. These devices are hailed by most, but yet not fully embraced by everyone. As it stands, nearly two-thirds of Americans own a smartphone and have incorporated them into their daily lives for a wide range of activities, such as following breaking news, finding directions to a local restaurant, researching that weird bug bite, shopping, and connecting with friends on Facebook. The last two behaviors of those just mentioned (shopping & Facebook) go hand-in-hand with a new feature being offered by the social network of the same name.
Facebook began offering a new ad format that we here at E-Dreamz are utilizing for our clients who are trying to connect with customers who live near their respective retail locations or reaching consumers who happen to be in their area. It's a simple idea - to target shoppers who are within a few miles of your retail location by providing them with directions, or a way to click and call your business while they're browsing through their Facebook feed. It's a great way to reach consumers who are the most likely to walk through the doors of your business, as opposed to spending astronomical advertising dollars for a billboard, or other mass publication advertisements. This has a more personalized feel and costs a fraction of traditional advertising who reaches people who might be out of your traffic area or is placed in sections of a publication that your customers may not see.
The ads convey a clear message, and couldn't be easier to engage with. As you're scrolling through Facebook, you may be served an ad from a market nearby, like the one below...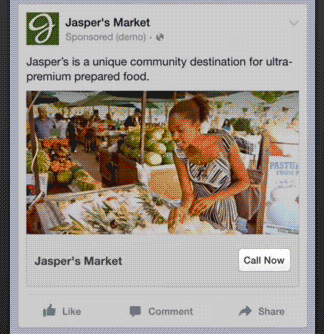 When you click on the "call now" button, your phone will dial the associated number, and within seconds, you're on your way to fresh produce...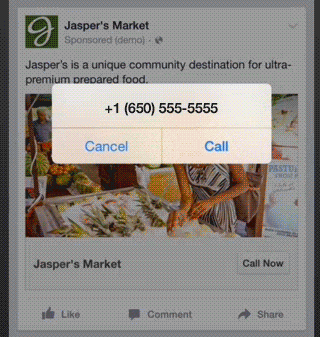 These ads are simple, convenient, and most importantly - relevant. We're looking forward to helping our clients increase foot traffic and revenue through the use of this new ad format from Facebook. Mobile devices have changed the way we go about our daily lives, and this is another step forward for local businesses who can now reach customers who never knew they existed. If we can help you reach local customers who live in your area, please reach out to us here.