Congrats! You have just launched a beautifully designed and functioning website! It's responsive, multi-functional, eCommerce or base (depending on your business model) and has all of the latest digital marketing techniques and tactics to advertise your business best online. Now, I want to let you know a common mistake to avoid that businesses make after completing a website launch: not touching a website for months or potentially year(s) after it goes live. Your new website is just the beginning of your new digital brand online and the work and upkeep doesn't stop once it launches. Here are a few basic tips to keep your website fresh and up-to-date after it goes live.

Fresh content. Content is key for good Google rankings and it's imperative that you continue generating fresh content from the moment the website launches and beyond. Research industry trends and keywords to come up with content that is both original and relative to your business. Not adding fresh content to your website could cause your rankings to drop - so content is a crucial way to keep your website updated and successful with Google.

Another important task to complete is to update meta tags to match the new content once it's in place.
Bonus tip: Create a content calendar to schedule out and remind yourself of new content and updates to make to the site.
Make sure all crucial business information stays up-to-date. Information like: location, hours, support information, shipping information are all important for users coming to your site and must be up-to-date to maintain a successful business online. The last thing that you want is for potential customers and clients to not be able to contact a support line or get crucial information when in need.

Tip: Google Maps is a great resource for linking your location and business information directly into your website.
Check out, our website design, Office Environment's contact page for a great example of a website with all crucial information and custom Google Map integration.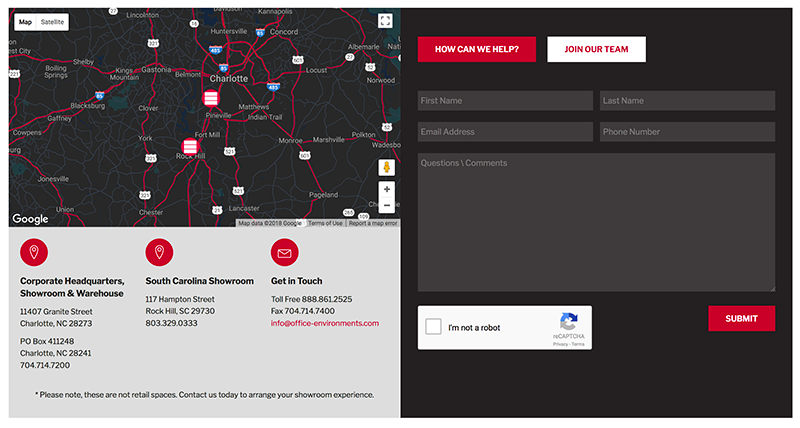 Don't neglect social media. While this isn't exactly website-related it's important to not neglect your social media accounts when you update your website periodically. Remember you have a huge base of potential customers here so it's important to keep your social media consistent and fresh alongside the content and/or promotions on your website.

Tip: Add a tab for social media to your content calendar schedule.
Make changes based on feedback from customers. Over time, you may get customer feedback based on your website or digital marketing strategies surrounding your website. While not all feedback is worth making major changes to your website or brand or even considering doing so, definitely listen to your customers if something keeps reoccurring or seems like it could be beneficial to try or improve upon. If you get positive feedback on a feature or item also consider finding ways to enhance or promote this more.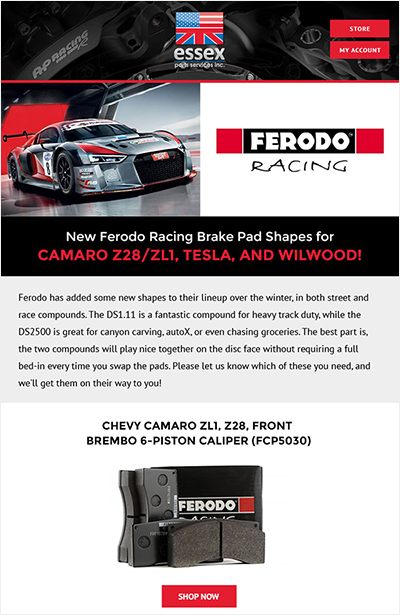 Advertise new products and sales. This one seems obvious but is oftentimes overlooked. If your company gets a new product in stock or an item goes on sale be sure to promote these items online. Marketing panel advertisements, display ads, keywords, social media advertisements, e-mail blast designs, landing pages devoted to the product or sale are all a few different ways to promote these items.

Essex Parts, a longtime partner and e-mail client of E-dreamz, sends out promotional e-mail blasts as a way to inform their customers of new products and product lines, sales, company news, and promotions.
Sign up for Google Search Console. Google Search Console is a free service offered by Google that allows you to track your Google ranking and search within Google. It's important to go ahead and sign up so you can track your website's progress as you make changes and updates.

Marketing Plan & Website Maintenance. Once your site goes live it's important to continue your marketing incentives and investments for your business to succeed online. Our digital marketing services are performance-based which means we partner with you to deliver the best marketing strategies and solutions with the goal of conversion rates, lead generation, and increased ROI. Read more about our Services and Contact Us today to get started!