Infrequently Asked Questions for Tristan Perry, a senior full-stack developer at E-dreamz

1. You were Ohioan (Ohian? Ohiite? Ohoite?), then a North Carolinian, and now a Virginian. What are your favorite and least favorite things about each of the places you've lived and worked?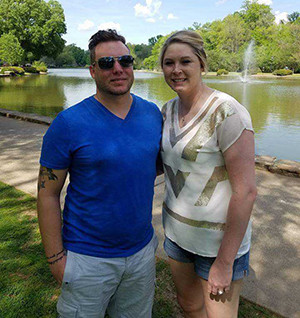 Ohio is where I was born and raised. It was a great place to grow up, and college at BGSU was one of the best times of my life. These days it is always nice to visit friends and family. I never liked the long cold winters though. I get my fix when I am there for Christmas, but then I'm good.
North Carolina was an awesome adventure. I moved there the day after I graduated from college on a whim with no job. Before I knew it I had been there for a decade. I met some of the best friends here and ended up with the career I always wanted. My weekends have changed since I have gotten older, but I just love how there is always so much to do and new things to try living in Charlotte. I'm a beer guy so having the amazing brewery scene has been clutch. The only bad thing was that it was always a long drive back to where I am from in Ohio.
Virginia is fairly new to me at this point, but Lindsey and I are finding good hangouts and new things to do. Plus we live only 10 minutes away from the beach, so that is a major perk. Negatively we are now 2 hours further away from our families, and there are not as many breweries around here.
For brownie points, I would have to say that having, my wife, Lindsey as the one constant in my life through it all is the best part. We went from best friends growing up in Ohio, to reunited friends eventually getting married in North Carolina, and now still crushing it in Virginia. I wouldn't change a thing.
2. You've been with E-dreamz for darn near a decade now. What are some of your favorite E-dreamz memories from years gone by?
Wow, It's crazy... there are so many things. It's funny how much all of our lives have changed from when I started till now. First, during the interview process, I came in with my portfolio as a designer/developer, and Nate looked me right in the face and said, "You should pick one … I think you're a developer". Best advice ever, because clearly he was right. We have had some of the best company Christmas parties ever. None were quite as epic as the one at The Vue, and none are ever complete without an awesome Nate speech. Honestly, just all the team lunches and after-hour gatherings were so much fun. A good majority of us have been here for a long time, and we have all truly bonded and have become good friends over the years. That's something special that many people don't get the chance to experience in their careers. (Editor's note: Awww...)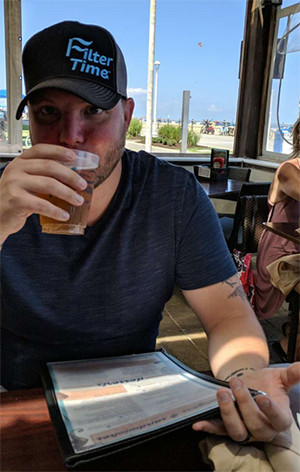 3. As a senior full-stack dev who is well seasoned in his career, what most interests and excites you these days about the future of web development?
I'm always ready for a new challenge. As technology advances and the industry grows we always have to stay ready to adapt to it. I think that every developer here has the same "whatever it takes" mentality. I really enjoy working with the industries that we choose to focus on, so that's a major plus.
4. Before you became a Virginian (as mentioned above), you spent a fair amount of time drinking craft beer with your friends and coworkers down here in Charlotte area breweries. If you're still drinking in breweries up the Norfolk way, what are some of your favorite watering holes and favorite recent brews?
Well yes, I would have to say that is a true statement. As I mentioned before, Charlotte is a beer guy's dream, but there isn't quite the same scene here in Virginia. Lucky for me though some of the best breweries around here are very close to my house. My favorite beer is from Rip Rap Brewery, but I also really enjoy hanging out at O'Connors and Makers Craft. One place that I patron probably the most though is Hank's Filling Station. It's not a brewery but they always have the best of the best of all the local beer on tap. Also, they have a cool beer garden out back that is a lot of fun.
5. How's full-time remote work treating you? Do you miss the office camaraderie? Are you settled into your at-home-Zoom-meeting ways?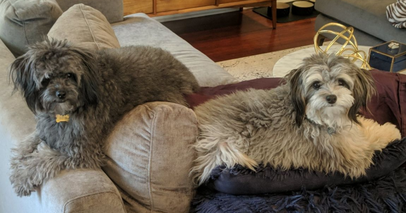 I do have to admit that it took some getting used to. Mostly just finding ways to convince myself that I am not a crazy person that only has conversations with 2 small dogs. I do miss being in the office and hanging out with the team though for sure. Now since COVID-19 Lindsey (my wife) has been working from home for months as well. It has been great, but I also have much more respect for Katelynn (another senior full-stack developer who is 100% remote) now. I'm just happy that I'm able to do it, and stay on board wherever life takes me.
Bonus: Who would win in a fight - Bigfoot, or a Zombie Hippo?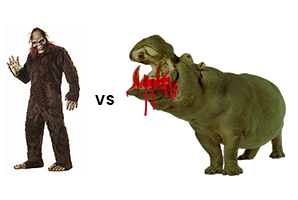 You know my first instinct was to go with the zombie hippo, but the more I think about it, I'd have to say Bigfoot, and here is why.
Bigfoot is blurry and the hippo would have a tough time keeping him in its sights.
Bigfoot never leaves the woods, so if they were to ever encounter it would be on his home turf.
Bigfoot has opposable thumbs giving him the advantage of being able to use weapons.
Finally, if the hippo did win then Bigfoot would just become a Zombie Bigfoot, so then game over.