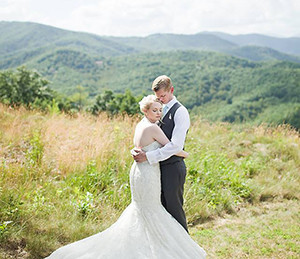 Infrequently Asked Questions for Jane Londeree, Senior Designer & Art Director at E-dreamz
1. You're a long-time North Carolinian. From the mountains to the Charlotte area to the coast, what's your favorite part of our lovely state?
Absolutely, without a doubt, the mountains of North Carolina are my favorite part of good ole "North Cackalacky." Growing up my family would go to the mountains for vacation and day trips multiple times a year to go sledding, skiing, and hiking where I learned to enjoy the mountains and the take in the peacefulness of it all. Eventually, when it came time to choose a college to go to it only made sense to me to go to a college in the mountains. I toured both Appalachian State University and Western Carolina University and ultimately decided to become a Mountaineer! To this day my husband and I (also App State alum) go to Boone, Blowing Rock, and Asheville a few times a year whether for a long weekend or day trip if we feel the need to get away from the busy Charlotte city life. We love the mountains so much we even got married up there. Sidenote: I do enjoy the beaches of NC too but am more of a fan of the mountains - being fair-skinned and all the beach is not always my friend!
2. You've spent nearly a decade of your professional life with E-dreamz. When you first started, did you think it'd last this long? What are some of your favorite memories of E-dreamz years-gone-by?
When I first started at E-dreamz I knew I wanted to work for a place where I could really build a career and not just hop from job to job within a year or even a few years like many in our industry often do. So to answer your question, I was certainly hoping it would be a place I could be at for a while to build a career but I'm not sure I had any idea that it would pan out or be as long as it has been. Switching jobs is always a risk to a degree but I'm SO glad I took the chance! Some of my favorite memories include: making great lifelong friends, Friday lunches, happy hours, Christmas parties, potlucks, exploring new parts of Charlotte, and of course being excited & proud when a new site launches that I worked on goes live. It's an awesome feeling when a beautiful site goes live that you are proud of!
3. Web design has evolved dramatically throughout the years. What excites you about website design and usability these days, and what do you think the "next big thing" will be?
You are correct, web design has truly changed a TON since I took basic HTML classes in college and well, since I first started at E-dreamz in 2011. What truly excites me to this day is seeing how design as a whole is constantly changing to adapt to technology. Despite all of the ways you can automate a website design with a template you will still need a designer's touch to make a site or application polished and personal. It's interesting to see how digital design has adapted to so many different mediums within technology from computers, tablets, phones, video, and even branding has been inspired by these technological advances. My biggest prediction is that this will only continue but also that in order to keep user interfaces unique artists will only become larger within the digital realm. We're already seeing custom design and illustration now within multiple branding campaigns and I don't think that will go away anytime soon. You have to have a way for your brand to stand out amongst a bunch of template-y looking sites and applications out there. After a while, things could start to all look the same if you don't have an artist or digital designer's touch.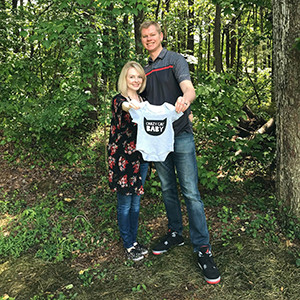 4. Diving into more personal matters, you're very near to that incredible life milestone of producing offspring. How has the process of gestating a human being within your womb changed you from an emotional, mental, and physiological standpoint? (Please be as graphic as possible.)
Well, as I sit here with my growing belly feeling my son kicking away I must say, things have been certainly interesting being pregnant during a global pandemic... I don't think my husband and I had any idea when we decided it was finally time to expand our family that it would be during a strange time like this! Naturally, being pregnant makes your immune system go down since you are, well, harboring life and your body's energy is mainly going towards growing a human. So, I've had to be extremely careful these days making sure I'm putting my body, health, and the baby first by basically avoiding everyone and not going places. From my husband not being able to go to the initial prenatal appointments due to COVID hospital restrictions to not being able to see friends and family, this part of my time being pregnant has not been ideal. Also, the morning sickness and migraines due to hormonal changes I experienced in the very beginning were brutal and even Extra Strength Tylenol does not help much. By the way, morning sickness is not just in the morning I quickly learned. Contrary to popular belief, it can happen at any time of the day!
On a much more positive note… I'm extremely elated and thankful to be at this point in my life and am looking forward to our little boy being here soon so I can get ALL of the cuddles and experience being a Mom for the first time. The highlights have definitely been: feeling those first kicks and movements daily (including feeling him hiccup), seeing ultrasounds of the baby, getting to eat whatever I want, decorating our nursery, and the utter cuteness of baby clothes/accessories (so tiny)! Plus, I've discovered recently everyone is overly nice to you when you are pregnant and won't let you lift a finger and honestly I'm taking FULL advantage of this part being into my 3rd trimester now.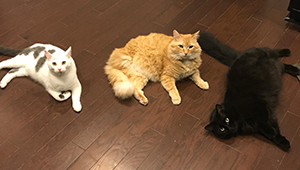 5. Enough about babies. Tell us about your cats!
Despite becoming a human Mom soon, my cats are my babies too, seriously I baby them so much. My husband says he knew I would make a good Mom someday because of the way I treated them (aww…). I think a lot of folks were surprised when I announced I was expecting because they thought I was content with just cats, which I was for a long time, but I also knew I wanted to have children someday. Anyways, back to the cats - they are seriously so sweet and are great company throughout my workday and just whenever I need some animal love (I've always been a huge animal person). They greet us when we come home and are always seeking cuddles, pets, and attention. I also love how low maintenance cats are compared to other pets (ahem, dogs who you have to watch constantly or take out to do their business). With cats, you can leave for the day or even a few days and your cats will get by just fine as long as they have enough food, water, and of course their litter boxes. Cats will definitely miss you while you are gone just like dogs and be clingy for the first few days you are back but the cuddles and love you will get when you come home are totally worth it! As of right now, we have three boy cats: Sunny, Smokey, and Snowball and this is the most my husband will let me have right now in our 2,000 ft townhome (eye-roll). Anyone who knows me at all knows I'd have many more cats if I weren't married and didn't have to compromise but I guess that is just a part of marriage!
Bonus: If you could time-travel back to any point in history, but had to remain there for at least one year before returning to your present time, where and when would you go to and why?
This one is easy for me - I would most definitely travel back in time to the '60s to experience all of the political/social movements and of course the amazing music of this time. You'd find me marching down Washington, joining in on the women's rights movement, watching Apollo 11 in person, and attending all of the concerts I could go to during my time there. I've always been inspired by the way our country came together (or were divided depending on how you look at it) during this era of time and enjoy watching any and all documentaries about this decade. Three great documentaries I've seen recently include Woodstock - 2019, Apollo 11 - 2019, and Crip Camp - 2020 (I should note "Crip Camp" is technically footage from 1971 but still culturally relevant). It's also no secret that I enjoy the music and arts from this era! Just a few of my favorite artists from this time include The Beatles, Simon & Garfunkel, The Grateful Dead, Joan Baez, Joni Mitchell, Bob Dylan, The Jimi Hendrix Experience, and Janis Joplin. I can thank my Mom for my music taste and overall exposure to this decade of time - thanks, Mom!