May 24, 2016
Feetures! Case Study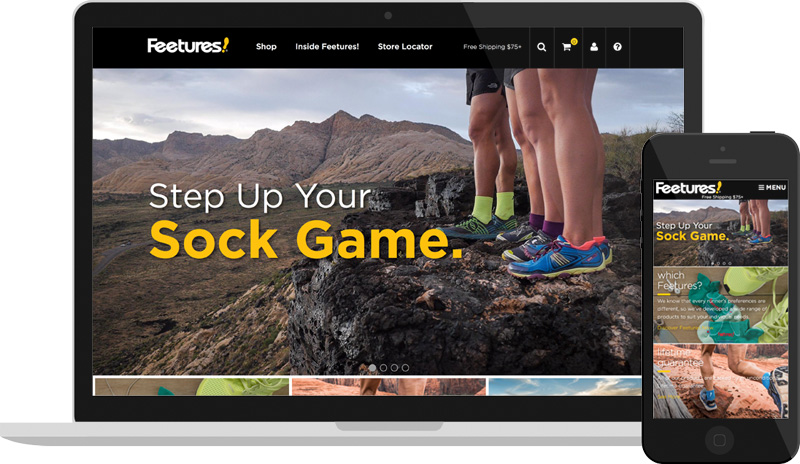 Challenge
Feetures! Running Socks, a family owned business with management located in Charlotte, NC's trendy SouthEnd neighborhood, needed an eCommerce solution to broaden their reach to serious runners. Feetures! is a high performance sock that is used by competitive and recreational runners for the fit, moisture wicking and overall comfort that they provide. The company has established retail relationships with many specialty retail running stores, and wanted the new website to allow for users to purchase online, while still maintaining and increasing in-store traffic for their retail partners.
Feetures! also wanted an easy to use content management system that enabled them to update products, content pages and maintain accurate reporting on site traffic, revenue, product popularity and more.
Solution
E-dreamz engaged in many preliminary and due diligence meetings to understand client needs. E-dreamz then developed a full featured eCommerce solution on our Echo+ platform. This site allows users to browse Feetures! inventory by product name, by sock height, by cushion level and by most popular or newest product entries. Users are also able to visit their local retailers by utilizing the Store Locator feature-thus ensuring that Feetures! is effectively marketing for and referring customers to their valued retail partners. Feetures! also engages E-dreamz in a full online marketing campaign to increase site traffic, branding and social presence. The E-dreamz marketing team uses Paid Search, SEO, Emailz Direct email marketing and other tactics to make sure the Feetures! brand is in front of consumers to encourage online purchases and in-store traffic to retail partners.
The E-dreamz Marketing team By utilizing the Echo+ platform, Feetures! was able to get a world class online presence, a robust fully featured and mobile friendly site with custom creative and a robust Content Management Solution allowing them to update content and products at any time.
Result
Users are now able to browse hundreds of products as well as see all color, cushion and height combination on the site. Feetures! also now has an ever expanding database of customers and brand loyalists for future marketing purposes. Online sales have increased, and relationships with retail partners has remained outstanding with the Store Locator feature driving in-store visits as well.
By: Brian Henning
Director of Marketing