May 06, 2014
Facebook Contest Case Study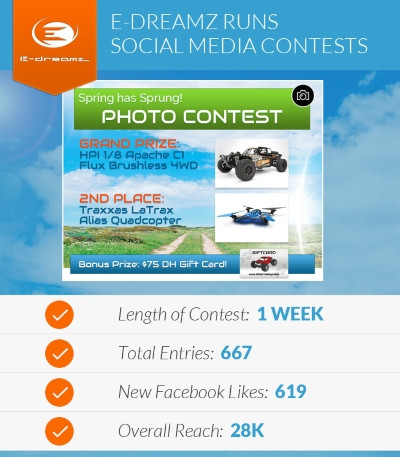 The above graphic represents some pretty impressive statistics that were a result of a recent social media contest we deployed for Dollar Hobbyz.
If you follow a brand or product page on Facebook, chances are you have seen a contest come across your feed. Maybe you have even entered a contest, but have you ever wondered what it takes to start and successfully run one of these contests? More specifically, do you have a product or business that could benefit from a social media contest? If so, contact the
Internet Marketing department
at E-dreamz today to learn more! For this case study, I will share the details for the above contest we ran for Dollar Hobbyz; starting from inception to completion.
Stage I: Idea Generation
Dollar Hobbyz was interested in doing a 'Spring' contest. Due to the fact that the end consumer of Dollar Hobbyz uses the product for outdoor enjoyment, we pitched a 'Spring Photo Contest.' Essentially people would have the chance to upload images of their RC cars, boats, planes, etc. in a spring setting. The top photos would have a chance to win various prizes.


Stage II: Details, Details & More Details
After the initial theme was agreed upon, there were numerous details that had to be agreed upon.
Contest Duration?
How many prizes / which prizes were to be given away?
How are the winners selected?
Which ways to enter? Should it be Facebook only or include Twitter and Instagram as well?
Size dimensions for the contest graphic?
Should we require someone to like the page or not to enter?
And more…
Stage III: Design Mock-Ups
A very important aspect of any contest is the initial design your viewers will see. The design needs to be simple enough to quickly understand what the contest is about, but also visually appealing enough to make someone take notice. For this contest we made the following custom elements:
Contest tab graphic for Facebook page
'Fangate' graphic (this is the 1st graphic someone would see if they didn't like the page.)
Main Contest design graphic
Facebook cover graphic
Graphic for Email Blasts

Stage IV: Contest Roll-Out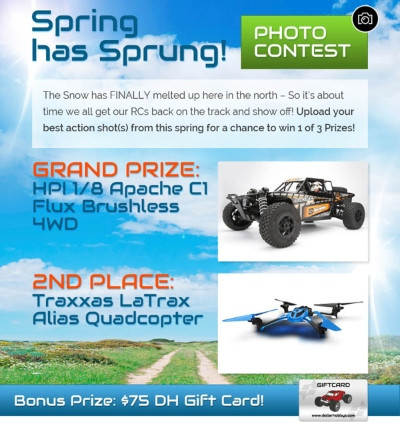 Day 1 - Soft launch via Facebook in the morning followed by a custom-designed email sent to the client's customer list in the afternoon.

Day 3 - Promoted FB post – To spark interest outside of the client's followers, we spent $100 on a 'Promoted' Facebook post using the contest graphic. As you can see the promoted post reached 26,048 targeted consumers.

Day 4 – A 2nd email blast goes out to the customer list promoting the contest.

Day 6 – A 3rd and final email blast goes out announcing the final day to enter.
Day 7 – The contest is put to an end, the Facebook cover photo is changed out and a post is made to alert the fans a winner will be picked soon.

In addition to the main highlights above, special care was taken to actively monitor the Facebook page and address any questions, comments, and concerns fans had.
Hopefully, this blog post shined some light into the amount of work that goes into running a social media contest. It's not quite as easy as one might imagine, but at the end of the day if run properly can be very beneficial for the company. Contests can create tremendous engagement for your page, which in turn generates likes and additional emails and content for future marketing efforts. Do you need help with your marketing efforts?
Contact us
today to learn how we can help!
BACK TO BLOG