September 29, 2016
Event Marketing Case Study: E-dreamz Invasion of Charlotte's Google Fiber Office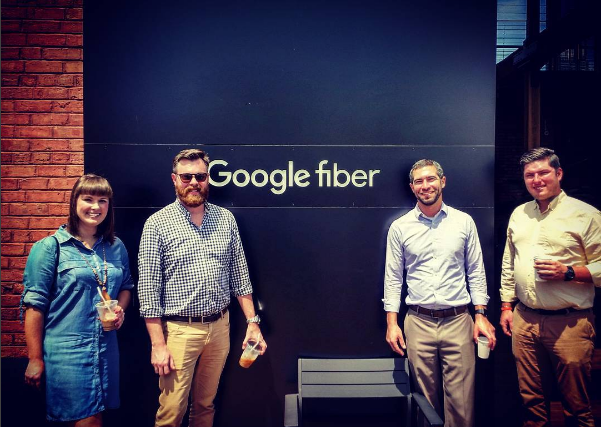 Challenge
Shortly after being awarded Premier status with the Google Partners program, E-dreamz was approached by Google to host an event focused on both AdWords and the growth of mobile search. With only a month until the event date, E-dreamz was tasked with promoting the event and gathering RSVPs.
Solution
To bolster RSVPs from local businesses in the greater Charlotte area, E-dreamz had a three-pronged approach: Google Remarkeitng Ads, LinkedIn Adverting & sponsored event advertising with local, digital news provider, Charlotte Agenda.
Google Remarketing Ads
Taking advantage of existing remarketing lists targeting previous site visitors of both E-dreamz.com & EmailzDirect.com, E-dreamz created a limited-run remarketing campaign promoting the upcoming event. We not only wanted to target previous site visitors but wanted to get our ads in front of those not familiar with our brand. The best way to achieve this within the remarketing campaign was by creating similar audiences to our remarketing lists. By using this feature, we were able to garner over 200,000 ad impressions during the 10 days the campaign ran.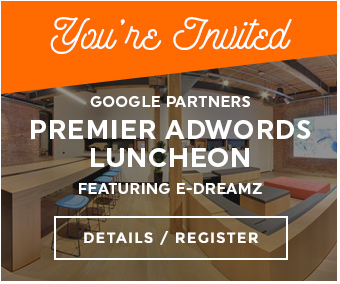 LinkedIn Advertising
A week prior to the event, E-dreamz harnessed the targeting power offered by LinkedIn's social advertising platform to sponsor a post sharing event details. Running the post as an ad for 24 hours, we were able to fine-tune our target audience to the exact type of attendees we wanted at the event.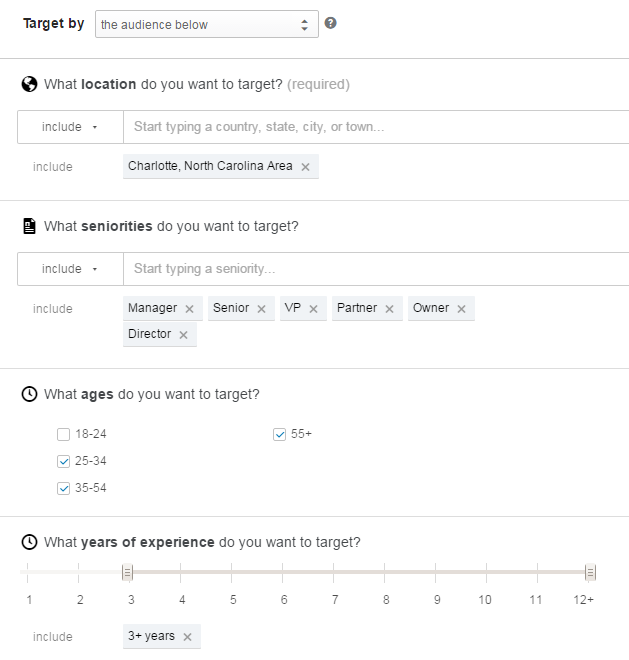 Sponsored Event Advertising on Charlotte Agenda
The third and final tactic we deployed for boosting RSVPs was through a featured event placement with Charlotte Agenda. Covering all things Charlotte, the publication sends a newsletter each morning to its 18,000 subscribers with original reporting – boasting an open rate around 55%. With a highly engaged audience primarily made up of 18-44 year-old professionals with household incomes between $75,000 and $100,000, Charlotte Agenda's featured event ad offering was a no-brainer. The ad buy got us an event posting that was promoted throughout charlotteagenda.com, a placement in their newsletter, and mentions on Twitter and Facebook.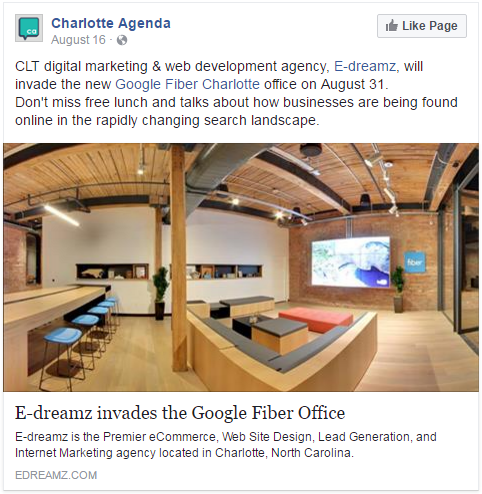 Result
The event was a huge hit! Google originally set a target of 50 to 60 RSVPs but our marketing efforts for the event caused us to blow past this ceiling – Oops! The overwhelming number of RSVPs and positive responses to the event has prompted Google to consider future collaborative events with E-dreamz that we hope to announce in coming months.