The year was 1991 and I had just graduated high school. I was heading to college at the end of that summer with no clue in the world what my future would hold (or how I even got into college). At that time Hair Metal still ruled the world and MTV, but things were starting to change a bit. I was still a crazy KISS fan and had been from the time I was like 6 or so. But will admit I loved the Hair Metal bands. However, even my door was opening to more and more bands that had very different styles, sounds, and vibes to them. I was always told KISS was not really that good (musically), but during that 1990-1992 timeframe, I really started to understand why, in many different ways.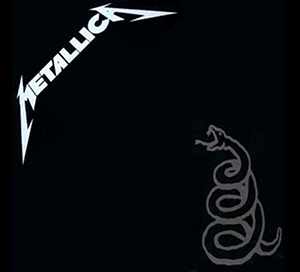 That summer I can still remember how much I loved the latest Alice in Chains Facelift album. At the same time, I could not put down the latest Van Halen album For Unlawful Carnal Knowledge. Plus who didn't listen to AC/DC and Guns N' Roses? My music palate was starting to evolve a bit. Not to knock my obsession with KISS and other hair metal bands, because I still admired them so, but I knew my ears, eyes, and knowledge of music was changing.
My older brother and his friends always liked Metallica. And to some extent, I liked them a bit as well from the backseat where you had no say on what got played. I never owned a Metallica album, though until 1991. In the past, they were just a bit too heavy for me. That all changed, and so did my life, really, that summer of 1991.
Not sure exactly what hit me so, but I remember hearing "Enter Sandman" and thinking that song was not only an amazing sonic boom it was an amazing song that sounded like it was already a classic. And here it was Metallica's new song, and frankly a new style for the band that hit me like a freight train. Songs like that do not come around that often. Time doesn't age them; everyone knows the lyrics and even people who hate metal or hard rock like those types of songs. And like millions of people that summer I rushed out and got my copy of the Black Album (August 1991) as fast as I could. Probably one of the best purchases I ever made in my life.
The Black Album was amazing from start to finish. And still is. As I write this and listen to it for like the 50th million time, it sounds fresh and new sounding even today. The songs and production on the album are all pure perfection or as close as musicians and producers can get. I mean I put this CD into my old school stereo it just floors my speakers like no other, yet you can hear each instrument perfectly with both force and balance. From the opening of "Enter Sandman" to the closer "The Struggle Within", Metallica takes you on a Heavy Metal journey of perfection. Yes, it is not as metal as their previous albums to that time, but the previous albums didn't have a complete path laid out in the way the Black Album did. Heck ...And Justice For All didn't even have bass on it.
The songs are just great! As I heard James Hetfield say once, "We are not the best players in metal, we just happened to write good songs". It was probably this, the songs, that got me so hooked on the Black Album. The sludge and head pounding of "Sad but True" to the creepy and strange place "The Unforgiven" takes you. And yes, Metallica even had a ballad on this one called "Nothing Else Matters". And even that sounded good.
From that time forward I became the biggest Metallica fan ever. I had moved on from the little boy who loved KISS and grew up a bit (I still love KISS). I went back to their older albums and realized just how amazing this band was. It took some time, but I soon realized that the Black Album was not their best even up to that point. I finally figured out what so many were trying to tell me for years. I know the Black Album opened the doors to millions around the world to Metallica and it is a door I am so happy I went through.

There were many other doors opening in or around the music scene that summer of 1991. Just think within a few months of each other Pearl Jam released Ten (August 1991), Nirvana released Nevermind (Sept 1991), and Guns N' Roses Use Your Illusion I & II (Sept 1991). WOW! Now, I always like to ribb on my grunge music friends a bit because no matter who came out, what came out, Metallica outsold them, outplayed them, and outlasted most of them. Do not get me wrong I loved Nevermind and recall seeing Nirvana on "Head Bangers Ball" before they broke. I still listen to Pearl Jam all the time. However, none of them are on the Metallica throne.
The Black Album, to this day, is the best-selling album of the SoundScan era. It is the best-selling album in the United States since Nielsen SoundScan tracking began in 1991. The album has sold over 30+ million global copies to date and continues to chart. Metallica is still the biggest American band out today and one of the biggest around the world. Heck, they even helped bring down the former USSR when they went to Moscow in 1991 and played in front of 1.6 million people. Some still say it was the biggest live audience, ever, in music history.
I know many Metallica fans feel they sold out when they made the Black Album. I would say the complete opposite. They expanded their abilities and reach with this album. Broke new ground and opened the flood gates for metal music in general. They survived many musical landscape changes, formats, and the age of going digital. And they still… "sell out every seat, every night, in every city, in every part of the world", as Jason Newstead (former bass player) said when asked if they "sold out".
Long live Metal! Long live Metallica!
Here is something to ponder about the time frame around 1990-92 in music. Below is a shortlist of other amazing bands and albums released during the early '90s. Amazing time, in many ways…
Pearl Jam - Ten
Van Halen - For Unlawful Carnal Knowledge
Soundgarden - Badmotorfinger
Guns N' Roses – Use Your Illusion I & II
Pantera – Vulgar Display of Power
Rage Against Machine - Debut
Megadeath - Countdown to Extinction
Def Leppard - Adrenalize
AC/DC - Razors Edge
Bon Jovi - Keep the Faith

Ozzy Osbourne – No More Tears
Red Hot Chili Peppers - Blood Sugar Sex Magik
Nirvana – Nevermind
Alice in Chains – Facelift / Dirt
Skid Row – Slave To The Grind
White Zombie - La Sexorcisto
Stone Temple Pilots - Core
Iron Maiden - Fear of the Dark
Anthrax - Persistence of Time