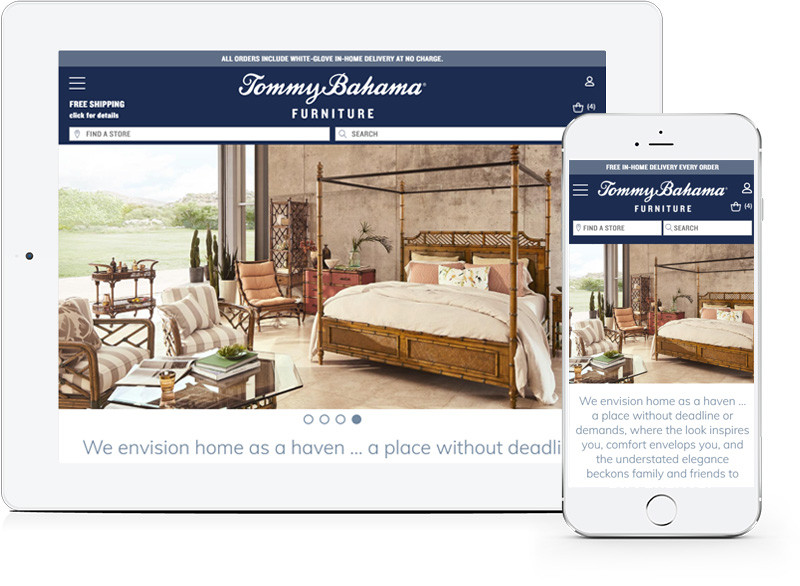 THE WEBSITE
https://tommybahamafurniture.com/

E-dreamz was proud to be selected as the team to design and build Tommy Bahama Furniture's only direct to customer eCommerce site. Tommy Bahama Furniture sells a huge catalog of high-end home and office furniture for indoor or outdoor use. The website's design needed to match Tommy Bahama's branding and convey the appropriate sense of quality and prestige to match their merchandise.

FEATURES & FUNCTIONS
The Tommy Bahama Furniture website is a robust, fully-featured eCommerce site.

The user experience begins with a fast-loading, mobile-friendly responsive design. Because of the overall volume of products, clean, intelligent categorization and easy to use menus and filtering were all key to a successful browsing experience. Shoppers can browse by collection, by room, by furniture type - and combine their selections to further narrow down the options. The My Account area provides customers with full details on their past orders, a convenient re-order feature, and the ability to build wishlists and save products for future purchases. Tommy Bahama invests heavily in rich media, so it was important to provide a media center with video and download resources that could be easily cross-linked to individual products or categories.

CHALLENGES & SOLUTIONS

Product Data Import
The largest challenge with Tommy Bahama Furniture was accessing and managing the large volume products catalog. Tommy Bahama Furniture maintains and provides a data extract from an AS/400 database. E-dreamz custom-programmed an import routine that runs on a daily basis to update all product data - images, pricing, descriptions, dynamic attributes, categories, etc. We had to employ clever batching and optimizations to ensure the import routine could successfully handle the vast number of products.

Taxes & Payments
Since Tommy Bahama operates in many areas, determining the appropriate amount of tax for each customer address required integrating with a dedicated tax rate provider. E-dreamz partners with Avalara's AvaTax service through our Echo platform to provide an easy means of configuring any client's website to pull rates through their AvaTax account. This relieves the headache of manually updating tax percentages for countless individual tax regions. Additionally, we partnered with HostedPCI to provide a PCI compliant payment solution that offloads a lot of technical overhead of Tommy Bahama's PCI scope of risk and provides customers with a safe & secure full-hosted payment window to capture and process their credit card payments through Tommy Bahama's preferred and established merchant gateway.

Shipping & Fulfillment
As is the case with any enterprise-level, high volume eCommerce business, Tommy Bahama had a lot of nuance and complexity to their shipping and fulfillment flows that required E-dreamz to come up with smart, efficient programming solutions. We built custom order statuses, custom order event triggers, unique combinations of shipping calculations and split shipment options, along with a sophisticated admin order tracking and notation utility to be able to easily see, filter and update orders or partial orders in any status or state of fulfillment. The end result is a powerful administrative back office that serves as Tommy Bahama Furniture's complete fulfillment center.

If you're an enterprise-level B2B or B2C eCommerce business in need of a more capable, customized website solution, please contact us to learn more about what E-dreamz can offer as your digital partner.