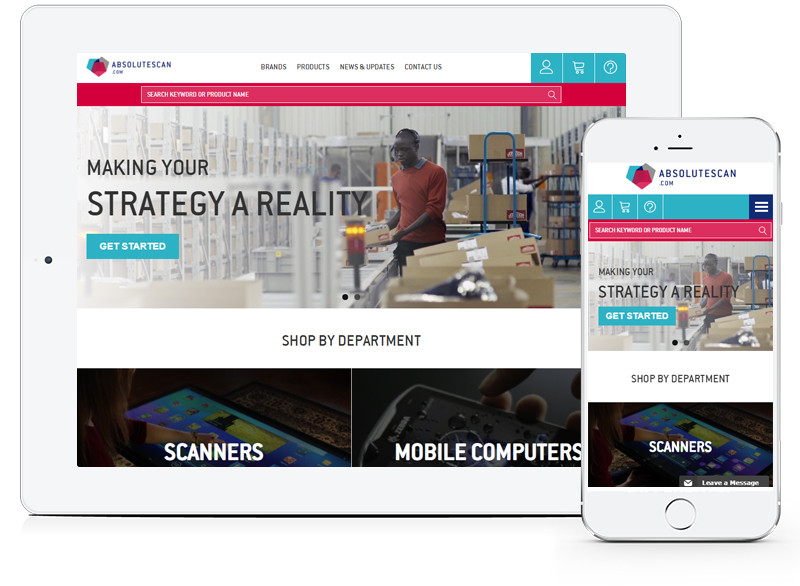 THE WEBSITES
https://datascopewms.com
https://absolutescan.com

E-dreamz recently launched two websites for DATASCOPE WMS - both a refresh of their corporate site and an all-new eCommerce site. DATASCOPE is an international company specializing in warehouse management software and solutions. They recently invested in a US-based headquarters here in Charlotte to spearhead plans for growth in the US market. E-dreamz is proud to have been selected as their stateside digital partner.

FEATURES & FUNCTIONS
DATASCOPE provides high-end warehouse management solutions that transform the way their clients operate. As such, they needed their outdated corporate site updated with a sleek, professional design that effectively conveyed the quality and value of their key services and software solutions. E-dreamz developed a unique, custom web design to reinforce their branding, corporate identity, and overall digital presence. The eCommerce site sells mobile computers, scanners and other hardware and accessories for use with their management solutions. They needed a fully-custom digital storefront that could ingest a product feed and output orders to their fulfillment center's API.

CHALLENGES & SOLUTIONS

Product Import & Inventory Management
The bulk of the effort for the absolutescan.com eCommerce site was invested in developing a fully-custom programming solution to import DATASCOPE's substantial product catalog. With multiple models, attributes and data sets that could be filtered in any combination, we had to develop an import routine and product presentment solution that could query flat attributes across a large number of individual products. Additionally, we do multiple real-time inventory checks as customers are browsing the site and display up to date messaging pertaining to stock availability and lead-time.

Order Exports & Split Shipments
We wrote substantial custom code to accommodate's DATASCOPE's complex fulfillment system. All order data is exported to their fulfillment center's API. The fulfillment center then ships individual items in various shipments, sometimes splitting individual SKUs or quantities of the same SKU. We had to write a scheduled task to loop through all processed orders and items within each order and develop custom screens and email notifications to customers to alert them of what items or quantities of items had shipped on their orders versus what items still remained to be shipped. In all, DATASCOPE's shipment detail and notifications system are one of the most elaborate we've ever done.

Custom Search
Similar to the challenges with product import and shipments, we had to create a full custom search for DATASCOPE to accommodate the unique ways their customers might search for product data. We did a substantial overhaul of our Elastic Search eCommerce package to build a custom search algorithm with weighting by category, searched term, stock availability, and direct-character-match. The end result is a fast-performing, highly-accurate search tool for a website with a large, complex product catalog.

Design, Marketability & User Experience
Given that the absolutescan.com site is the first direct to consumer eCommerce site DATASCOPE has launched in the US, the marketability and usability of the site are critical to immediate success. Our design needed to be sharp, fast, user-friendly, and effective. And the user experience needed to present challenging, complex product and order data to customers in a simple, intuitive way. All this while remaining fast-loading and baked with our standard array of best-practice technical SEO toolsets. The end result is a seemingly simple front-end with an enormously complex back-end. And we're proud of the site's overall look, feel and performance.

If you're an enterprise-level business in need of a more capable, customized website solution, please contact us to learn more about what E-dreamz can offer as your digital partner.