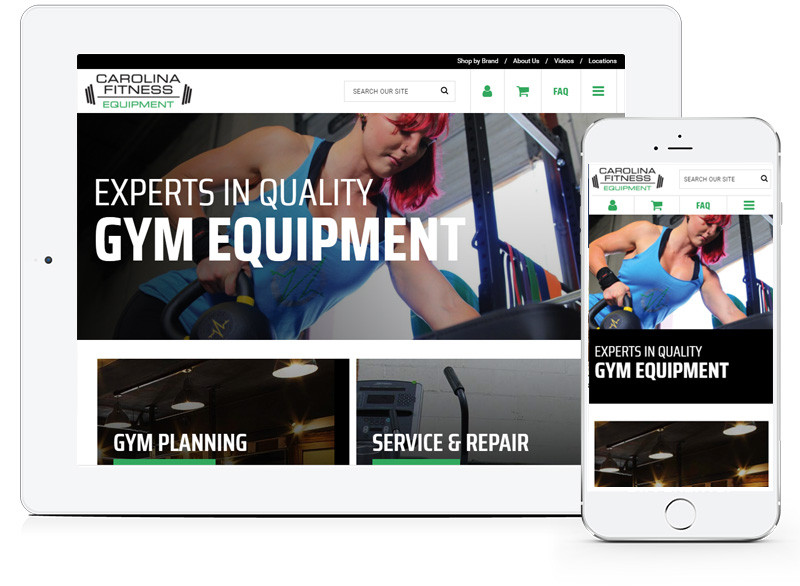 THE WEBSITE
https://carolinafitnessequipment.com/

E-dreamz's most recent eCommerce website launch is for a fun and unique new partner - Carolina Fitness Equipment. CFE is a fast-growing business that focuses on buying and selling new, used and pre-owned gym-quality fitness equipment, along with other robust fitness-oriented services like gym planning, equipment refurbishment, and delivery & set-up. E-dreamz is excited for the opportunity to be a part of their story of success.

FEATURES & FUNCTIONS
The Carolina Fitness Equipment, fitness website design is a fully-featured eCommerce website, inventory management tool, and fulfillment back-end.

The CFE website is custom-designed to highlight products, educate customers on CFE's overall identity and service offerings, and provide a dynamic, easy to use interface for browsing and selecting complex equipment. The look and feel also had to convey a sense of power and intensity that comes with CFE's branding and merchandise. Through strong imagery, active rollovers, and a fast-loading, mobile-friendly layout, we capture that sense of strength and purpose. We also developed unique customer tools, like the Idea Board that allows customers to plan and organize a full gym of equipment, to further help customers engage with CFE's products and enhance the shopping experience. On the administrative back-end, we heavily customized our Echo by E-dreamz CMS to support CFE's complex products, Salesforce integration, and unique shipping & fulfillment needs.

CHALLENGES & SOLUTIONS

Salesforce Integration
We programmed a direct integration with Salesforce's API to post real-time order data from the website admin to Salesforce for processing & fulfillment. Additionally, we wrote a routine to sync inventory counts for all items between Salesforce and the website on a schedule. CFE's Salesforce environment is configured with other 3rd party Salesforce extensions and add-ons that alter the base/fundamental data sets documented in the Salesforce API integration guide. As such, we had to do quite a bit of research and trial-and-error to ensure that CFE's data made it into their systems the way their business requires.

Product Data
As is often the case with enterprise-level eCommerce websites, CFE's product data is complex. With a variety of configurable items, bundled sets, and numerous actionable attributes to define and specify how certain products should be presented, we had to extensively modify our Data Pump bulk import tool to develop formats that were understandable and manageable. Ultimately, we were able to create an import process that allowed for easy export of all product data from Salesforce, manipulation into our system's required structure, and one-click uploads to import thousands of items into the website database through simple spreadsheets.

Multi-Store Functionality
Our Echo by E-dreamz website platform can be configured to support any number of multi-store or multi-site set-ups. CFE runs a separately branded domain for their Strencor line of products. Using our multistore application, we were able to provide them a unique and distinctive front-end for the Strencor website that could be managed via the same back-end as the primary website to make for convenient product set-up, order tracking and reporting, and the overall administration of their web properties.

DIGITAL MARKETING
We provide our full suite of digital marketing services for CFE. Through a dedicated, retainer-based relationship we are partnered with CFE to help promote their brand and grow their sales. With a primary focus on customer acquisition, education and retention, we blend efforts in marketing automation, content SEO, social media management, paid advertising and email marketing to hit their target audience on all channels. And through our robust reporting and tracking tools, we make data-guided decisions that optimize every marketing dollar CFE spends - for maximum returns.

If you're an enterprise-level B2B or B2C eCommerce business in need of a more capable, customized website solution, please contact us to learn more about what E-dreamz can offer as your digital partner.