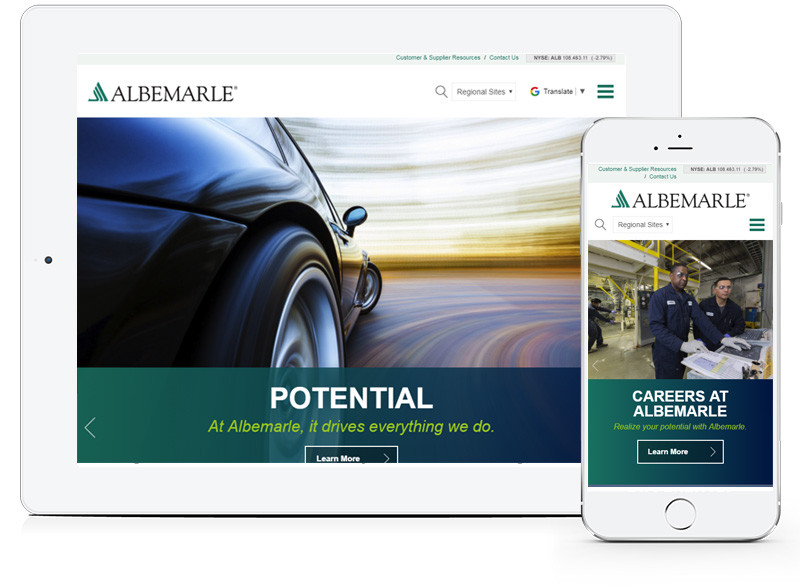 THE WEBSITE
https://albemarle.com

Our most recent website launch is one of our biggest ever. Albemarle Corporation is a global specialty chemicals company with leading positions in lithium, bromine and refining catalysts. Having recently relocated their corporate headquarters to Charlotte, NC, Albemarle was looking for a local vendor to partner with for their new website and ongoing technical support. E-dreamz is proud to have been selected as Albemarle's preferred digital partner.

FEATURES & FUNCTIONS
As an international company with unique needs for both their internal employees and their external clients worldwide, the Albemarle website needed to carry the sense of quality, capability and global reach that their business entails.

The overall web application is a multi-site set-up with dedicated translated regional sub-sites targeted to Germany, Japan, Chile, and the U.S.A. The main site is structured with corporate-level content as well as specific sub-sections with more detailed content specific to their primary business units. The site also incorporates data feeds from Albemarle's SAP-based product database and their NASDAQ Investor Relations portal.

CHALLENGES & SOLUTIONS

Global Content & Translations
The initial exercise for Albemarle was to perform a deep-dive into their Analytics, content, and internal processes to completely re-map their overall website structure to provide a better user experience. With audiences that vary greatly from country to country or business unit to business unit, it was a rewarding challenge to plan a clean, easy to navigate website that manages to convey the enormous amount of uniquely targeted content that the Albemarle.com website contains. A centralized CMS powers content for four websites in one, with the ability to set up additional translated regional sites going forward as needed. The result is a high-performing, content-heavy network of sites that each reinforces Albemarle's branding, messaging and company outlook.

Business Unit Content & Contacts
Albemarle is structured with three primary business units for their Lithium, Bromine and Catalysts products and services sets. Each business unit has its own subsection of the site that is built specifically to support the content and tools necessary for that business unit while still maintaining a cohesive look and navigation structure. Each section has lead generation tools and contact forms that route to a matrix of internal reps and employees depending on the nature of the request. We built a sophisticated form-contacts management component in the CMS to allow for Albemarle to easily update the recipients for any given type of contact across all business units and regional sites.

Third-Party Data Feeds
The two primary integrations for Albemarle came from their SAP products database and their NASDAQ Investors portal. For the product database, we wrote a custom import routine that ingests thousands of product names, descriptions, and classifications along with related materials downloads from their existing SAP database. For the Investors portal, we worked with NASDAQ's development team to design and build an Investors section of the website that seamlessly integrates with NASDAQ's Albemarle portal. This includes a news feed for press releases and events postings that is delivered directly from NASDAQ to our on-site news section.

If you're an enterprise-level business in need of a more capable, customized website solution, please contact us to learn more about what E-dreamz can offer as your digital partner.