Overview of Adwords
Keeping to the topic of the Google Adwords platform this month, I want to provide some insight that goes beyond just an explanation of the pros and cons of leveraging an advertising platform and walk through a quick case study to show you the ways in which we utilize this software for our clients.
It's important to note that every client is different, so there's never a set strategy that is put into place when beginning a new campaign in Adwords for a business but having said that, there are some tried-and-true methods that we deploy for different campaign types. The case study I'm going to present is a jewelry retailer who sells both in-store and online with a wide variety of inventory and a local presence.
It's important to set goals prior to launching any campaign to ensure that the traffic you capture is the most likely to result in conversions that will add value to the business. For this client, in particular, online sales are always a good thing, but driving in-store traffic, and building a lead list through contact forms and phone calls is what really pushes inventory, so we take a diverse approach with this client's account. Keep in mind, this client's account is a bit more complex than just bidding on a handful of keywords which is also not a bad approach in some cases, but this example will provide you with an idea of the various ways in which you can connect with qualified consumers.

Universal app campaign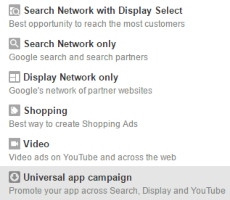 Where do I start?! There are quite a few campaign types as you'll see above – for this client we currently have 5 search network only campaigns, 2 display network only campaigns, and 1 video campaign running. While all of these campaign types (except Universal App Campaign) will help this client drive traffic to their site, we focus on the campaign mix just mentioned because it allows us to target consumers in a way that reaches the individuals we want to show our message to at a cost that is appropriate. The core of Google Adwords is search, so that's where we'll start.

Search Campaigns
To strategize how you want to structure your account, you'll typically want to mirror the way your services and/or products are presented on your website. This allows you to make your campaigns very targeted by providing a great user experience that drops a user on a relevant landing page once they click your ad. But, with this client, in particular, we don't want to advertise all of their product lines, so we just focus on the ones that constitute their core business. In this case, antique jewelry, engagement rings, and jewelry appraisal/buyback - so we set up a search campaign for each one of those categories. The remaining two search campaigns are geared towards branding terms to ensure that they show up when someone searches for their business name. With search campaigns, you're targeting someone who has an immediate need, so if you're trying to drive in-store traffic, you'll want to target individuals who reside within a small radius around your location – in this case, 30 miles.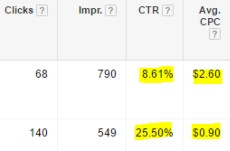 You'll find that branded campaigns will perform much better than other search campaigns due to the fact that someone is searching specifically for your business. While you might think it's a waste to bid on your own name, consider that your competition is likely bidding on your name, in addition to the fact that you can take up more "shelf space" on the results page – plus they're very efficient. As you'll see below, the percentage of people who click on branded ads are almost always far greater than any other search campaign you put into place. Also, having a high click-through rate leads to an average higher page position and the lower average cost per click. This is part of Google's algorithm that determines the relevance of an advertiser's ad and rewards them for good performance.
Big difference
As you'll see, a higher click-through rate tends to lead to a lower average cost per click. Also important to note that a click-through rate of 2% is considered good in the eyes of Google, so..25%! Branded search campaigns work great, but you also want to go after individuals who are searching for products and services you sell, so inevitably you're going to have to pay a premium as there's more competition on those types of terms.

Display Campaigns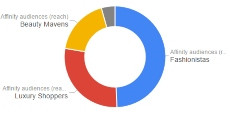 As we move beyond just the standard search campaign where consumers have a specific need it's important to also target individuals who both visit sites within your industry as well as those who visited your site before in particular. This is done through display campaigns. Display campaigns are carried out through aesthetically pleasing (at least that's the goal) and engaging banner ads. We set up two display campaigns for the reason mentioned above – we want to target both the individuals who shop within your industry and those who visited your site specifically. This is done through the targeting method. For this client, we created one campaign based on the following categories within a 30-mile radius…

Relevant shoppers

We then set up another campaign going after consumers who have visited their site previously. This is done through a remarketing tag that is placed on the website. Adwords will let you know if you installed it properly through the platform.
Video Campaigns
The last type of campaign we set up was a video campaign. While you may not think of video campaigns are a likely source of leads, you may not take into consideration that YouTube is the second largest search engine in the world. People like videos…. a lot. It's a great way to create a brand online and bring awareness to what you have to offer. It doesn't take a professional videographer to create an engaging video – your smartphone will do in some cases. Similar to Display campaigns, you can target based on demographics as well.

Video campaigns are very cost-effective as you only pay when someone watches 30 seconds of your ad. Take a look at these results…
Again, people love videos – especially when diamonds are involved.
Nearly 1 out of 4 people watch the entire video – at a rate of 7 cents per view!
In summary, there are a variety of campaign types in addition to targeting methods within each campaign, but the most important thing you can do when setting up a Google Adwords account is to focus on your goals which will determine which tools you leverage in this platform.
Find your SEO Service Expert today and see how we can make your Adword campaigns easier on you by contacting E-dreamz a web marketing agency in Charlotte.