How often should you redesign your website? Most experts in the field would agree that about 2-3 years is the maximum lifespan of a website at most. However, what matters more than how often you are updating your website are the changes you are making and what goals want to be met based on the changes. If your site is not performing well or generating leads then it's time to look into starting the redesign process. If your website is performing well but the design is outdated, maybe it's time for an overall aesthetic refresh to your interface all while keeping the same content and overall strategy. In this article, I'd like to highlight some of the major signs it is time for a website redesign.
It's not responsive - Responsive design is the current most basic user-experience standard for any type of website. Since the vast majority of people now have smartphones and tablets it's crucial that your website best displays on all screen size options available. Unlike a separate mobile website that only targets a certain mobile size range, responsive web design will allow your website to resize according to any screen size whether it be a laptop, smartphone or tablet. Back in 2015, Google set the standard by saying they will penalize any website that is not responsive. This means your site will not be able to be found readily through Google Search which is bad news for any company online. If your website is not responsive, this is enough reason alone to start from scratch ASAP.
Your competition's website is better - "Comparison is the thief of joy," - Theodore Roosevelt. The sad truth is you might not realize how outdated your website is until you look at another company's site. The most obvious place to start is your direct competitors, both local and larger scale. Do they have sleek new responsive user-interfaces, all of the SEO best practices and keyword-rich content strategy? If your competition's website is better than yours in any of these areas then it's simply time to up your game online.
Along with your competitors, be sure to also look at websites outside of your industry to get familiar with current website trends.
Designers want to hear what you like and dislike in user interface design, as we all have different tastes and opinions, so do not be afraid to bring your ideas to share along with you to a creative meeting.
Difficult to update or change out information & small graphics - It should not be rocket science to update your website's content from time to time. If you find your website is difficult to maintain or find it strenuous to update small graphics, photographs or basic text it's time to look into a better content management system. Our websites at E-dreamz are designed and developed within our own custom-built framework, Echo, which allows you to change out and update text, graphics, products and other crucial parts of the website very easily. To find out more information on our CMS platform, Echo, please visit here.
Inconsistent page designs - Have you done a lot of maintenance and updates to certain parts of your website over the years? Let's say you've added a few new sections to your website or gone through a rebranding phase at your company. If this sounds familiar to your company's website, take a step back and consider the overall look and feel of the site as a whole. Does it feel cohesive from the homepage to each internal page to the contact forms and even at the mobile size? Often times websites that have undergone a lot of changes, typically websites older than 3-4 years, can appear cluttered from the number of updates that have been done to the same base website over time. If this is your case, it only makes sense to do a complete overhaul and start fresh with the most important navigation links, sub-pages and most crucial content first in mind.
Outdated or zero basic content - Take a look at your website's content and consider how current your strategy is. Keeping your content fresh is key to great Google rankings and this includes some basic information for your users. Some basic things to look for here include:
Outdated company description or value proposition
Location, address, contact information is difficult to find
Outdated photography of staff, building and company information
New products/services/offerings unadvertised on site
No social media integration - It's key to include social media integration, as necessary, on your website to cater to each and every possible viewer. Consumers find different vehicles of the internet to be useful in regards to finding out updates about brands and products online. With this being said, it only makes sense to leverage your social media accounts to your other digital marketing efforts online to attract each and every viewer. Some basic tips to increase social media traffic and visibility on your website include:
Include small social media links in prominent places on your website. Header, footer and contact pages are pretty standard
Include social media share links in blog and news components to allow users to share each article via social media platform
Consider adding in a dynamic social media feed to your website for increased social visibility on your website. Check out the example on our eCommerce website, Carolina Fitness Equipment, where a dynamic Instagram feed is placed at the bottom of their homepage.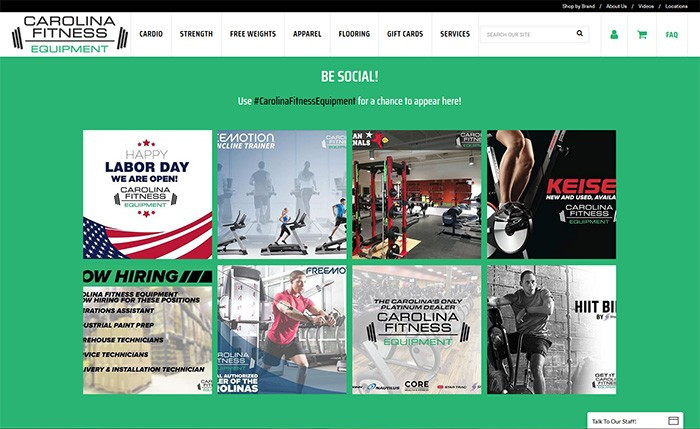 Outdated SEO - Search engine algorithms change and evolve constantly - so a website with poor SEO that isn't following all of the latest nuances, rules, and restrictions set by Google, will simply not perform well. Your website has the capability to be designed with SEO and keyword-rich content in mind from the start of the planning process. If your website isn't ranking well then your SEO needs some help. Remember, keeping your content fresh is key for good Google Rankings and this includes basic and well planned out SEO. For more information on improving your SEO strategy, read our blog post here.


Slow website speed - According to Bitcatcha.com, 79% of online shoppers say they won't go back to a website if they've had trouble with load speed. This means that if your website lags or is slower than your competition's website, whom they may browse to while getting frustrated with your slow site, your sales are in trouble. Website speed is the very first impression you make on the internet and if your website is slow or has issues loading, it can cause your website to appear untrustworthy which is a very difficult impression to break. All in all, this is a crucial factor that must not be overlooked if you want to attract leads, make sales and appear trustworthy online.
Unclear navigation - A clear and organized navigation menu on your website is a must. It's important to label each category correctly and to ensure proper hierarchy is in place for each subcategory thereafter. If you go through the means to make your user interface look good aesthetically as well as spend the time and resources to make it appear fast through Google Rankings, it will mean nothing if your navigation is unclear once the user gets to your website. If you are running an eCommerce website, navigation only becomes even more important as reoccurring users may already have in mind what they are looking to find and do not want to waste time combing through each subcategory one-by-one to find the exact product they are looking for. So all in all, it's important to make sure your website navigation and website information architecture is planned out carefully.