January 20, 2017
PPC vs. SEO: Which is Right for Your Business?
Traffic is the lifeblood of all websites. It's an indisputable fact that the success of any online business depends on its ability to generate traffic to its pages. How to best generate traffic to a site; however, is still hotly contested: PPC or SEO?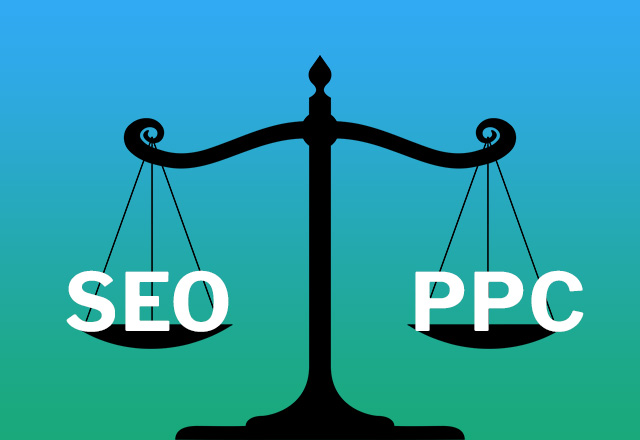 Here's a quick overview: Search Engine Optimization (SEO) and Pay Per Click (PPC) are traffic generating strategies with the same end goal – growing inbound leads through the increase of traffic to your site—but are different in implementation, technique and methodology. To succeed in either of these strategies, you must first reflect on your own business' goals and THEN determine which approach best fits your circumstances.


When PPC is the Best Option
So what exactly is Pay Per Click marketing? PPC is a marketing method where you bid in auctions to have your ads appear in sponsored results of a search engine page dependent upon the search query used (note this is a very high-level definition). Every time a user clicks on your ad – and subsequently is taken to your website – you pay (hence, "Pay-Per-Click").

When should you implement a PPC strategy? When one of the below circumstances best matches your needs:

I Need Leads NOW

For those of you who need instant gratification, paid search is for you. The results of this marketing strategy are immediate – it's 100% input-output. If you're looking to start generating leads tomorrow, paid search is your answer as there's no waiting period. The moment your PPC campaign is approved (and your bids are strong enough) your ads will immediately be shown to searchers, providing them the opportunity to visit your website. AKA, an instant traffic generator. SEO strategies require a gestation period that can last months at a time before you see the effects.

My Site Wasn't Built with SEO Best Practices

Websites that are implemented with SEO best practices are content-rich, optimized with targeted keywords (this is different from keyword-stuffed), and updated on a regular basis with fresh content. In doing so, these websites provide context to search engines about what they offer and give search engines a reason to continually re-visit the site (and serve it in top results). If your website is not practicing SEO strategies, then PPC will be the best way to generate traffic to your site.

I Want to Be at The Top of Search Results for a Particular Set of Keywords

If you didn't already notice, PPC results are displayed ABOVE organic search results. Thus, even if you implement the best SEO strategy, your organic results will STILL be pushed down by paid ad placements. By not participating in paid search, you'll show up underneath your competitors who are taking advantage of PPC. If you're serious about maximizing your visibility within search results, then PPC is for you.


When SEO is the Best Option
So what exactly is SEO? This is a marketing technique where the end goal is to have your site "organically" listed within major search engines. This is done through thoughtful on-site content cultivation, keyword research and target assigning, link building, and more. Think of PPC as the fast game and SEO as the slow game.

When should you implement a PPC strategy? When one of the below circumstances best matches your needs:

I Want Consistent Lead Flow

While PPC may be immediately gratifying, it's best to think of it as a faucet: when PPC is running, traffic will flow in; when PPC is turned off, the traffic will stop flowing in. If you're a creature of consistency, then SEO is for you so long as you continually implement and re-invent your SEO strategy. In keeping up with you SEO campaign, you'll be able to reap long-term benefits and enjoy a coveted position within search results.

I Want to Increase the Longevity of My Website

Think of websites like a home: your hope is that the value of your property will increase over the years – making it a wise investment. Just like you made improvements to the house to maintain its value, you must consider doing the same for your website. This, of course, is done through SEO strategies. By continually maintaining fresh, targeted content, you're ensuring the longevity of your site and its ability to produce inbound leads.

I Want to Build Authority Within My Niche

SEO is a great tool to have in your arsenal for not only driving traffic to your site but setting your brand up as a recognizable thought-leader within the industry it serves. SEO initiatives increase your ability to introduce search users to your brand so use it as an opportunity to not only engage users but keep them coming back for more. By implementing a strategic, SEO-focused content marketing plan (both on and off your website), you'll enjoy continued, sustainable traffic and lead growth.

Keep in mind SEO does NOT equate to free clicks. While PPC may be more black and white when it comes to money in/money out, successful SEO strategies cost both time and money, too (i.e. keyword research, content ideation and cultivation, link opportunity research and outreach, and so much more).


The Verdict
So what form of digital marketing is best for your business? The short answer is both. PPC & SEO work best together as they both make-up for each other's shortcomings. While these initiatives can stand on their own, the best client success stories come from a blended effort of both marketing strategies.


BACK TO BLOG