Facebook and Instagram are two very dominant social media platforms and advertising on them can be very beneficial to your business. How are these advertisements similar and different? Depending on what you're advertising, you may think only one platform is good for you. Let's take a deeper look.
Demographics
Knowing the demographics of platforms is key because you need to target your advertisements in order to be the most cost-effective. Get a better understanding of where your customers are spending their time. Check out the quick stats below as of June 2016.

Facebook:

Monthly Active Users: over 1.7 billion (1.57 access on mobile and over half of those users access only on mobile)
Largest Age Group: 25-44 years old
Average time spent per day: 20 minutes
Instagram:

Monthly Active Users: over 500 million (there is a desktop version, but it's pretty much a solely mobile social platform)
Largest Age Group: 18-34 years old
Average time spent per day: 21 minutes
Average amount of a user's feed that they miss: 70%
Engagement
Facebook might dominate in numbers at first glance, but engagement with brands on Instagram is way higher. Instagram has the highest rate of engagement of all social media at 2.3% per follower vs. 0.2% for Facebook. That makes Instagram's engagement rate with brands about 10 times higher than Facebook.

In the below example, Starbucks received a .022% engagement rate on Instagram over .006% on Facebook. The post generated almost 50,000 more likes on Instagram, which is significant considering they have 25 million more followers on Facebook.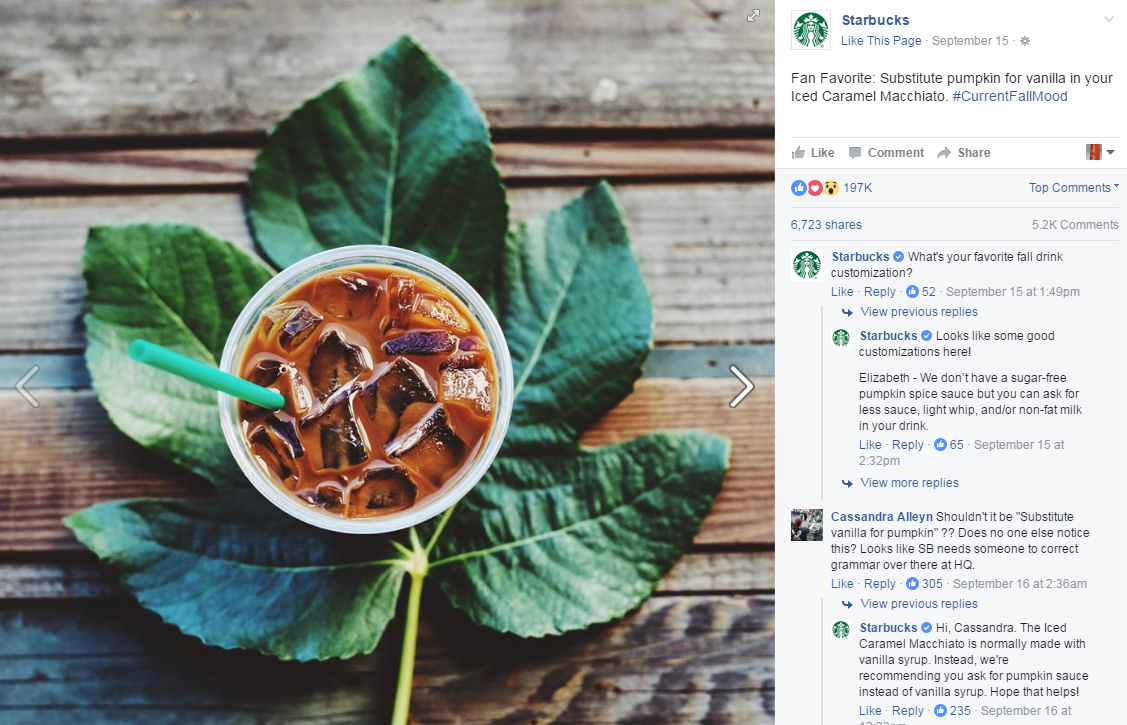 Cost & Conversion

So how do they compare when it comes to a potential return on investment with your ad? These numbers vary from company to company. However, on average, both Instagram and Facebook have similar numbers as found in a study in 2015.




Using Both

Why not take advantage of both in order to reach your audience? If one of your customers, or potential customers, doesn't see your ad on one platform, there is still an opportunity that they'll see it on another platform. According to Facebook, the Brazillian company Kanui, generated a 2.8x higher ad spend when they added Instagram ads along with Facebook ads. Another company, MVMT Watches, saw a 20% lower cost per conversion and cost per action when running ads across both.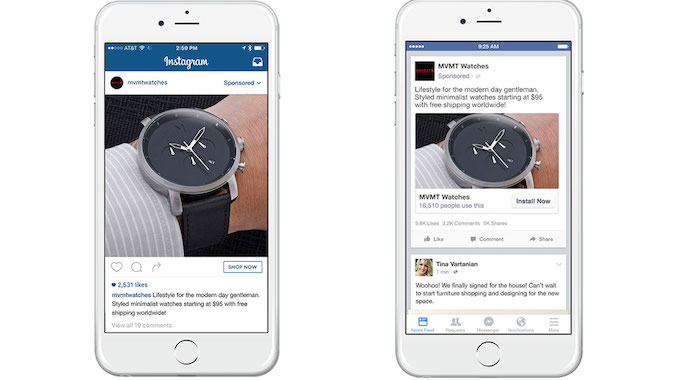 To make it easier on you, you can even connect an Instagram account to your Facebook account (since Facebook owns Instagram now), and you're able to post ads together at once. To learn how to do that, click here.

Tips

Since the majority of users are accessing these networks via mobile, it's imperative that you make your fonts legible on mobile and landing pages optimized for mobile.
Make sure your ads contain high quality, unique visuals
Test various ad formats and find out which works best for you
Ensure that you drop users on the most relevant page to what you're advertising
Utilize as many targeting options as apply in order to hone in on the audience you're trying to reach