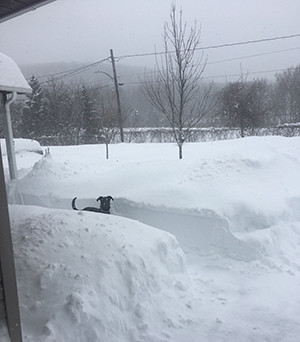 Infrequently Asked Questions for Meghan Boice, a Digital Marketing Strategist at E-dreamz
1. Like many Charlotteans, you're a transplant from the north. What are some of your favorite things about where you grew up vs where you live now, and what ultimately brought you down this way?

I grew up in Upstate New York in a small town called Endicott, and moved down to Charlotte almost exactly 3 years ago. My favorite part about Endicott is the simple fact that my family was (mostly) close by, or within a few hours. Also, the Italian food and pizza have completely spoiled me and made it impossible to find anything that compares to it in Charlotte. As cliche as it may sound, I moved to Charlotte mostly because of the weather, but also because it's such a growing, young, and exciting city. I actually decided to move to Charlotte when a massive snowstorm hit Endicott and dumped about 3.5 feet of snow in less than 24 hours. I wanted something different than Endicott, and Charlotte was perfect.
2. Even though you've been here a couple of years now, by E-dreamz tenure you're one of our newest employees. What's your experience been like riding the waves of E-dreamz so far?
Throughout the last 2.5 years, E-dreamz has seen a lot of changes but it's been exciting to be a part of all the transitions and growth. None of the days are the same which means I'm constantly learning new strategies and ways of doing things which keeps the workday interesting and keeps me on my toes. I've been able to learn a lot in my time here so far and am excited to see what's next for E-dreamz too.
3. What excites you most about digital marketing? What interesting trends or tactics do you see gaining the most momentum in the near future?
What I love most about digital marketing is that it's always changing and that there aren't always a set list of things that you have to do to be successful. You get to try different things depending on the type of client that you are working with, or what the goal ultimately is. I like the fact that you can be creative throughout the process and when you find something that works really well, it's an exciting accomplishment. It will be interesting to see what happens with digital marketing in the future, especially during these times of COVID where everything has shifted to digital. I think social media is something that is already constantly evolving with new features and ways to engage with other users, but I see it changing even more and growing more towards the Influencer way, as more brands realize that they need to be visible online and connect with their customers on a more personal level.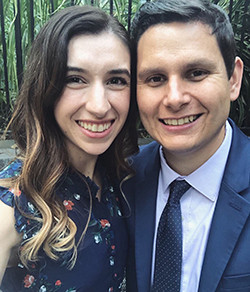 4. From what I understand, you're something of a foodie (though skewed perhaps toward the veggie end of the spectrum). What's in your pantry, and what are some of your favorite dishes?
I'm definitely a foodie, I love trying new foods and drinks and enjoy making new dishes at home. After being a vegetarian for a year and a half in high school, I now only eat meat a few times a week but still like to go with vegetarian options when available, especially when eating out at restaurants. Nutrition is something that is very interesting to me and I'm trying to be more conscious of what is in all of the foods that I'm putting into my body. My pantry has lots of healthy options like peanut butter (the only ingredient is peanuts), beans, chickpea pasta and sauce with no sugar added, and all different types of fixings for my smoothies, with some less healthy options like chips made in avocado oil, chickpea puffs, and dark chocolate covered pretzels. I love Thai food, pad thai and pad see aew being my favorites, and I'm always craving Mexican food too.
5. You have a fairly quiet at-work personality, so this is your chance to wow us with something juicy we don't know about you. Care to divulge anything interesting about your personal life? Weird interests? Shameful secrets?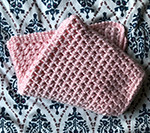 MB: I'm naturally a pretty introverted person and my voice just doesn't carry very well in many social settings (my mom is the same way so she's to blame). I wouldn't say I'm terribly interesting, but one of my big interests that may seem weird because of my age and lack of grandchildren and cats, is that I enjoy knitting and crocheting. I love a good art project and I like to learn new skills and create things on my own. I recently started a big project of knitting Christmas stockings for my boyfriend and I, so we'll see how those turn out!
Bonus: Here's a photo of Joanna Gaines with Taylor Swift. Please describe, in detail, how it makes you feel.
It warms my heart and I love to see it. Honestly, I'm more jealous of Taylor that she gets to hug Joanna, but there's a lot of talent in this photo and that makes me happy. (Btw, yes, in my mind, we are on a first-name-only basis). And now I'm picturing Joanna staging a new home with Taylor's new Folklore album playing in the background and that also makes me happy.