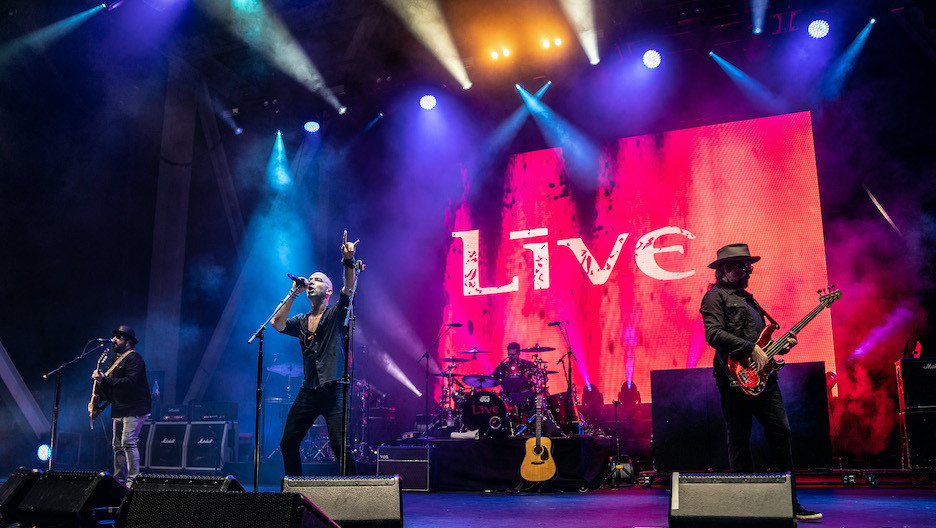 This is one of the first albums that I would just put on repeat and listen to it over and over. I was only 10 years old when Live's Throwing Copper was released. I heard some of the songs here and there from the radio but didn't really fall in love with it until a few years later when my older brother got a copy of the CD. I have many fond memories that involve this album. From just cruising around with my brother and his sound system blaring, to many weekend nights camping and listening to music around the fire. This was always the first and last thing we played almost every time. The anticipation of riding around waiting for the bass to hit when "I Alone's" chorus kicks in was epic!
First, let's talk about the album artwork. The cover is a painting titled "Sisters of Mercy" by a Scottish artist Peter Howson. The painting said to explore the themes of betrayal, revenge, and fear was sold in 2005 for $186,000. The art is beautiful yet eerie, setting the mood for the music that is representing. For this only being Live's second studio album released in 1994, the artwork was sure meant to make a statement that can not be overlooked.
Throwing Copper produced a number of singles that most people recognize instantly still today. Hits like "Selling The Drama", "Lightning Crashes", "I Alone", and "All Over You" are unmistakably awesome, but the rest of the songs create a truly complete album. It is not just a bunch of tracks thrown together. From start to finish, it is an adventure with major hits and supporting songs that take longer to stew but eventually reveal a deep feeling and connection. There is no desire to skip any songs due to Ed Kowalczyk's uniquely haunting voice, the band's strong musical dynamics, and impactful lyrics. Every track has something different and interesting to offer that is powerful and mysterious. The album truly is a masterpiece that has stood up to the test of time. I recently purchased the 25th-anniversary edition on vinyl and I love dropping that needle and letting the music bring me back. With so many chart-toppers, Throwing Copper has sold over 8 million copies worldwide, making it one of the 90's alternative greatest success stories skyrocketing the band into stardom.
Just experience below how the supporting song "Iris" sets up and leads into the biggest hit "Lightning Crashes". It will tell you all you need to know about this masterful epic album.