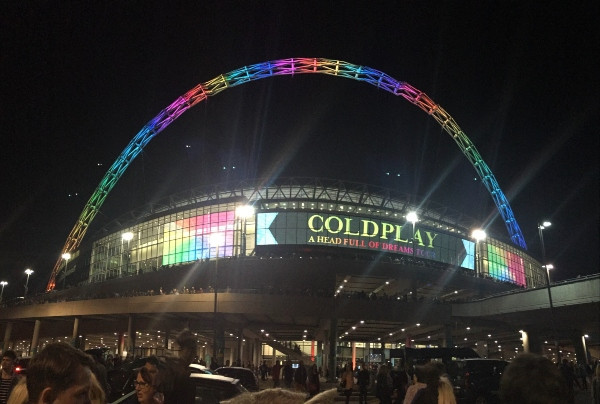 Coldplay is one of those bands that everyone knows about, but everyone's opinion is so different. If you were to ask me 10 years ago how I felt about their music, I would've said I liked it but they weren't necessarily my favorite band. Now, I still get chills every time I hear certain songs and so many of their songs have such fond memories attached to them for me.
Coldplay is the only band that my whole family can agree on when deciding what we all want to listen to. When driving the 3.5 hours to see my dad's side of the family for holidays, etc., there were many arguments over who gets to control the music and what we all had to listen to during these trips. The only thing we could all agree on was Coldplay. We started listening to all of their albums, including the live, in concert albums, and jamming to certain songs that just have to be turned up a bit more than others (just hope you weren't napping when Paradise came on - the car would shake because my dad turned the volume up so high).
One year when my dad, my sister, my brother, and I were making that 3.5-hour drive to see family for Thanksgiving, my dad promised that if we all got our passports, he'd take us to London to see Coldplay in concert. We laughed because it was a strange statement - getting a passport is not that difficult, we could handle that part, and also, why London? We were sure they'd do a tour in the US. Sure enough, 2 years later, Coldplay came out with the A Head Full of Dreams album and then announced their tour happening that next summer with a stop in London at Wembley Stadium. Unfortunately, my brother wasn't able to book a 10-day European vacation with us at the time, so my dad, sister, and I snagged 3 tickets the moment they went on sale. It was official, we were going to London and seeing Coldplay in concert at Wembley Stadium.
We planned a 10-day vacation around that concert and all 3 of our birthdays happen to be within 5 days of one another, so we all got to be somewhere we wanted to travel to on our birthdays. Our first stop was Copenhagen for my dad's birthday, the second stop was Dublin for my birthday, and our last stop was London for my sister's birthday and then the Coldplay concert. It was absolutely the trip of a lifetime and I'm so thankful we had the opportunity to make it happen.
Coldplay in concert is an experience. There is such a wide variety of people that are Coldplay fans, it's neither mainly men or mainly women, it's people of all ages having a great time. The lyrics are far deeper than many people realize and they don't autotune any of their songs. It's real and raw and I love it. The band puts so much thought into the concert experience too so while your seats may be far away, you still feel very much in all the action and excitement. After the concert ended, everyone was piling into the 'tube' to head back into the city of London, and everyone in the crowd started singing 'Adventure of a Lifetime' while waiting for the trains.
We loved the concert so much, we got tickets to see them again in NYC a few months later.