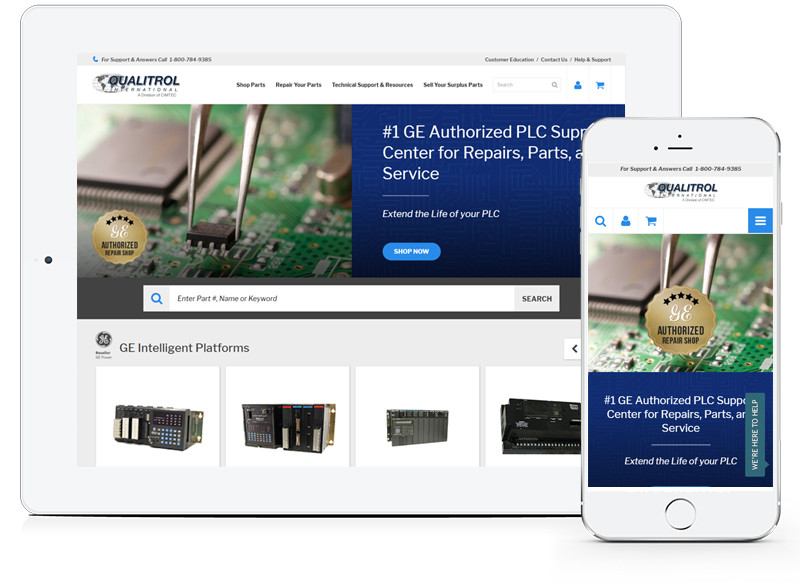 THE WEBSITES
https://qualitrol.com
https://automationwarehouse.com

E-dreamz recently launched two websites for the business - Qualitrol's main corporate site and primary eCommerce website, as well as their Automation Warehouse surplus eCommerce site. Qualitrol offers an enormous catalog of replacement parts for manufacturing automation systems, along with a robust set of repair and consultation services. Their website needed to be both an enterprise-level eCommerce solution and an informative and educational brochure for potential customers in their industry.

FEATURES & FUNCTIONS
The Qualitrol website begins with a large, heavily-customized-and-categorized product catalog. Qualitrol sells replacement parts for GE systems in various types or conditions; they offer new parts, remanufactured parts, and repair services. The products are categorized by GE family or series, with custom landing pages for 'parent' products that then further consolidate individual parts of a common type. Additionally, the site includes several custom-designed web components for technical resources, customer education, and integrated contact and support forms.

CHALLENGES & SOLUTIONS

Prophet 21 Data Export/Import
The primary challenge with this eCommerce website build was figuring out the initial bulk product import. Qualitrol's data master for their parts information is the Prophet 21 ERP. And because of the unique nature of Qualitrol's new vs remanufactured vs repair type products, the requirements to properly group and categorize their products via an import routine were intensive. E-dreamz's technical experts liaised with the company's IT team to develop custom export formats and APIs to deliver the information in a manageable way, and then we custom programmed routines to build and assemble the product data as needed for the eCommerce experience.

Real-Time Customer-Specific Pricing
The Qualitrol websites rely on our Echo platform's built-in Customer Group pricing functionality to offer customer-specific pricing to tiers of wholesaler accounts. However, because of the frequent pricing changes that the client makes in their Prophet 21 ERP, a static or manual import solution would not suffice. Qualitrol offered a custom-written API to deliver pricing per customer ID per part number SKU. E-dreamz developed an optimized real-time pricing check of this API to show registered customers their latest account-specific pricing on each part per each page load.

Microsoft Dynamics Integration
The client relies heavily on integrated marketing and supports web forms powered by Click Dimensions. E-dreamz's project management and marketing teams became fast experts on the administration and configuration of Click Dimensions forms to create a complete user flow for all contact touch-points on the website. The forms are custom styled, integrated, and set up with appropriate triggers and auto-responders to channel each inbound customer request to the appropriate support person or marketing automation campaign.

Design, Marketability & User Experience
As is the case with most of our enterprise-level eCommerce partners, E-dreamz is providing our full suite of retainer-based marketing and support services to Qualitrol. Our marketing strategists, UX experts, and data analysts were involved in the planning, design, development, and implementation of the website from day one. The result is an intuitive, high-performing web experience with thoughtfully curated content and all the appropriate best-practices for technical SEO and modern digital marketing.

If you're an enterprise-level business in need of a more capable, customized website solution, please contact us to learn more about what E-dreamz can offer as your digital partner.