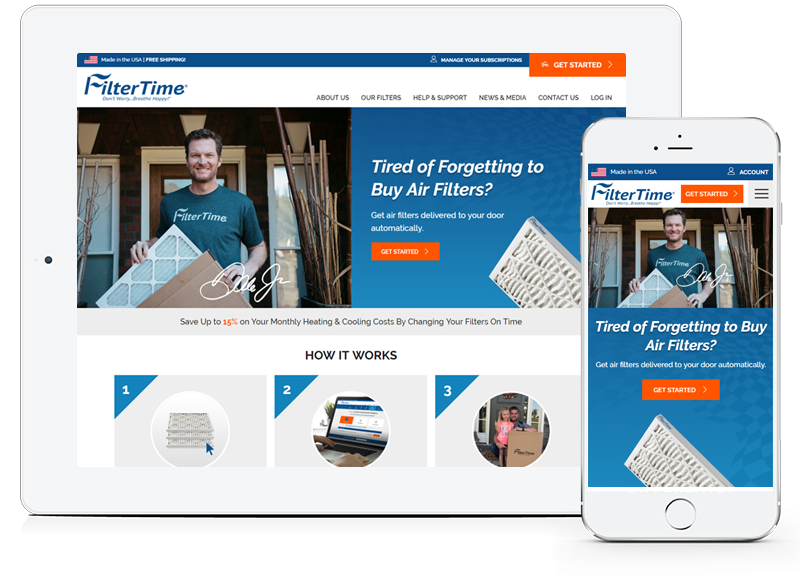 THE WEBSITE
https://filtertime.com/

It used to be we'd say, "It's not every day we get to work with a couple of NASCAR legends," but given our new partnership with FilterTime.com, that may no longer be true! FilterTime is a business venture spearheaded by NASCAR alums Blake Koch and Dale Earnhardt Jr. Their vision is to build the best, easiest and most reliable home air filter subscription service available. And to achieve that vision, FilterTime needed a top-caliber digital partner. E-dreamz is thrilled to be working with FilterTime to build, grow and scale this business into the success we all know it can be.

FEATURES & FUNCTIONS
FilterTime provides one seemingly simple service that, from a web development perspective, is enormously complex - that is to provide customers with a clean, easy-to-follow subscription selection and management process to choose the correct size and quality of filter for their home and to set a delivery schedule that suits their needs. E-dreamz' development team custom-wrote every aspect of FilterTime's subscription management platform into our Echo+ proprietary eCommerce web design framework. With administrative tools for managing addresses, products, subscriptions dates, and a full array of unique subscription-focused customer account management functions, FilterTime is one of our most programming-heavy websites to date.

CHALLENGES & SOLUTIONS

Subscription Management
Subscription-based eCommerce web development carries with it quite a few development challenges that you don't typically run into with traditional one-purchase eCommerce. To support FilterTime's business model, we had to come up with solutions for customers with multiple subscriptions to different addresses, custom start-dates and delivery schedules, the ability to pause-cancel-or-resume subscriptions, and the ability to alter products and quantities if filter requirements change. We also had to integrate multiple shipping and fulfillment centers that handle responsibilities for shipping different types and sizes of subscribed filters. The end result is a highly-complex website back office that allows FilterTime administrators to view, manage, track, and report against all subscriptions and individual shipments within each subscription.

Simple User Experience
The next challenge was taking that complex subscription management workflow and turning it into a user experience that was fast, simple, and mobile-friendly. Our UX team planned, designed, and implemented a step-by-step subscription selection process and custom account management tools that guide and inform users to ensure every FilterTime customer can easily find and choose the appropriate filters for their home.

Hosting, Speed & Performance
With the marketing-force of Dale Earnhardt Jr's social media behind it, the hosting and performance requirements for FilterTime are intense. We needed to guarantee the site can confidently handle extreme spikes in web traffic. Our sysadmin team provisioned a robust, load-balanced environment with multiple specialized servers tuned to delivery peak performance at all times. And our development team spent considerable time optimizing the weight of all code, image sizes, scripts, and functions to keep the website as lightweight, streamlined and fast-loading as possible.

Marketing & Support
Our partnership with FilterTime is all-hands-on-deck. Our complete team of strategists, marketers, designers, and developers has been in-step with FilterTime since day one to help establish, reinforce, and grow FilterTime's brand, identity, and messaging online. We're very excited about this launch and the ongoing relationship we'll continue to forge with Blake, Dale, and the rest of #TeamFilterTime now and into the future.

For more info on subscription-based eCommerce web development and eCommerce marketing strategies that drive conversions for online business growth, contact our multi-award winning eCommerce agency to get started today!