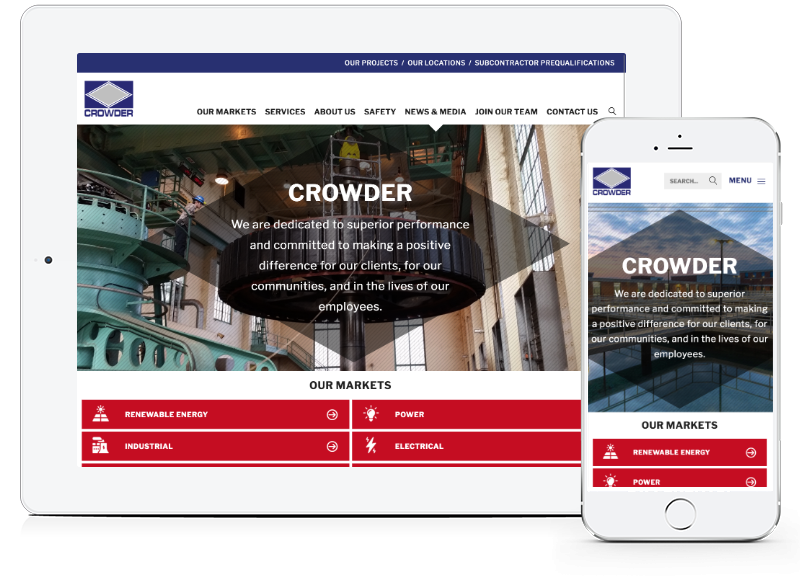 THE WEBSITE
https://www.crowderusa.com/

We're proud to showcase our most recent website launch, Crowder Constructors, Inc. Crowder is a Charlotte-based industrial construction group that specializes in civil and environmental projects to build bridges, dams, highways, water and wastewater facilities, industrial and power facilities, and alternative energy (such as solar and biomass) facilities. Crowder desired a high-performing, custom website that matched their business' identity and supported their online needs.

CHALLENGES & SOLUTIONS

Content Consolidation & Streamlining
Crowder's previous website was several years old and had suffered from the tangle of "content creep" that happens to any aging website that is routinely updated with new pages, features and sections. The first major effort in the overall website project was to evaluate the needs, audiences and analytics data of the old website to define what content was of most importance and how best to structure the new site navigation and user experience to create a simple, streamlined and effective presentation of Crowder's core services and initiatives.

Custom Web Design and Web Development
With a solid plan in place to streamline and optimize the overall web experience, it was then time to apply a unique, custom design and fully-featured CMS buildout. All aspects of the Crowder website are completely custom, leveraging no prebuilt themes, plugins or extensions. We created an entirely custom site that has a one-of-a-kind look and feel and completely customized backend that makes managing and updating content simple for web-CMS novices.

SEO
Crowder is in the enviable position of not being dependent on organic results for business leads. As such, they had put little effort into SEO on their previous site and had only rudimentary web analytics set up. As part of the new planning and buildout, we optimized and structured all of their content and pages for the latest SEO best practices and established a simple framework for maintaining ongoing on-page SEO.

If you're an operations or marketing manager in the building or construction industry who is looking for a digital partner that understands the unique needs of top quality websites in the industrial web space, please contact us today to discuss what E-dreamz can do for you.