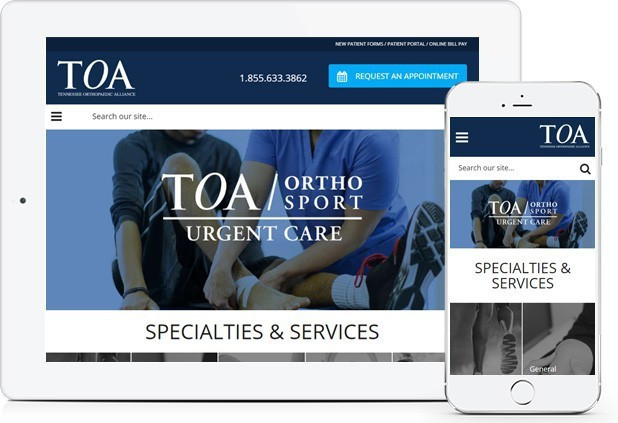 Tennessee Orthopaedic Alliance
Medical Web Design for Healthcare Organizations
E-dreamz specializes in the design, development and digital marketing of large-scale, multi-location medical and healthcare practices. We enjoy partnerships with some of the nation's largest Hospitals, Orthopedic Groups, Healthcare Specialists, and Senior Living Centers. The healthcare & medical website design package of our Echo+ by E-dreamz website software platform is custom-built to meet the unique needs to major medical websites. With optimized components for Physicians bio pages, Location and Office detail pages, robust Services and Conditions pages, and integration options for HIPAA compliant scheduling forms and patient portals, we have the knowledge, experience and technology to meet the needs of any medical organization.

Specialized Medical Website Design Ensuring Growth
Every E-dreamz medical website design project begins with a comprehensive analysis phase to plan, organize and optimize your business's patient-focused content and media. We then design a custom, unique look and feel to ensure your website's design stands out from competitors in your space. We then develop, optimize and market your new healthcare website to ensure proper growth, brand reinforcement and market share. Our team of digital marketing professionals is experienced in healthcare and medical web design services, best-practices, and marketing strategies for doctors, orthopedics, dentists, specialists & more.

E-dreamz is the perfect partner to help any medical group enhance its online presence. Have a glance at the award-winning successfully completed healthcare and medical web design projects below. Feel free to contact us to schedule a demo and get a free estimate on the design of your healthcare or medical practice. Set an appointment with the professionals at E-dreamz, your full service marketing and medical website design company.