Modern Approach, Robust Design

When Delaware Orthopaedic Specialists (DOS) began their search for a new digital partner, they were searching for an agency with deep knowledge of the orthopedics industry and best in class design and development capabilities. E-dreamz is thrilled to have been selected as DOS' new partner, and we're proud of the new relationship we've forged with their healthcare organization.

The Challenge & Solution
The DOS website was comprised, primarily, of the typical features you'd find on a healthcare site - physician and provider profiles, locations & directions, specialties & services, and various patient resources. However, the organization and arrangement of that data left much to be desired. Certain pages were difficult to find, others redirected to other content sets, and the overall flow wasn't very polished or user friendly. DOS also desired to enhance and bolster their existing content with richer media. From a structural standpoint, DOS had outgrown the WordPress platform and really needed a ground-up solution that provided them with a faster, more secure platform that was easier to manage on the back-end.

---
Web Design Strategy
The previous delortho.com website was several years old and was built on the WordPress platform. Like most WP sites, it was structured with various plugins and extensions controlling different content sets throughout the site. The DOS team desired a fresh, modern look, along with a more reliable, secure and easy-to-manage CMS. They also wanted to enhance their overall user experience with new content, a better flow, and more focused points of engagement.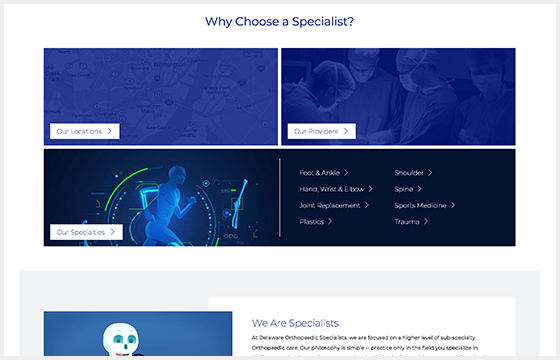 User Experience (UX)
DOS really wanted a "best in class" website that exemplified modern trends for web design. They wanted something sleek, elegant and streamlined - but also with some energy and motion. Once we defined the content flow, our design team worked on concepts that met those needs. We presented unique, custom designs that showcased DOS' content in dynamic ways. We also maintained a design focus on keeping pages lightweight and streamlined, to ensure fast page load speeds and high scores from Google Web Vitals. The result: Our design team create a new experience for DOS that looks and performs excellent.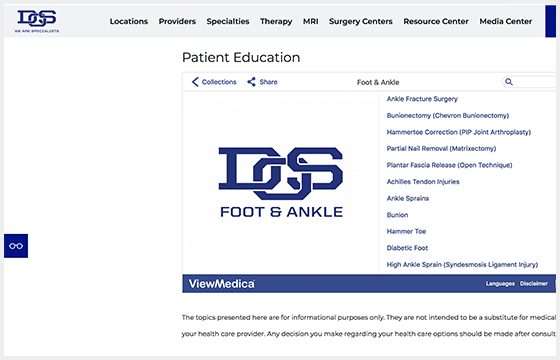 Content Strategy
Our solution for DOS began with a thoughtful analysis of their content, pages and features. We developed a new sitemap and wireframe that re-organized their existing content and navigation in a more logical and patient-focused way. We then established areas within existing pages and sections to infuse additional content where it made sense, to create more flexible and scalable page templates that could be expanded easily with additional related content in the future. DOS decided to leverage embedded ViewMedica animations and illustrations in their patient education sections and to highlight other videos and rich media wherever possible.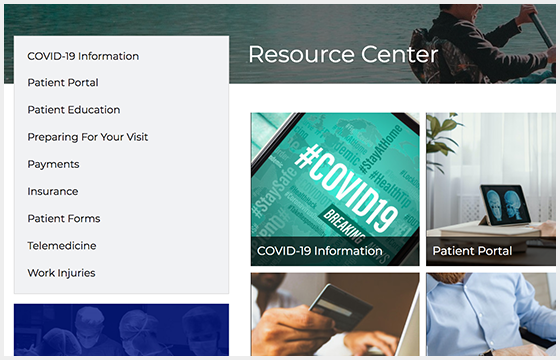 Employee Resources
DOS needed a log-in secured portal that only employees could access as their intranet, where administrators and department heads could post relevant updates, articles, forms, links, and other employee-focused resources. Our development team created a fully-custom employee portal for DOS with dynamic menus for categorization of resource types and simple user management tools for creating and updating logins for their staff. As a custom developer, E-dreamz can easily scale and grow this rudimentary intranet with additional features as new needs arise within DOS' organization.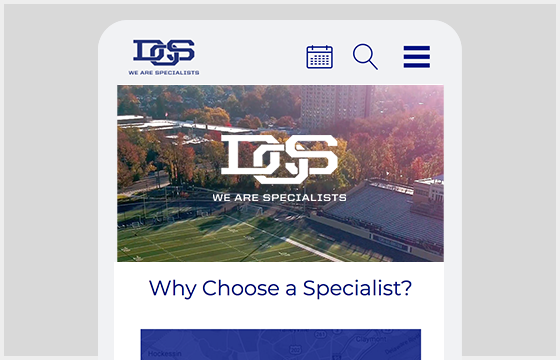 Brand Perception
DOS was in need of a digital branding refresh that included updated colors, fonts, modern photography and video to encompass the fullness of their organization. We helped create a new color palette and sleek digital branding guide to elevate their style while staying true to the dark blue that is an integral part of their identity. Our design team made sure to use clear fonts best for legibility & digital accessibility, colors that attract the eye but are not overwhelming and varied lifestyle photography that represent the vast array of specialties offered by Delaware Orthopaedic Specialists.