Medical websites can be difficult to plan for with the amount of content and rich media it takes to create a site that is professional, resourceful, and trustworthy. We'd like to break down with you some of the essential items you need to make sure you have when planning your healthcare website so you can stay competitive in your industry and gain potential patient's trust. Here at E-dreamz, we specialize in creating a wide variety of healthcare websites and have become experts in the field of medical website design, marketing, and development.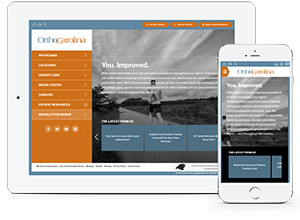 Concise, clear marketing messaging on the medical website homepage
It's important to have your main marketing message or value proposition stated clearly on the homepage so users will know your clinic's purpose right when they get to your website. You can do this in a number of ways depending on the design of your homepage but be sure to make it dummy-proof for those first-time visitors to your medical website. OrthoCarolina does a great job at showcasing their tagline "You Improved" front and center along with a description of the company below this. The description is very detailed here with the services that they excel in and other pertinent information so a first-time user can easily identify whether they are in the right place or not when coming to their site.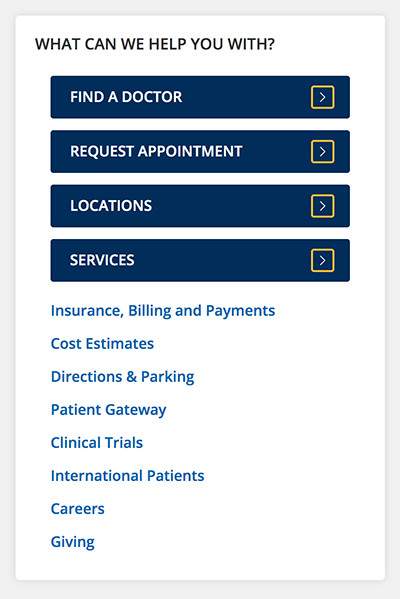 Clear call-to-actions are a must for healthcare websites
We love the way Brigham and Women's Hospital has put their four main call-to-actions towards the left of this page under the title "What can we help you with?." It creates a cohesive place on each page of their healthcare site where the user can navigate to the most crucial parts of the site easily. We encourage all of our medical sites to have easy to find call-to-actions or action buttons all throughout their site and keeping them in the same place from page to page, like Brigham and Women's Hospital does, makes them easy to find no matter what page you are at on the site. If you're wondering what the most important call-to-actions for a medical site are, consider having these loud and clear: request an appointment, contact us, physicians, find a location, services, and patient portal.
Consider creating a Patient Resources section on your website like OrthoCarolina does where a patient can quickly and easily access all of the important spots for them on your site.
Location pages for medical practice websites
Location pages with each location listed are key information for a medical website so users can find which location is closest to them to visit. They will also be able to find your address, contact information, and see other important information here to make sure they are visiting the correct location. Be sure to also include an office picture, phone number, email address, physical address, and office hours so patients can know how to get in touch or cancel appointments if need be. We adore the way that Pearl Charlotte has blocked out both of the main locations on their main landing page.
Physician landing & detail pages
In order for your medical website and clinic to gain trust amongst potential patients, it's a good idea to include a page with all of your physicians listed. Whether you are a larger hospital or a smaller in-patient clinic, your potential patients will want to research your physicians to be comfortable in their care. Be sure each physician has a professional headshot, biography, and information on which locations they practice at. Tennessee Orthopaedic Alliance or TOA does a great job at listing each physician out on their listing page along with an individual's detail page which includes a physician biography, list of services, education, research, and awards/accolades.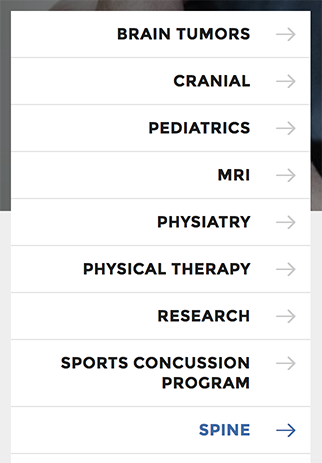 Healthcare website directory of services
This one might seem obvious but every good healthcare website needs to have a directory or landing page for the medical services provided. Pearl Charlotte lists out all of their dental services on a very modern, photography-oriented services page which works well for them as they brand themselves as being a lifestyle dental clinic. Another way to do this is to have more of a simple listing style of services similar to how CNSA does on their side navigation on their services pages. Either way that you decide to go, consider the number of categories you have for which layout works best for you. The more categories you have the more likely you'll want to keep your service directory more simple and contained the way CNSA does it.
Search for medical website keyword directory
A site search, and one that is obvious and easy to locate, is a must on a medical website so a potential patient can find what they are looking for outside of the main navigation and subcategories. A site search can save a user time if they are just wanting to look for a specific term on your site and with medical sites being rich in content and categories this is key to user-friendliness. The website for NYU Langone Health has a very bold search right in the middle of the homepage which encourages patients to easily search for doctors based on specialty, name, condition, or name. They also provide a general site search in the top corner for a user who might be looking for a less obvious keyword or phrase.
Consider providing search components for multiple pages and sections on your site like the news center, physicians, and locations. This will compartmentalize places to search for each section making it easier for a user to find what they are looking for on each page.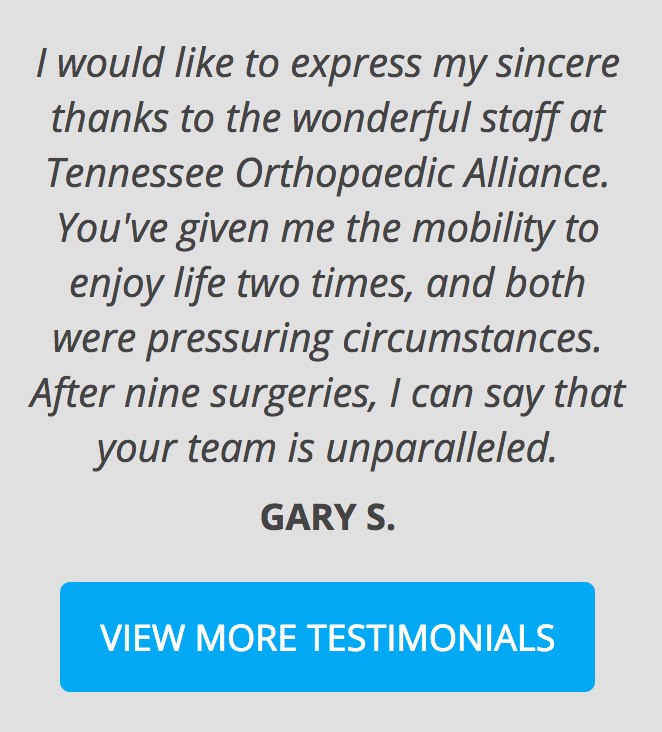 Stories & testimonials from real patients help gain trust
Who doesn't love reading a good online review on a clinic before entrusting them with your health or the health of a loved one? Depending on what specialty your healthcare website is in, you'll want to collect a good number of positive stories and testimonials from real patients. Some may want to remain anonymous but as long as their reviews are uplifting and unique to their experience they will be worthwhile to add to your site. St. Jude is a fantastic example of a website with stories, profiles, and videos of some of their success stories. These success stories help parents and family members of these children feel that they can trust St. Jude with their kids plus as an added bonus it is great marketing for your clinic.
Consider creating a landing page for testimonials and success stories. You might also want to consider having a rotating widget on your homepage, similar to TOA, with a few shorter testimonials to show positive feedback from patients.
Updated media & news center to show you are active in the healthcare space
An updated news and media center on your medical website is key to gain trust amongst your patients and potential patients. It also helps you stay updated within the medical community as a whole. Patients will want to see that you are staying current with all of the latest medical trends and this is a great way to show that you are doing so. This section is also a great way to advertise company news such as new physicians, updates to your locations, and events going on at your clinic. As an added bonus, having a lot of content from your news section is great for SEO — for more information on how to improve SEO on a medical website read our blog post here.
Be sure to include some categories within your blog to make things easier to categorize such as company news, video, physician updates, and/or research & development.

For more info on designing a B2B website, Healthcare website, and Digital Marketing Strategies that drive conversions and online business growth, contact our multi-award winning full service digital design & marketing agency today to get started
---
« Back to Blog