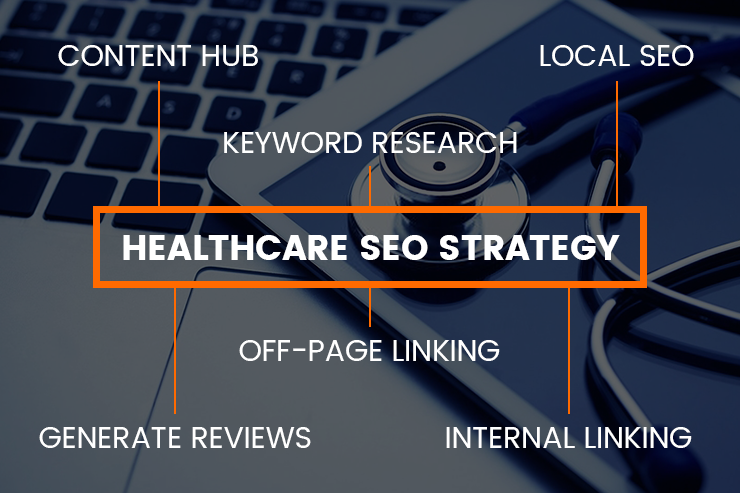 I. Healthcare Marketing SEO Keyword Research
Keyword research for your Healthcare Practice is by far the most important step of a successful healthcare SEO strategy. From this initial phase, the blueprint for all future content planning and development will be targeted and scheduled for publication.
Finding out exactly what medical keywords are searched by potential patients is vital to being positioned in the most advantageous Search Engine Ranking Position (SERP) on the first page of Google. Therefore, exhaustive keyword research and planning done initially for doctors, dentists, hospitals, and specialized practices can either make or break your inbound lead generation and patient acquisition numbers year over year.


5 Healthcare SEO Keyword Research Tools With Zero Co-Pay
Fortunately, there are a few free tools available to do initial healthcare keyword volume discovery and keyword difficulty analysis in order to gain an understanding of the road-map.

1. Google Ads Keyword Planner - is a free keyword research tool within the Google Ads platform and toolkit. Research keywords. The Keyword Planner allows for the discovery of search volumes as well as the capability to elaborate on terms related within your medical practice while revealing Paid Search metrics of bid pricing and estimated conversions.

2. Google Trends - is another free tool offered by Google.com that analyzes the top trending search queries and their related search volumes over the most recent time period. Additionally, Google Hot Trends is a feature within Google Trends which highlights the most recent top 20 search queries around the globe or filtered per region and language if there happens to be a global pandemic or another virus you wish to research that is trending.
3. Ubersuggest - is the brainchild of Neil Patel, a top SEO industry expert, which he purchased the rights to then embedded on his website as a means to additional traffic as well as offer a free keyword research and back-link solution for marketers. The tool is constantly updated and enhanced with more and more features, yet without the cost associated with paid software options like SEMrush or AHREFs.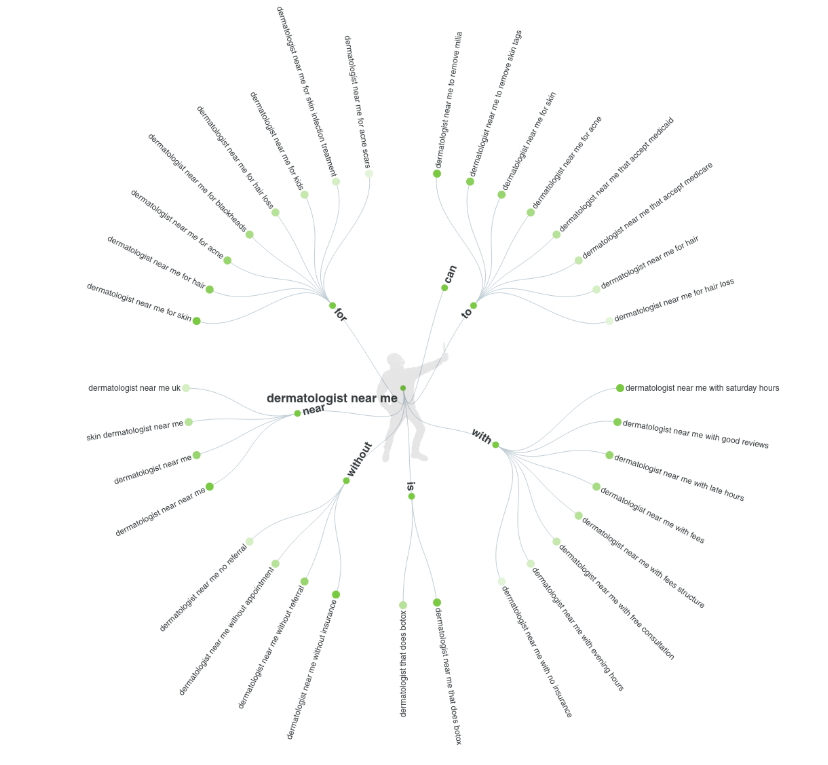 4. Google Search Console - is formerly, Google Webmaster Tool, and is a great resource for identifying which keywords are driving traffic and which keywords have the potential to drive traffic to your individual landing pages and content. In the "Performance" section, you can uncover the Pages, Queries, Impressions & CTR of every keyword for your website. The biggest opportunities can be found in reviewing the Queries or Keywords with the highest Impression share but lowest CTR, as these search terms can be elaborated upon to further satisfy searcher intent and increase clicks to the site with additional content on-page.

5. AnswerThePublic - as seen here, populates the keyword suggestions and related terms in the form of a word cloud surrounding the query. This free tool is great for digging up ancillary content ideas surrounding and a sub-topic or parent topic while developing a comprehensive content hub for your medical services. See the "Dermatologist Near Me" search result illustrated to the right.

Choosing the Right Medical SEO 'Keywords + Your Location' for Local Search Queries
As mobile usage skyrockets and over 70% of all searchers looking for a local medical practice or business are using their smartphones, the importance of localized search terms and locations is essential to acquiring new clients and generating more patient requests for appointments.

Physiatrist + Your State
Orthopedic surgeon + Your City
Brain Tumor Treatment + Your City
Spine Specialist + Your City
Back Doctor + Near Me
Google Keyword Planner mentioned above as well as the other free tools are a great way to begin identifying local search terms and targeted keywords for your practice.
Optimize Google My Business (GMB) Locations for Local SEO
Once you've identified the most relevant conversion keywords for your healthcare operation, be sure to visit your Google My Business location(s) to implement your findings. There are recent enhancements to the Google My Business platform which allow for a more in-depth description of medical practice services as well as the ability to create content specifically for Google Posts and publish through google in a blog type format.

After claiming & verifying your listing through the Google My Business platform, it is important to be as detailed and thorough as possible when updating your medical practice information. Aside from getting your NAP correct, (Name, Address, and Phone number) which is a very significant ranking factor, here are some other noteworthy best practices for ranking your healthcare practice in Google My Business, (GMB).
Use a full and consistent description of medical services & practice areas for all locations.
Medical Category Selection - Note: the newly enhanced 2020 update of GMB has increased the categories to over 3000.
Google will allow up to 10 categories for your medical business practice, however, there is only 1 main category that is given the most weight in Google's algorithm.
Add photos, videos, images & posts.
Include both a link to your 'main practice website' as well as your 'appointment setting web page' if applicable.
Generate as many reviews as possible (more on this below), as well as be certain to respond to reviews consistently.
Review the GMB data and reporting section to determine the number of calls and clicks as well as highlight month-to-month fluctuations for optimization.
Build local citation links to your medical practice individual location pages for Local SEO, 'Snack Pack' ranking. It's important to be thorough when adding your listings and citation links as there are over 150 directory and local listings available.
II. Internal Linking Strategy to Optimize Healthcare Services Pages
One of the easiest and most effective ways to increase search engine ranking to your high-value medical services pages is to implement a content hub strategy and utilize internal linking from within your blog. In summary, Search Engine Optimization boils down to on-page content and link building, 2 of the largest ranking factors, therefore it is massively important to tell Google which individual pages and content you would like to rank by using internal links that gives Google a "vote" for that particular page to rank using a backlink.

Which pages do I link from and which pages do I link to?
To find the Medical Services Pages to link to: Identify the Medical Services pages that have the highest traffic potential as well as represent the most profitable opportunity for your practice. Open "Performance" in Google Search Console and click on "Pages", per the below illustration. You are looking to identify a medical service page with a combination of very large impression share, yet some of the lowest CTR percentages.
In the example below, the spine services page has over 76K impressions but only a CTR of 0.6%, therefore it is a great candidate to send more internal links to let Google know you are "voting" it be ranked higher in search results.


To find blog posts, and other informational content to link from: Patient blog posts and other informational medical content on the site serve as a great way to identify both similar and relevant terms to link back to the services pages.

It is important to remember two main things when determining if a blog post or page is ideal for an internal backlink to a medical services page or higher business value page.
Be certain to confirm the blog post and content is relevant to the page it will be pointing back to, ie same keyword use, associated medical terms.
Identify the page value of the blog post, ie domain authority, as the higher the value of the page, the more impact it will have on search results.
In the example for the spine services page in the image above, identifying a few targeted blog posts such as, "When Does Back Pain Mean Surgery?" or "3 Stretches to Help Reduce Lower Back Pain" to place an internal backlink to the spine services page would be ideal.
III. Generate Google Reviews for Your Practice to Impact Medical SEO

Google Reviews are consistently one of the top SEO ranking factors impacting search results for medical practices, and healthcare providers. It remains one of the most important ranking factors for Local SEO. Google has even confirmed that responding to Google Reviews will increase the business listing position as a ranking factor if done consistently.

It can be quite daunting to continually feel the need to generate Google reviews for your growing practice, however, over 80% of patients report reading the reviews before calling on a potential doctor or healthcare provider. Clearly it can make or break your business, therefore here are a few suggestions to take note of while focusing on the acquisition of more Google Reviews for your doctor office and/or healthcare locations.

Simply ask for reviews consistently.

Automate the review generation process. This can easily be done internally with the utilization of front-desk receptionists, email follow-up and/or phone calls.
Respond quickly to reviews online. Be certain to review the HIPAA Guidelines regarding all review responses and to strictly adhere to HIPAA Standards and regulations for HIPAA compliance review best practices.
Generate Google reviews for individual practice locations.
Utilize the free, Google My Business Marketing Kit for posters and other collateral to encourage more Google reviews of patients in the office.
Develop a "Review Our Practice" portal or widget, and create a link to it, make it available via the website for ease of patient review acquisition.
Generating Google Reviews for your medical practice can be made easier by implementing a few automated processes and the effect on new patient leads and increased appointments can be well worth the effort. The end result will be a greater insight into your practice and an even closer communication plus relationship with current and future patients. The added bonus is the spike in SEO and search engine rankings upon successfully gathering more reviews. For a full list of rules and regulations regarding review acquisition on Google check out this link here.
For more information on a free consultation from one of our medical SEO experts or to schedule a demo of our proprietary Echo+ (Content Management System) platform ideal for healthcare providers, contact our Charlotte SEO company and become a client today!

---
« Back to Blog