SEO Services | Real Ranking Results.
---
How can any business thrive without a successful lead generation strategy?

Living and working in a "Just Google it" world, makes ranking in Google the most important marketing strategy.
---
Our proven SEO services enable potential customers to find Charlotte area businesses through search engine optimization of high volume and long-tail keywords directly related to your business or service offering. To our team of Charlotte SEO experts, search engine optimization and Google ranking is a science ⁠— A very understandable and practical magic in order to print money, generate leads and grow awareness for your business online utilizing our customized SEO services in Charlotte, NC.
---
Over 90% of Pages Get Zero Organic Traffic. Why Not Be the Other 10%?
---
Whether you are in need of ranking keywords for local SEO in Charlotte, and any location, or perhaps for national SEO campaigns on a larger eCommerce SEO initiative, regardless, we have the in-house knowledge and proven techniques to establish your brand nationwide and get you found online as a leader within your space.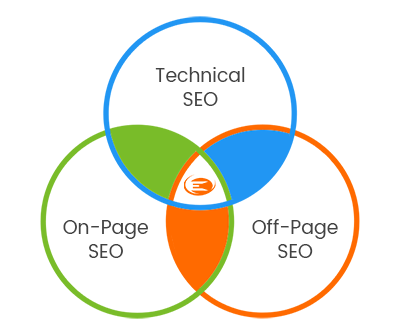 We have over more than 2 decades of experience that guarantee results to impact your organic search traffic and grow your business. While its foundation is rooted in the fundamentals and basics of white hat SEO best practices, our SEO strategy has evolved into a customized SEO process we implement with every client to guarantee an impact and increase in Search Engine Traffic Results helping our clients dominate their niche online.
---
Three Prong Approach to SEO Services

E-dreamz has developed an SEO Strategy in response to the many Google algorithm updates that have stressed the importance of Technical SEO, On-Page SEO & Off-Page SEO Best Practices. Our unique SEO process takes clients on a data-driven journey from beginning to end through an easily repeatable, predictable and measurable solution that massively impacts organic traffic results.

With more than 200 Google Ranking Factors... It can be quite overwhelming for any business or website owner to know where to get started and where to begin? Let us help you by filling out the form below to get a free estimate.
On-Page SEO Services | On-Site Optimization
Unearthing Keyword Opportunities
The results are measurable and the increase in both traffic and revenue is real in return. During the first phase of our on-page SEO strategy, the keyword discovery phase, our goal is to understand a client's goals and customize an SEO strategy that will return the largest ROI for the investment. Our in-house team of Charlotte SEO experts will work alongside and consult with your team utilizing more than just a few keyword research tools in order to define with absolute certainty the best SEO keyword strategy for everything from site architecture to keyword mapping of content on products, category and high-ranking blog posts for your business.

Uncovering Keyword Volume
Targeting the correct keyword with the correct keyword volume is vital prior to any successful SEO campaign. The greater the volume a keyword has presents more competition and more difficulty in ranking for these search terms quickly. However, targeting keywords with a volume too low will result in an insufficient amount of traffic and an ineffective SEO campaign. We understand the importance of less popular, lower volume search terms (long-tail keywords) as they tend to convert better as searcher query is more specific and the result is more targeted to the target audience. Our team will consult and navigate the most effective keyword volumes to target for initial campaign launch as well as where applicable a road map to future goals for increased search volume targets.

Understanding Long-Tail Keywords
Long-tail keywords will become the future of SEO and the most important factor driving traffic in the years to come. As Google continues to take up more real estate in the top page of search results for high volume keywords via featured snippets, answer boxes, and the like, long-tail keywords will continue to be the most effective way to rank content and drive real revenue-generating traffic to your website. Long-tail keywords derive their name from the long tail of the search demand curve and represent 75% of all search queries.

Unlocking Competitor Keywords

There is no reason to start any keyword research from scratch as most likely someone or some team of digital marketers has already done a bit of work in your industry or niche. By examining the search results of the top 10 results in your category and or product offering, we can build a list of keyword targets and opportunities ranking from competitors. We utilize a proven strategy to unlock keyword opportunities from competitor domains and build a list of identifiable target keywords in order to then outrank them and dominate search engine results across the board.
Our exhaustive approach to keyword research is what separates E-dreamz as a rock-star, expert SEO Agency. We've got all the necessary talent and tools to evaluate the value of any keyword and its potential impact on your business and revenue goals. To find out more, schedule a free consultation with one of our in-house SEO experts today.