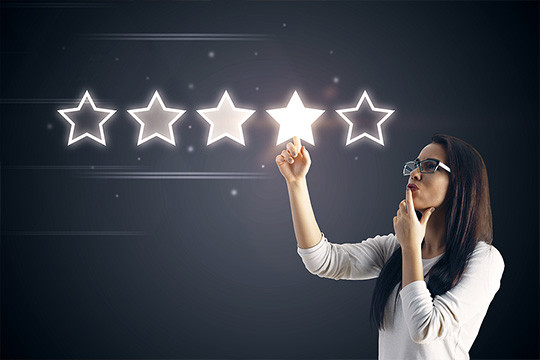 There's a lot that happens in the customer's journey before making a purchase. Many consumers do research on the company and the products before handing over their money. Reviews are a big part of any business because many customers read reviews before making any decisions about purchases or restaurants to visit, etc. Whether you have a product or a service that you're marketing to the public, it's important to get your previous and current customers to leave reviews about their experience. There are many ways to encourage customers to write reviews, and often, different methods work for different types of businesses.
Ideas to Help Generate Positive Reviews and Testimonials
Respond to comments and messages on social media.

Not only does this show that there are real people behind the business, but engaging with customers online is already going to make them more inclined to leave a review about their positive customer service experience. If you're not active on your social channels and many people are asking questions about your product or service, you're missing out on a great opportunity to share information that could help them and anyone else who sees those comments make a purchase. When customers have a good experience with a brand, they will remain loyal and oftentimes recommend it to their friends.

Make it easy for people to know where they should review you.

You should have the link that brings you directly to the review page for your business on Google ready to share. Having the link ready to go means less time trying to find it each time, and makes it much easier on your customers so they don't have to go find your business on Google and then leave a review. If you take some of the steps of that process out for customers, they'll be more willing to leave a review. You can share that unique Google review link in social posts or in follow up emails with customers. It's also important to let them know where you want them to review your business because there are many different platforms that collect business reviews. Whether it's Google, TrustPilot, Facebook, or others, make it easy for your customers to know where to go. They're doing you a favor, do them a favor by making it easier on them.

Send follow up emails.

Follow up emails are great in many different situations. For getting more reviews, you can send a follow-up email asking how your customers are enjoying their products and if they'd be willing to leave a review on the platform that you choose. Include the unique link that we talked about earlier so the process for them is much simpler.

Maintain good customer service practices by always checking your email and phones.

Make sure that you're always checking the email that is listed as your main point of contact on your website, and be sure you're watching the phones or answering machines. If a customer is trying to reach you to ask a question about your product or service or has an issue placing an order, you need to be available to help fix the issue. Make sure that if your customers are trying to reach you, that you're reachable at certain hours of the day for any questions they may have. You can list those specific hours on your website's contact us page and on your social media as hours of operation.

More information on the site means fewer emails and phone calls with questions - making the customer experience much simpler.

Have enough information on your website for products so you can limit the number of messages, emails, comments, etc. of people asking the same or similar questions over and over. Include extra details that you may not be able to see clearly in the product photos, add FAQs to some of your more popular products, and enable reviews for each product on your site so customers can see feedback on those products specifically, to help answer any questions that your customers may have. This helps your customers in their buying process (while also helping ease the load in your inbox) but even these small changes could lead to a more positive experience and positive reviews online.

Create incentives for customers leaving a review.

In a follow-up email or social media post, let customers know you'll give them 10% off their next purchase if they leave a review. The incentive could be anything that you'd like it to be, just choose something that makes it worthwhile in their minds to want to share their feedback.

Share positive reviews on social media and share positive testimonials on your website.

Sharing positive reviews on your social media pages and in your email campaigns can help to get customers to make a purchase and leave a review of their own. If someone sees a review that's similar to their experience with your brand, they may be more inclined to leave another review. It also shows your potential customers, who may not actively be checking for reviews before buying, that previous customers have had great experiences. This helps build some trust in the brand, especially if it's a smaller locally-owned company that consumers may not have heard of previously.

Respond to every review, even the negative ones.

Responding to the positive reviews gives you the opportunity to say thank you to your customer that had a good experience. That can often lead to repeat business and brand loyalty as well. You should also be responding to the negative feedback, no matter what it may be. It's good practice to respond to negative reviews and say thank you for the feedback and then see how you can fix or resolve the situation or just improve going forward. Many people writing negative reviews don't expect the brand to respond to their review, so stand out and show the customer that their opinions and their experiences matter.

Listen to the feedback your customers are giving you.

If a customer leaves a review stating that something is off about or wrong with your product or service, it's important to let them know you saw the review and will look into the issue. If many of the negative reviews have to do with the packaging of the product when it's shipped, spend some time upgrading the packaging to protect your products. If the negative reviews are about the noise level having the tables at your restaurant too close together, look into rearranging the floor of the restaurant to help fix this issue.
Do you have more questions about how to generate positive reviews and testimonials? Contact our team today to learn more about our web design, digital marketing and SEO services.