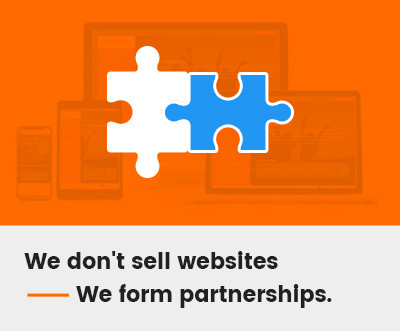 At E-dreamz, our motto is: We don't sell websites; we form partnerships.
And that really is the mindset we maintain in terms of how we approach both new and existing relationships with our healthcare clients. We provide a full suite of digital services, but not all of our services are the ideal fit for each particular client organization we work with. We want to truly learn and understand the individual make-up of each of our clients so that we can tailor a service offering that meets those particular needs or goals. And we endeavor to provide our services in a clear, amicable and transparent way so that it's very easy to see the impact we create. Our goal isn't merely to provide value; it's to ensure that our clients see and appreciate the value that we bring.
So, how do we accomplish this? It ultimately boils down to demonstrative positive qualities in these five categories.
Capability
Unfortunately, web vendors have a bit of a bad reputation for overpromising and underdelivering. We know from experience that clients don't like to be told "no" or to hear "the platform can't support this or that". One of the primary reasons we built our own custom website platform was to be able to provide high-complexity solutions without having to rely on prebuilt plugins or extensions. As true custom developers, everything we build is done in-house by our team of on-staff programmers, user interface experts and graphic designers. We pride ourselves on our ability to solve complex problems and deliver ideas and solutions that enhance an organization's web presence. By working in our own platform, we can provide quality, reliable work in a fast turnaround time. Much of our identity stems from our top-tier capability as custom web developers.
Expertise
The other half of our business is our marketing and strategic consulting. We know the healthcare industry inside and out, but we also have decades of experience marketing and supporting websites in other industries. While our current and future marketing focus is cemented solidly in healthcare, our experience with managing competitive digital marketing campaigns in ecommerce and other industries has given us a solid, broad foundation from which to generate new ideas and tactics that can help elevate a healthcare organization or push through typical boundaries for innovative marketing focus and execution. With a heavy focus on leveraging social media, content, email and reputation management, our healthcare-focused digital marketing solutions are designed to build, grow, sustain and enhance healthcare brands to both patients and peers in the industry.
Personality
A huge part of maintaining a successful client-vendor relationships is, well, good "chemistry". We need to understand your tendencies and inclinations and work with you in a way that's comfortable for both sides. Getting to that point requires building trust, always being transparent with our efforts and the results, and demonstrating candor and accountability when things change or we don't see the results we expect. At E-dreamz, we try to always strike the right balance between being professional and casual. While we always conduct ourselves appropriately when interacting with our clients, we're also pretty fun people who enjoy a little humor now and then. In the sometimes unavoidable situations where problems might arise, we're always committed to making things right.
Structure
There are no "one size fits all" packages in web design or marketing. Each organization is unique, and our solutions for each organization must be equally unique. We provide our ongoing support via dedicated monthly retainers. Rather than structure our services around particular tactics (like SEO, or paid ad management, or development support, etc), we simply pre-allocate a specific number of working hours each month to dedicate to your account. This allows us to maintain resources and schedules to ensure we have the appropriate availability to provide quality support while also giving us the flexibility to adjust focus month-to-month into the areas that are of the highest priority. As an agile team that works well together, we can seamlessly shift between marketing and development priorities, or adjust our allocation into different specific marketing campaigns or tactics as needed to always provide the best ROI for our efforts or to meet changing needs in your organization.
Performance
Why wouldn't performance be first? Well, mostly because if an agency demonstrates all the other qualities noted above then the performance will naturally be there. Nonetheless, we are a performance-oriented marketing agency and we know our client relationships won't prosper if we can't show a return on the investment. We have a proven track record of increasing overall site traffic, enhancing patient engagements, improving site health and position ranking, and facilitating online reputation management. And through our monthly customized reports, we make all of our efforts and the results as clear, transparent and easy-to-follow as possible. With E-dreamz, you'll always know exactly what we're doing for you and what you're getting out of it.
If you're a healthcare administrator who's currently on the hunt for a new web vendor for your medical organization, I hope you consider all of these factors. Please contact us to start the conversation about what we could do to help support your organization as a true and valued partner.
---
« Back to Blog