Our digital marketing & SEO services help top-tier organizations throughout the Charlotte region drive maximum digital growth and increase online sales.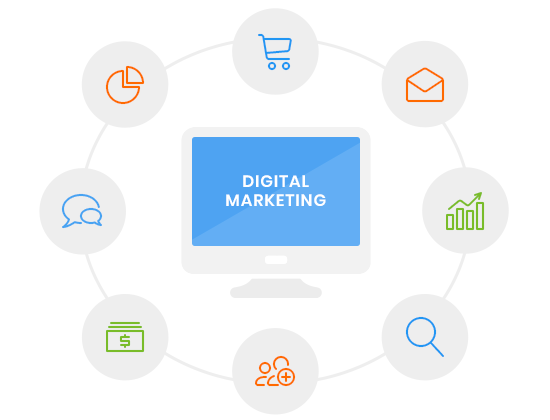 At E-dreamz, our digital marketing experience and expertise have helped us develop a proven growth internet marketing strategy to help our clients achieve success. Our marketing strategies help your business acquire new customers, increase sales and grow your brand, while continually improving and optimizing the user experience for your online customers.

---
Data-Driven Marketing Decisions
E-dreamz is focused on data-driven decisions. By tracking and analyzing visitor data, competitor activities, and target markets, we're able to identify the behaviors and opportunities that drive customer action.
Audience identification and competitor analysis are essential to reaching your targeted customers in a unique way, and at the right time. A detailed analysis is a fundamental tactic for campaign optimization.
---
Strategic Marketing Campaigns

After spending the time to fully understand your business model, processes and customer needs, we formulate strategic recommendations & define obtainable goals that will drive sales and increase leads. By understanding your current online visibility, we can explain the strengths and limitations of digital marketing and help you determine a successful plan of action. We will customize a digital marketing campaign that identifies the best solution to meet and exceed those goals.
---
Detailed Analytic Reporting
Once the most effective strategy and marketing channels are determined, E-dreamz will work with you and your personnel to implement the solution and set up the measurements to gauge the impact of the digital economy on your business. By implementing an effective digital strategy, a strong partnership between your business and E-dreamz will be formed that leads to success. And through our detailed month-end reporting, you'll see exactly where our efforts yielded results for your business.

---
Commission-Based Partnerships for eCommerce Clients

Through our unique "Pay for Performance" commission-based marketing partnership model, we work with both established eCommerce businesses and upstart companies to provide our full suite of digital marketing services at a low cost of entry. With a laddered structure to the commission rates, we ramp up our efforts to build and grow your brand without you incurring heavy initial fees or "paying by the hour". As your monthly revenue grows over our time, we adjust our commission rates down to keep our efforts balanced with your growing revenue. You truly only pay what we're worth - your success is our success.



Search Engine Optimization (SEO) is the foundation of every marketing plan. At E-dreamz, SEO is our primary and most powerful, long-term growth tactic for any site. Through on-page optimizations, schema, local business listings, external backlinking and other technical SEO efforts, we optimize all aspects of a website to increase visibility and traffic from search engines. And through our detailed, transparent reporting, we can show the results of our SEO efforts in meaningful, easy to digest terms. Learn More...