Patient-Focused, Designed to Perform

We're excited to announce the launch of our most recent web application, the new physiosc.com website for ProMotion Rehab & Sports Medicine . Our partnership with ProMotion adds a fast-growing new physical therapy and sports medicine website to our portfolio and gives us another opportunity to flex our healthcare marketing muscles to drive patient engagement and deliver results for a new practice.
The Challenge & Solution
ProMotion's previous website ran on WordPress and suffered from all of the typical challenges associated with using WordPress for a major healthcare website: a glut of out of date plugins; broken page templates, widgets and inserts; a slow, cumbersome content management experience; and the general mess of disorganized content that inevitably arises from a site that has seen numerous iterations of web themes and extensions over the years.
Our process started where it always does - with a thoughtful evaluation of ProMotion's content, messaging, audiences, and needs. We developed a full wireframe document to reorganize all of the available content on their site into a user flow that would enhance the patient's navigation experience while also optimizing pages for SEO and ranking. We then translated that wireframe into a true, custom design that showcased ProMotion's branding, therapists, facilities, and services in a much more compelling way. That custom design was then applied to our Echo by E-dreamz enterprise healthcare CMS to deliver ProMotion a top shelf web application that will position their healthcare group for maximum digital performance for years to come.
---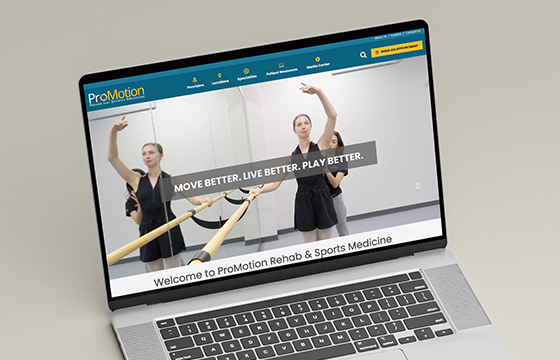 Web Design Strategy
As a rehabilitation and sports medicine practice, we knew ProMotion's brand identity was one of vibrant movement and messaging that speaks to "getting you back in the game". This notion drove the concepts developed by our creative team for their unique digital branding. We leveraged a bright, high-contrast color palette, dynamic video and imagery, stark contrasts and eye-catching micro-interactions to deliver a fully custom website experience that both looks great and is easy to navigate.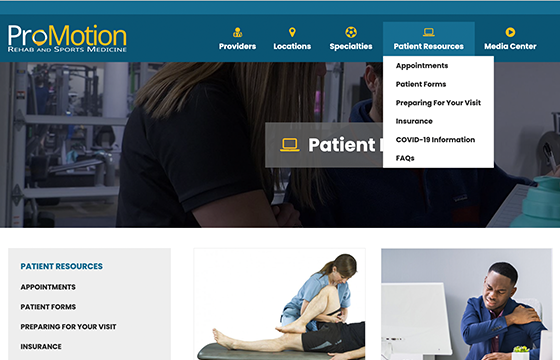 Patient Experience
Through the healthcare content focused tools baked into our Echo by E-dreamz CMS, we were able to help ProMotion organize, optimize and enhance all of their patient-focused content and utilities. With robust provider bios on their therapists, feature-rich location information pages, and a categorized quick-access patient resources section, the new website presents new and existing patients with all of the information and access they need to prepare themselves for the pre & post treatment journey.