Pay For Performance
Need your digital property managed? E-dreamz wants to be your digital revenue producer. What does that mean? We want to bring your business more targeted digital dollars…….plain and simple. Let E-dreamz be your online sales conversion team through our vast experience in digital revenue services focused on eCommerce and lead generation. Digital dollars and leads are more profitable, more targeted and continue to be on the path to surge in the future. Any business now or in the future must be committed to capture digital revenue.
E-dreamz offers, to potential businesses, the best value for high quality eCommerce and lead generation tools and services. Our value to you is that we don't get paid unless we bring your business online sales and leads. Our job is to effectively implement the best digital tools to drive transactions. Targeted online sales and leads will result in increased digital dollars and overall lifelong quality customers. Imagine having a skilled team of professional architects, developers, designers and marketers at your disposal. No project proposals. No ongoing maintenance, hosting and internet marketing costs. A true results-driven partnership to focus on your bottom line.
Look, we all know with any digital initiative there are up-front and ongoing investments that can always be difficult to manage, let alone know if those dollars spent will lead to positive growth. Technology is always evolving and finding vendors or employees to keep up with it can not only be a challenge but also costly in terms of lost opportunities, overhead expenses and forecasting. Allow the experienced team at E-dreamz to be your complete digital sales and marketing arm for your online business.
Our job is to bring you qualified leads and direct eCommerce sales. Period. If we don't sell or bring leads, we don't get paid. We know what we do best and are confident in our ability to make a profitable partnership where results matter and fees are based on pure performance. A true win-win relationship! The incentive for us is to produce digital dollars through delivered results while giving our partners peace of mind knowing they have a complete team in place focused on driving revenue.
Form your most profitable partnership today. Let's get started!
Benefits for pay-for-performance partnership:
Pay for results only

Quality, trust and transparency
Skilled talent, depth and experience
Decreased capital cost
More hands off
Rapid Development
Success driven and results oriented
Access to digital experts
Driven incentives
One Stop Shop
Ongoing support and maintenance
Forward thinking partner
And More……
Targeted Digital Revenue Services:

Hosting
Multi-Variable Testing
Daily Deals
And more…..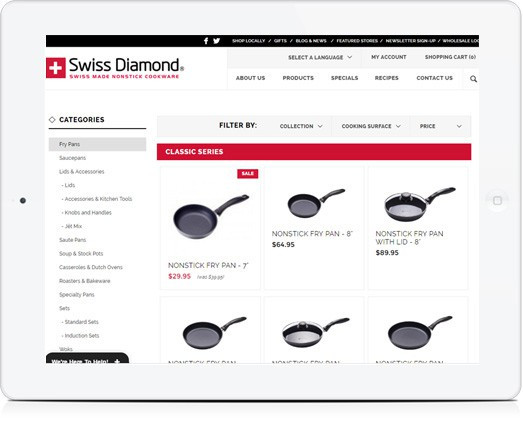 Swiss Diamond