eCommerce Solutions for Automotive & Specialty Parts Businesses
Being headquartered in the heart of NASCAR country in Charlotte, NC, E-dreamz has enjoyed the privilege of working with many of the areas top automotive organizations throughout the years. Through the partnerships, we have developed unique web tools and technology designed specifically to support the needs of automotive ecommerce and specialty parts stores. Our EchoRPM website platform is tuned for businesses that need to load and manage large catalogs of parts or products. Many suppliers and manufacturers of specialty and automotive parts rely on our service because of the ability to mass-manage large amounts of product data in bulk and because of our custom-built Vehicle Selector that makes matching up products to specific Years / Makes / Models / Options of cars and motorcycles a cinch.
To learn more about E-dreamz's automotive eCommerce capabilities, visit our industry-focused site at
GearheadCommerce.com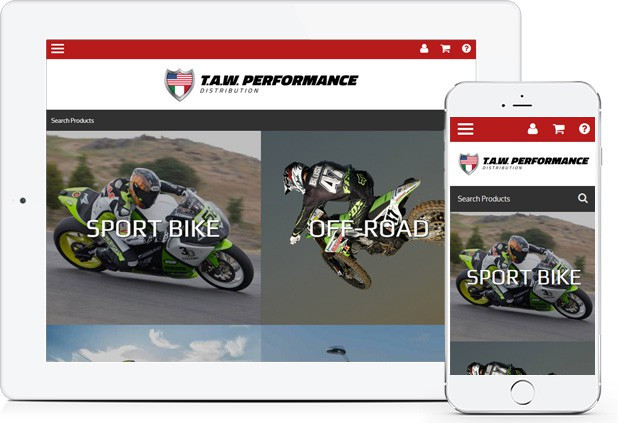 TAW Performance
Our built-in Data Pump utility is designed to import and export huge volumes of data quickly and easily. Through easy to format .csv spreadsheets, you can load, manage and update all product data on your website in a matter of minutes. With separate formats and utilities for managing bulk product data, product photos, customer group pricing, and more - you'll never struggle with tedious hours spent crawling through pages of clunky menus and interfaces to update your catalog. It can all be done fast, easily and in a centralized location.
Every Echo eCommerce site is built to perform, but for automotive and specialty parts providers in particular our sales and conversion tools are ideal for you and your customers. With automated follow-up emails for abandoned carts you can re-capture many would-be buyers, and with the ability to support backorders, delayed payments, and back-in-stock notifications, we can create an eCommerce experience that makes sense for the way you process orders and service your customers.
One of the largest (and most costly) challenges many specialty businesses face is figuring out how to integrate other software and services into their website. Whether it's an ERP tool, CRM, or Inventory management software, our team of programmers and analysts at E-dreamz can help you develop a solution that pulls all your data together. Through flat-file .csv imports and exports running on scheduled intervals, we can create custom solutions to output or ingest nearly any type of data that needs to flow through your website.