Website Service Solution for Healthcare Organizations: Orthopedics, Hospitals, Specialists, Dentists & More
The Echo by E-dreamz website service platform can be configured and extended to support any type of industry or organization. In particular, E-dreamz has a wealth of experience with designing and supporting Echo-based websites for Medical Groups. Echo currently powers nearly a dozen major Orthopedic, Dental, Eye Ear Nose & Throat, Surgical, and General Medical Practice groups around the US. The strength of Echo is its simplicity and its security. The Echo CMS can be easily customized to support the types of content that are relevant to the medical industry and with the necessary working knowledge to operate within the confines of HIPAA regulations.

E-dreamz is the perfect partner to help any medical group enhance its online presence.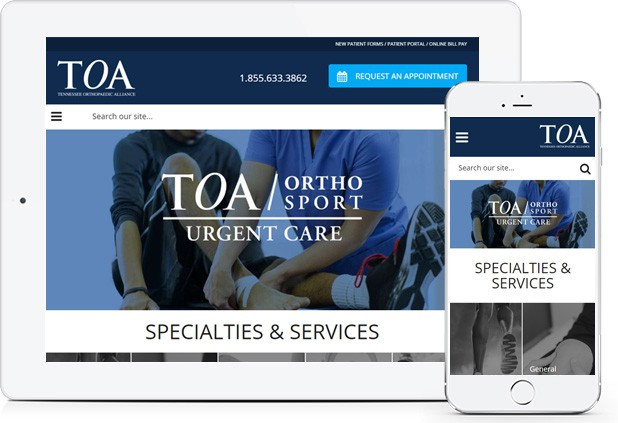 Tennessee Orthopaedic Alliance
Every Echo site has been thoughtfully designed to support the latest trends in digital marketing and SEO. With email capture tools built-in, a technical SEO foundation, and web analytics, your site will be outfitted with the necessary tech to market your online presence effectively. E-dreamz's full marketing suite can be employed to build awareness for your brand, increase web traffic, and generate positive reviews for your offices and your physicians. And with our unique knowledge of the Medical industry and what content is most important to patients, peers and prospective employees - we can help you structure a web presence that takes your practice to the next level.
In the world of medical websites and online tools for doctors and patients, adhering to HIPAA guidelines and properly securing Personal Healthcare Information are of the utmost importance. E-dreamz understands what information falls within the scope of HIPAA and will ensure that your Echo-based website remains outside of HIPAA regulations by never receiving, transmitting, or storing any PHI. With trusted partners and recommended providers of online solutions that specialize in properly securing patient information with regards to HIPAA, E-dreamz can advise our Echo clients on what tools to use for compliant web forms or patient portals in the most secure, compliant, and cost efficient manner.
Medical-based websites are unique in that they don't fit into the common molds of websites of other types. With primary content sections centered around Physicians and PAs, offices and locations, and content-rich informational service and procedure pages, a medical website requires a custom-designed content management system dedicated to supporting content of that type. With the capability to tailor your Echo website with the exact tools you need to manage your physician and provider look-ups, office listings, service pages, robust media centers with journal articles, videos, news, or health information, patient testimonials, and any number of other site content sections specific to your organization, Echo is the perfect solution for large multi-location medical groups.