July 11, 2016
Tools We Use For Reporting
As Brian mentioned in his July Feature Post we will be talking about reporting all month. One big question we get is: How do we collect the data for reporting? Here are some of the most commons tools we use to gather what is happening on your website.


Google Analytics – The pinnacle of website tracking and reporting. Analytics is a free and simple piece of software that provides an amazing about of data for your website. All for a very inexpensive price of $0.00.

You can use it to record just about any activity of a user who visits your site. These might include:


Total Visitors
Visitor Locations
Mobile Or Not Mobile
Browsers Used
eCommerce Transactions
Lead Completion Goals
Bounce Rates
Time On Site
Plus so much more

This tool is generally where we pull the majority of data to report on for our client websites. It's ability to easily show detailed numbers is unmatched. Want to know how many people using FireFox on Windows from New York spent on the site last year? It can do it. A serious world-class tracking tool at that nice price of $0.00.


Glew – A local newcomer to the reporting scene. Focused on reporting eCommerce in absolute detail. This tool can forecast, show trends, show history, suggest paired items, and so much more.

Here is a quick list of some of their basic reporting metrics:

Orders
Tax
Refunds
Coupons
Best Sellers
Low Stock
Products in Cart
New Accounts
Customers by Number of Orders
The list above is just a fraction of what can be seen within the tool. Each one of those can go even deeper or combined/compared with other data. While no means a replacement to Google Analytics it is a serious companion product. Where analytics fails a bit short to provide Glew steps in and provides the numbers along with insight around it. The tool does have a monthly cost attached to it. Though for the price paid compared the data provided I can say it is easily worth it. Our top-performing eCommerce stores now live and breathe by the data and insights provided by Glew.

3. Internal Tool(s) + Excel + Custom Data – A ton of data comes from either the software we built it on or EmailzDirect. Some examples of what might come out of those tools: Sales, contact forms, live chats, open rates, unsubscribes, A/B Tests, etc. Our marketing team takes that data and imports into our custom excel reports. We then take that data and place it in easy to consume graphs.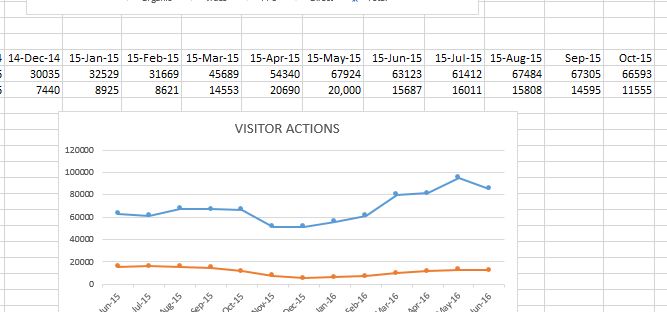 Stay tuned in the month of July for more insights on how our reporting works. Hopefully our posts are as transparent and easy to understand as the reports themselves.


BACK TO BLOG