When building an eCommerce website, understanding the website's industry is hugely important. What kinds of customers will be visiting the site? What are they expecting to find? In the 10 years, I've spent working with large luxury furniture companies, I have learned a lot! Some of it is specific to the furniture business, but most of it can be applied to many different eCommerce industries.
Spend time planning your eCommerce category structure
This usually directly affects your navigation structure. Navigation and Category structure for any eCommerce site is super important, but especially in the furniture industry. Work closely with the company since they understand the demographics of their customer base the best. They also understand what purpose their customers will be coming to the site with: are they looking to buy furniture for a whole room or piece-by-piece? Maybe they have lots of brands and their customers will expect to shop within a certain brand exclusively. All of these decisions will affect the category and navigation structure of your site.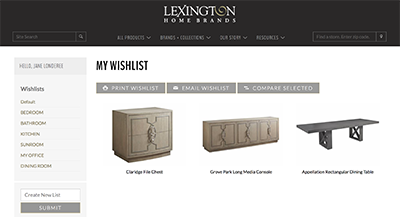 Build a robust and seamless wishlist
Furniture is a big investment. Customers will often spend time planning before they buy. If there are extra hurdles involved in adding to a wishlist, you're going to increase your bounce rate. Allow your users to log in and add to a wishlist, maybe even add to a custom list, without leaving the page they are on. Check out an example of a wishlist on our client website Lexington.com.
Harness the power of related products for eCommerce sales
Just as in full-room photos, related products on a product detail page can give design inspiration for users looking to fill out a whole space.
Pursue quality reviews
For big purchases like furniture, reviews are essential to give customers peace of mind. They can provide extra perspective and insight into how things may differ from the photography online. Spend time setting up followup emails asking for reviews after the products have been delivered.
Make product specifications detailed and easy to find
Customers need to know how these big items will fit into their space. If they have to search to find this information on a product page, you run the risk of losing them.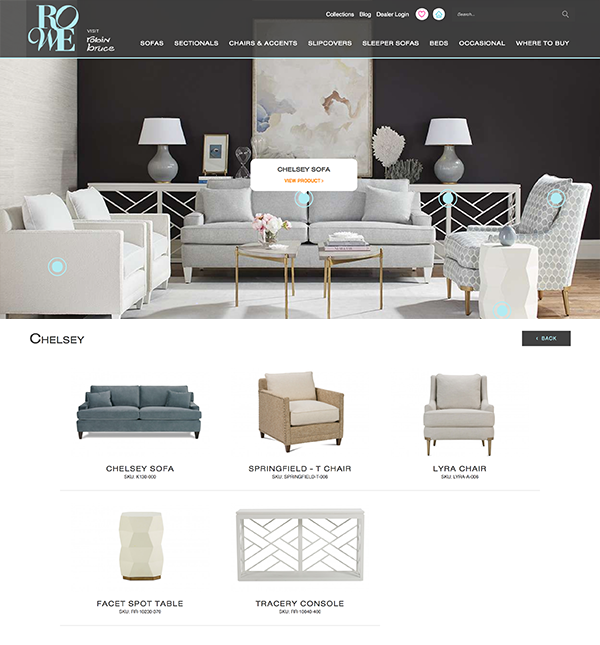 Prominently feature full-room photography
Customers need to see the furniture in a beautiful room. Furniture, more than other online purchases, desperately needs perspective. Not only do full-room photos give perspective, but they also provide design inspiration that may lead to customers buying pieces together. Check out the inspiration gallery from Rowe Furniture, a luxury furniture eCommerce website we designed and developed in house.
Tell the customers where they can see the products in person
Even with detailed reviews, specifications, and photography, some customers will need to see the products in person, which is understandable for such a big investment. On the product detail page and prominently in the header/footer, allow the customer to look up where they can visit the product. I've found large furniture eCommerce sites like this are often used as a catalog instead of a final purchase place.
Build the site with the showroom in mind.
Dealers work with these furniture sites using iPads or floor computers to allow customers to see a particular product they don't have in-store or maybe any customization they could get. Be sure that your site works seamlessly with touch-screen devices. Ensure the photography is expandable, that the search allows specific SKUs to go directly to the product page, and auto-fills with suggested products as you type. All of these things give dealers a seamless experience selling products on the showroom floor.
Luxury furniture eCommerce websites are so fun to build because they care about design and overall aesthetic more than most basic eCommerce websites. With the tips above, you can make these beautiful, photography-heavy sites have substance as well as style!

For more information on our eCommerce furniture services and to see our furniture website design portfolio check out our furniture landing page here. If you are interested in getting started with E-dreamz on an eCommerce project contact us today.