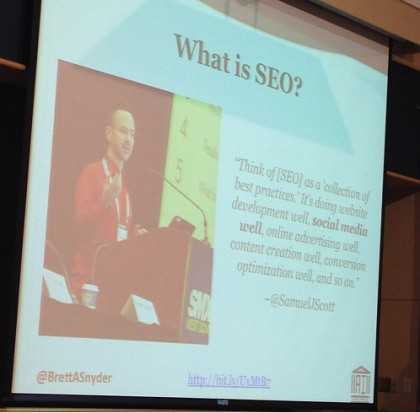 August 05, 2014
Search Exchange Internet Marketing Conference - Day 2
Ask a room of search engine marketers to give a definition of SEO, and for more than a few seconds, you'll hear the nervous rustling of chairs, pens, and laptops. After the initial silence wears off, a handful of people speak up to give their answers: "Working with search engines to increase organic search" to "Optimizing websites through on-site and off-site tactics." A few years ago, the crowd may have given a resounding shout of link building!
Search Exchange Day Two featured experts like Arnie Kuenn from Vertical Measures, Elizabeth Osmeloski from Search Engine Land, and Time Resnick from Moz – just to name a few! Each presenter had a unique viewpoint on today's SEO landscape. Below, read three key takeaways:
1. Web Development for Autonomous Users
As digital marketers and SEO's, we typically look at websites the way end users do. Is this site easy to navigate? Are we sending users to the right place? However, Brian McDowell of Conductor, Inc., stressed us to also see websites as Google bots do. Don't just assume that Google can understand your CMS structure. Use the tools available to you through Google Webmaster Tools daily to ensure Google can index your information properly. Also, check your page speed – it's important!
Updating and improving the usability of a site that Google can't see is pointless when it comes to organic search, so be sure to take all of the above factors into consideration during the web development process as well as site maintenance after the site launches!
2. Content
It's here to stay, and it is best seen as a mixture of ongoing tactics, additions, and optimizations. From the ideation phase, as described by Arnie Kuenn from Vertical Measures to publishing- creation of website content is an on-going process. It is a unique opportunity for us as marketers to answer the questions customers are asking. Utilize your analytics data to see what your customers are searching for, and make sure you have that content easily accessible on your site. Tim Resnick from Moz stressed the importance of owning your topic data. If your website sells stationery, be the king in that content market online. If there is a forum, social media group, Google + meetup – be sure to utilize them! Owning your topic data is an ongoing process that coincides with your overall content strategy.
3. Google Local (Reviews Matter!)
Google My Business is a big SEO win for small businesses without a huge budget to dominate paid search channels. Getting your Google My Business listing to work for you, includes making sure all information about your business is up to date, listing relevant events and incorporating great photography of your business where applicable.
In addition to the above, Elisabeth Osmeloski from Search Engine Land/Marketing Land stressed the importance of utilizing reviews on your Google My Business page. Get the ball rolling on reviews by developing an ask strategy. While Google My Business pages are free, they take a lot of work and ongoing maintenance to work as a branding tool and lead generator.

Many of the speakers at Search Exchange reiterated the importance of SEO in the digital marketing landscape. Whether for large companies, or niche local businesses – SEO is now a part of a larger marketing plan that should include thoughtful site structure, content, PR, relationship building and reviews.
BACK TO BLOG