January 15, 2014
Reporting 202.
A few months back, I briefly outlined what a monthly internet marketing report looks like. For us, it begins with a reiteration of goals, followed by an overview of statistics such as revenue, website traffic, click cost, click-through rate, conversion rate, etc. Clients with an e-commerce store look for information like the number of transactions, the average value of those transactions, and keywords that led to tracked sales. Naturally, the report is concluded with notes and suggestions. This is our chance to enlighten the client on how the company is doing after the implementation of internet marketing and what opportunities we see to be beneficial.

Now that I have a few more months of reporting experience under my belt, I can give a better explanation as to how each client is different. Like I said in my previous post, each client is unique and wants to track distinctive data that is relevant to their business.
The most significant amount of data can be collected in Google Analytics and Adwords. Both have dashboards where all major information is presented. As I have become more familiar with these two programs, I have learned where and how to find more detailed data. Some examples of advanced data that clients look for: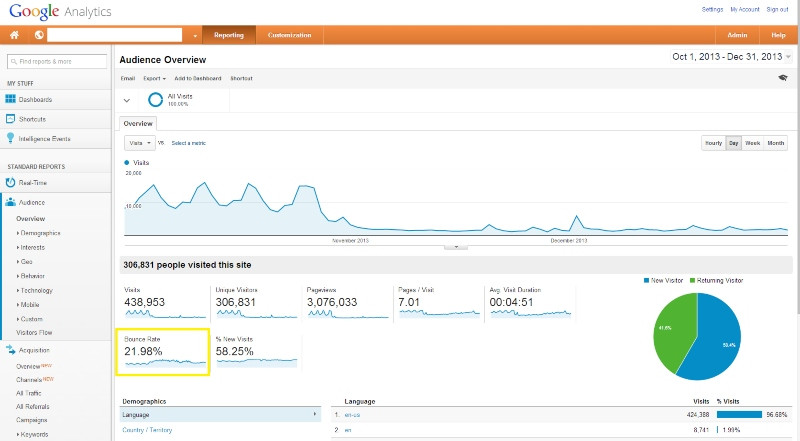 Bounce Rate – Bounce rate is the percentage of people who visit your site and "bounce" (or leave the site) from the entrance page without actually interacting with the page. Bounce rate helps measure the effectiveness of a site to encourage users to continue interacting with the site. It can help to determine how intriguing an entry page is to visitors.
Call Tracking - Tracking how many calls your business is receiving each month is a great way to identify which marketing sources are most effective. Call tracking can help us to pinpoint where exactly traffic is coming from – organic search or paid search. This type of data is important for recognizing which campaigns are making your phone ring! Looking to implement call tracking for your business? Contact your Sales Representative or Account Manager for details.

Mobile Click to Call – When users are searching for a business on their smartphones, they often prefer to just call the company rather than visit the website, especially if they are only looking for a quick answer. Businesses can now add a "click to call" option on their google ads that make it easier for potential customers to get in touch with them. Adwords allows us to track how many users take advantage of this mobile click to call option.
Language – Some websites target more than one location and therefore, more than one language. Google Analytics gives you the ability to track which languages your users speak based on location. Both language and location can provide clients with valuable information. For example, if you are receiving higher traffic from users who live in an area that speaks predominately Spanish, it might be wise to create a Spanish version of your site.
These unique pieces of data demonstrate the types of advanced information our clients look for us to provide. Each report is customized to the unique needs of the client, whether it is e-commerce or lead generation.


BACK TO BLOG