February 26, 2016
How Tracking Events in Google Analytics Can Help With Online Conversions
There are numerous ways that conversions can be tracked in Google Analytics that go beyond phone calls, contact form submissions, and revenue. Conversions can be anything from the aforementioned actions, to simply printing a certain page of a website, to show intent. In order to measure certain actions like that, event tracking needs to be implemented. It's a fairly simple process and can provide you with valuable information.

Create and Implement the Tracking Code

The first thing you need to do is decide what actions you would like to track. These actions can range from pressing play on a video, downloading a file, and even scrolling down the page. We have implemented some specific strategies for clients that include the viewing of digital catalogs, emailing specific product pages, as well as page prints. Once you decide what you'd like to track, you need to create a snippet of code using this handy tool, and then add the code into the existing link code. The updated code should look like this:





Create Goals in Google Analytics for Events

After implementing the tracking code, the next thing that should be done is to create goals in Google Analytics for those events. Although completely optional, setting up these goals allows you to track all of your goals in one location and see all of your conversion data in one place. In order to set up these goals, you will just need to go to the admin tab of Google Analytics and click on goals. After that, click +New Goal and follow the setup. I typically set most goals up as custom setups and go follow the setup instructions. Simply name your goal and select the type of goal you'd like to track – in this case "event."

For the next step of the goal set up, you will need to insert the event conditions which will need to match the parameters of the code you set up earlier. For example, if we were going to track when people click the email button, the conditions would look like the following: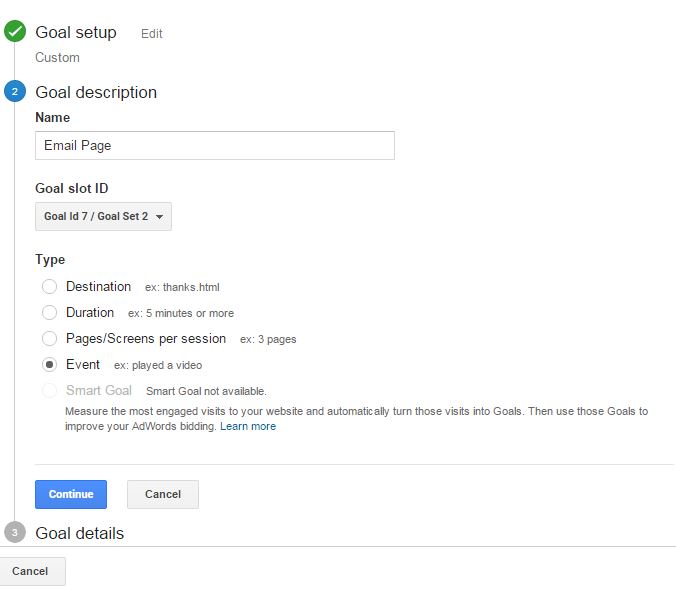 Tracking Goals

After setting up these goals, you are free to track and report on conversions as you normally would in Google Analytics.

In Summary

While event tracking is certainly not a new technology, it is oftentimes an overlooked one. It can serve as a fairly simple way to track intent to buy when someone doesn't necessarily complete a purchase on that visit to the site. Maybe they printed the item out and went to a retail partner to find it that same day. Your customer could have emailed the product to a significant other for their opinion and then come back to finish the purchase or another conversion. Regardless of what events you are tracking, you should utilize the ability to track events in order to get better data. The better data you have, the better decisions you can make.

What events do you think would be valuable for your business to track? Let's start the conversation and we can talk about how that would benefit you and assist in reaching your overall goals.
BACK TO BLOG