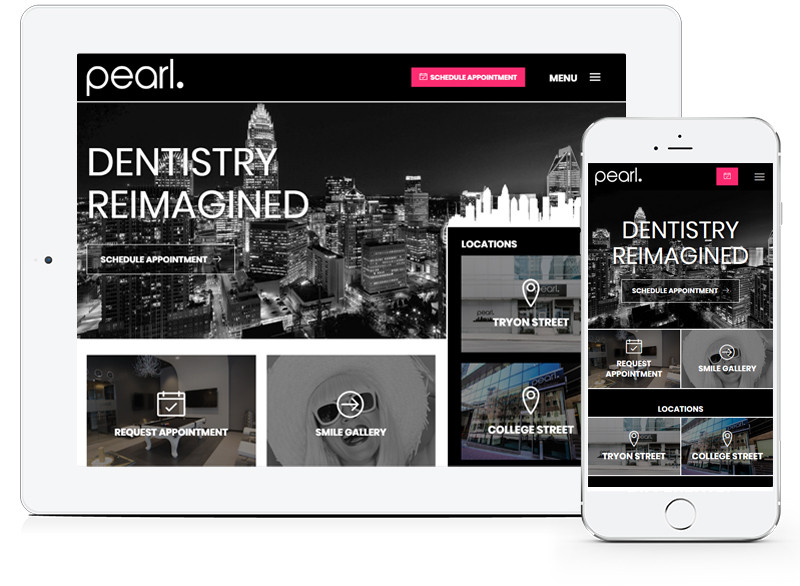 THE WEBSITE
https://pearlcharlotte.com/

Our latest site launch is for Pearl Dentistry, a Charlotte-based dentist group with a designer chic identity that elevates the concept and experience of going to the dentist to luxurious new heights. With beautiful offices in uptown Charlotte, Pearl provides patients a unique, high-end service that distinguishes them greatly from your average dentist. They needed their new website to be equally distinguishing. We were excited to meet that challenge!

FEATURES & FUNCTIONS
Websites for dentist offices have the same basic requirements as would any other healthcare-oriented websites - easy appointment scheduling, information on the doctors and physicians, detailed locations pages with office photos and directions, and services and treatment pages. With Pearl, however, all of those core content areas needed to be enhanced to match the organization's elite reputation for design, quality, and service. The primary focus of this website project was on visual design, usability, and patient experience.

CHALLENGES & SOLUTIONS

Wordpress Limitations
Pearl's previous website was built on the Wordpress platform. And while Wordpress is an excellent base for many basic websites, it has limitations that sometimes make customization difficult - especially with the unique needs of healthcare websites. Our first step in the planning and the requirements-gathering process was to audit Pearl's existing site to consolidate notes on what features were lacking, what features were present, and what ideas should be incorporated into a new site build. We helped Pearl craft a vision for a fully-custom website that would be everything they needed and more.

Class-Leading Web Design and Web Development
As mentioned above, this project was all about the website design aesthetic. Pearl's owners brought to us examples of the type of design and sophistication they wanted on their website, and we put our creative team to work on developing a unique, custom web design that met those expectations. We had to strike a balance between rich, eye-catching design and layouts that could adapt well to mobile devices and load pages with appropriate speed. After working through several mock-ups and revisions, we then approached each content area of the site individually to deliver a varied, but cohesive design throughout the entire user experience.

Marketing & Support
As any competitive business should, Pearl maintains a comprehensive digital marketing strategy. E-dreamz's marketing team assumed all ongoing support and marketing responsibilities for Pearl as part of our blended, retainer-based monthly offering. In this capacity, we provide all web design, development, and digital marketing services to Pearl, providing them with a complete partnership for all their digital needs.

If you're an operation or marketing manager in the healthcare industry who is looking for a digital partner that understands the unique needs of top quality websites in the medical web space, please contact us today to discuss what E-dreamz can do for you.